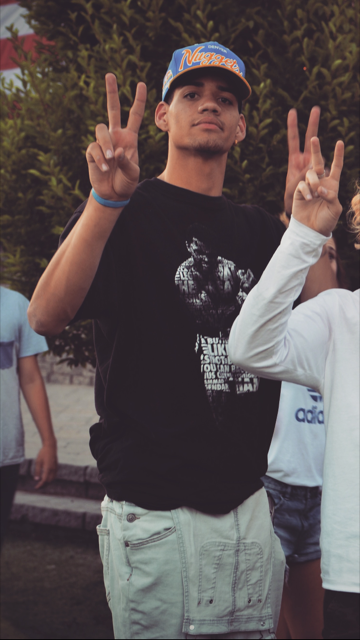 This archived article was written by: Alex Morell
Roman James McKnight was born in Denver Colo., and is a forward for this year's USU Eastern men's basketball team. His journey, like many of the players, was one of a lot of hard work and one that many are unwilling to take.
When McKnight was 8 his family decided to move to Orem, Utah, where he would grow up for the remainder of his youth. It was there where he continued to grow his love for the game of basketball.
He said, "Basketball is an effortless dream of a game. I first got into the game when I was 6 and been playing ever since. Not only is it a fun and competitive sport, but it is always something I do to stay out of trouble and a way to keep myself healthy and well." McKnight is a very athletic forward making the game look effortlessly day in and day out of practice.
For many players growing up they first start playing basketball as a way to please their parents, or that they are blessed with a great deal of height and feel pressure from their peers to play the game. For some it may even take a while for them to realize they that truly love the game and what they do.
For McKnight there was never a doubt in his mind that he loved the game, saying "I just came out of the womb getting buckets. Ever since I picked up a ball I loved the game. The feeling of competitiveness in the game of basketball is just the most surreal feeling that always gave me joy." This love that he has for the game is shown by the smile he shows as he plays the game he loves.
McKnight attended at Mountain View High School where he started his basketball career. While at Mountain View, he was a huge contributor to the team and exhibited great leadership. However, it wasn't always easy at Mountain View, the summer of his senior year as his team traveled to Colorado for a tournament, his Coach decided to not start him, but that he would bring him off the bench because he didn't feel like McKnight was ready to feel that role yet. McKnight said, "I was so angry when I went in I just took control of the game. Whether it was posting up or taking it to the hole. It felt effortless, I dropped 34 [points] in just one half and at the end of the game my coach came up to me and said sorry."
Even though things weren't always easy at MVHS he was able to push through and help prepare himself for College ball.
After completing his career at MVHS, McKnight received some interest from colleges but mostly junior colleges. He decided to take his talent to Walla Walla Community College in Washington.
He completed his freshman year there but decided that he needed a change. He started talking to his good friend Cameron Bailey about different possibilities of where he could play the coming year and hopefully have a better experience.
He says, "Cam mentioned how USU Eastern would be a great opportunity to help me progress and become a better baller. And hearing that from someone I grew up with and respected so much, I went for it."
After hearing that McKnight decided to send his film to the Eastern Coaches and they gave him a chance to come play here at USU Eastern. McKnight looks forward to the many opportunities he has here and for the season to finally be here.