The Eagles snap three-game-losing streak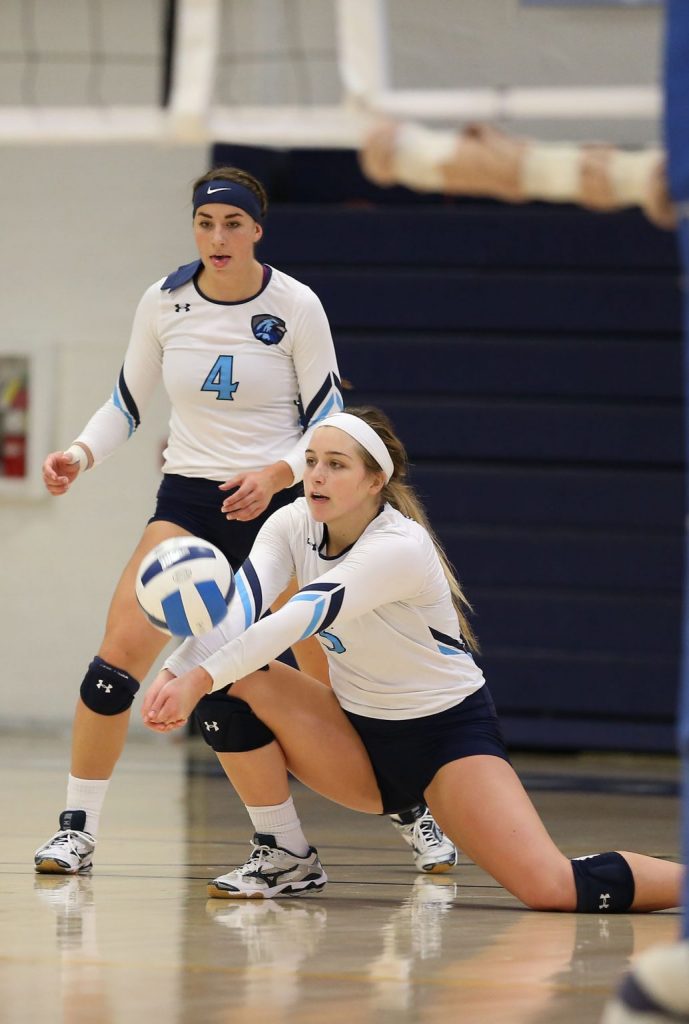 This archived article was written by: Kayla Newman
Beating it's three-game- losing streak, the Eagles had a solid two weeks competing against Salt Lake Community College, College of Southern Idaho and defeating Colorado Northwestern Community College.
After losing at home to Snow College, the Eagles began their journey on the road to play against Salt Lake Community College on Oct. 7. The Eagles had a tough run with the Bruins, losing 0-3. Sidney Springer lead with eight kills; Emily Bender and Kayla Newman had six a piece. Lindy Bluemel lead with 12 digs, Springer and Bender, seven. The Eagles struggled during this match, losing set one 10-25, and losing both sets two and three 14-25.
Picking themselves up from a loss, the Eagles traveled to Twin Falls, Idaho to take on the College of Southern Idaho on Oct. 8.
The Eagles persevered, taking on CSI to four close matches. Losing 1-4, the Eagles upset CSI's undefeated-set-winning streak, winning set three, 25-20.
Springer lead with 14 kills; Newman, 10; and Bender, eight. Allie Kittell lead with eight blocks; Newman, six; Jaelyn Olsen, five. Mckenzie Mott lead with 20 assists; Aggie Roese, 15; and Bender, two.
Each team is able to play each other at one home match and one away. The Eagles will have their chance at redemption against these two teams at the end of the month. "These are two great schools with great athletic programs in all sports. We are all pumped. Who doesn't love big upsets? With our game faces and each and every player, we're coming out swinging!" says sophomore setter/DS, Pilimi Feletoa
Competing at home on Oct. 15, the Eagles faced Colorado Northwestern Community College for the second time this season. The Eagles won 3-0, coming out on top in close games. Set one was 25-17; set two, 25-22; and set three, 25-21.
"Beating CNCC for the second time this season was a huge confidence booster for our team, we needed that solid win. Something good about our team is we always take the mistakes we make in one week and improve going into the next. Going into this week at Snow, I believe we can win if we work at minimizing our errors and running a strong offense, I'm looking forward to playing. It's always more fun playing the more competitive teams, it will be some good volleyball!" comments sophomore setter, Mckenzie Mott.
Newman lead with 14 kills; Kittell, 10; and Springer, six. Olsen lead with three blocks, Springer and Roese with one. Newman lead with 10 digs, Bluemel and Springer with six.
"I think that our team has only scratched the surface of what we are capable of this season. When we are all in sync, we are energetic and unstoppable! Once we figure out the adjustments for specific teams and their weaknesses I think we are going to do some great things as we take on the end stretch of the season. Communicating well and being quick to execute what our coaches tell us to do will be the key to success. Our talent and speed is there, we just have to use it and we will be able to pull off some wins this weekend and later down the road," says sophomore libero, Lindy Bluemel.
The Eagles begin another week on the road, facing Snow College on Thursday, Oct. 20 and College of Southern Nevada on Saturday, Oct. 22.