Business majors: "Half-Hour With the Boss"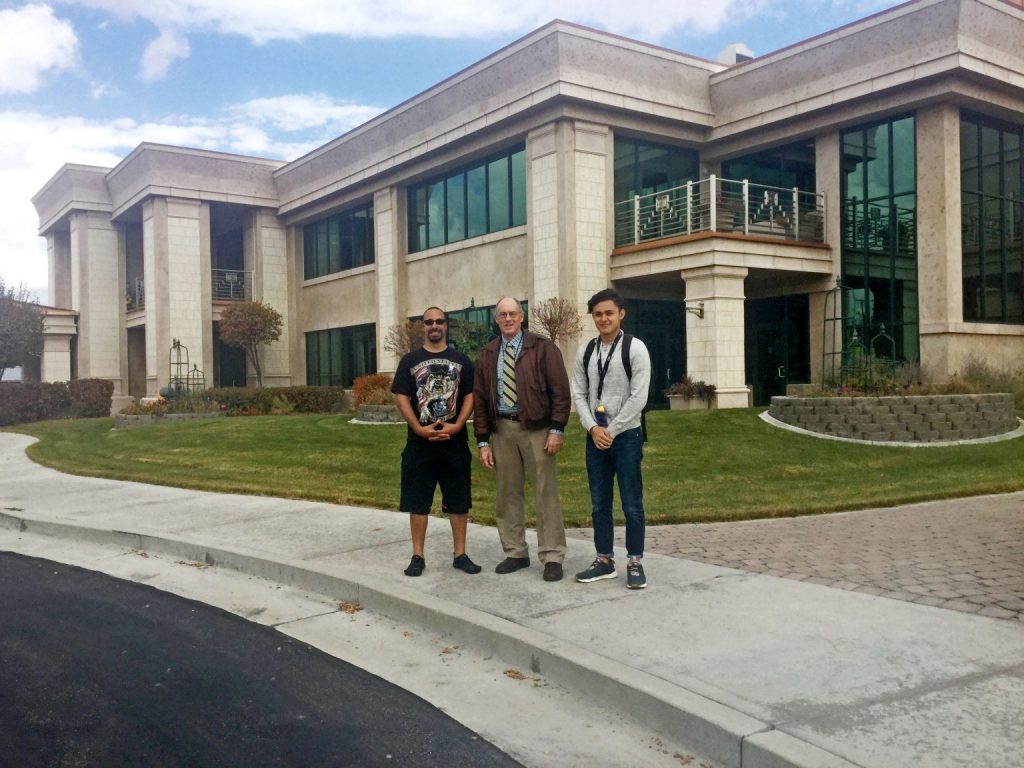 "Half Hour with the Boss" was coined by USU Eastern Associate Professor Henning Olsen to introduce his business students to the leaders of area businesses to discuss successful business principles.
On Oct. 25, the students toured the Intermountain Electronics facility where general manager of the Utah facility, Shawn Norton, discussed how the company went from a few employees 30 years ago to four facilities located in Denver, Colo.; South Point, Ohio; Centralia, Ill.; and Price, Utah.
Ten years ago the company revenues were less than $10 million; by 2015, company revenues exceeded $100 million. Norton told the business students they must have a one-year plan, 3- to 5-year plan and a 10-year plan for their businesses. Companies must stay in healthy markets and with growth comes a whole new set of challenges.
Company owners, the Houston family, started repairing mining equipment and as the economy changed, moved into the energy markets in the gas and oil industry plus solar and battery storage. The company is global with markets throughout the world. "Eighty-five percent of our business is conducted in the United States," Norton said, "but we have clients throughout the world."
He said there are two things that must be achieved to run a successful business: one, have a great vision. Know what you want and take the company in that direction. Two, hire great people. We have smart, intelligent and hard-working people here and that makes for a great company.
IE works with local suppliers to use their products. "From an ethical and business standpoint, this makes sense. We have super great people who live in this community and we need each other's support," Norton said. IE also has a corporate procurement group who looks at large contracts to stay competitive in the market.
Sometimes when you work for a company and a deadline approaches, everyone has to chip in to get a project completed on time. "It's not unusual to see the company owner on the floor in a welding shield working side by side with other welders trying to get the project completed," Norton said.
The USU Eastern students sat in the conference room which looked more like a posh law office. The 24-foot-long table had mats placed on it by each chair with the company's mission. The words were to remind each one in the room that IE's mission is to "redefine standards in our industry, and in so doing, maximize growth for our company, our employees, their families and our community."
At the bottom of the matt was the company's 2020 vision: "Be recognized as the clear leader in our mining and energy markets by redefining products and service standards with the best talent and culture in the industry."
Norton, who earned an associate degree from College of Eastern Utah and a bachelor's degree from Utah State University in electrical engineering, loved the concept of working in a facility in an area that he grew up in. "I've traveled a lot of places, but cannot imagine living anywhere but here." He challenged each student to continue their education and go after their dreams.
The tour concluded with students perched on a catwalk surrounding the massive working space watching each step function in the manufacturing facility.
"A Half Hour with the Boss" students previously toured Peczuh Printing, Tractor Supply, Loveless Ash, Sun Advocate, Tony Basso GM and Walmart. Olsen plans to continue to tour area business with his students to give them a first-hand perspective into the world of business.