Noelle Cockett named USU president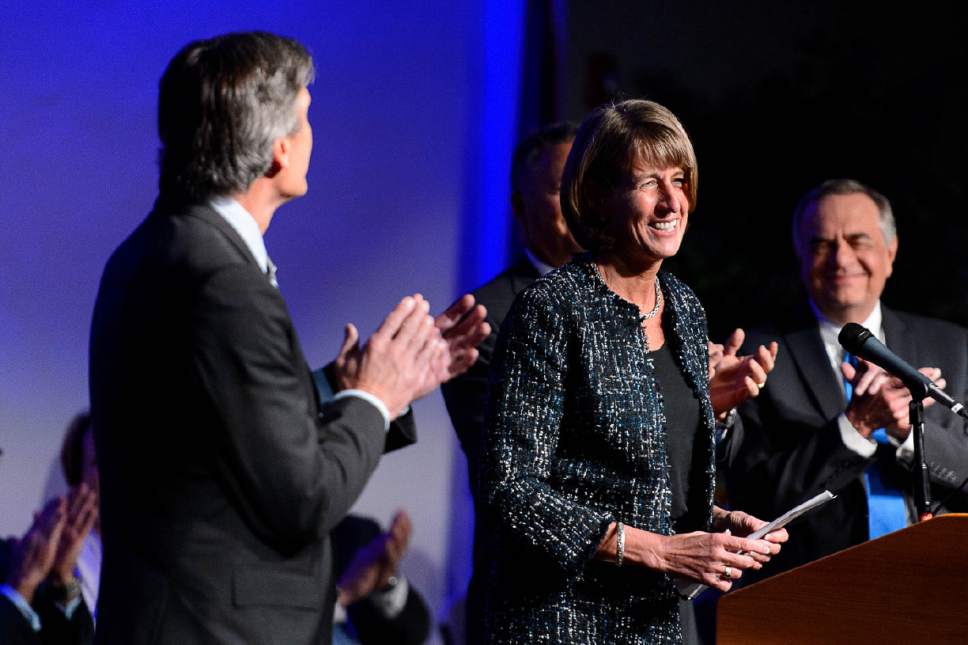 Noelle Cockett will be the fifth woman president to lead a public college/university in Utah and joins Deneece Huuftalin, president of Salt Lake Community College, as sitting presidents amongst the eight colleges included in the Utah System of Higher Education. She was announced as president of Utah State University on Oct. 26 by the Utah Board of Regents.
The first woman college president was Grace Sawyer Jones who served at College of Eastern Utah from 1996-2001; followed by Ann Milner who served at Weber State University from 2002-2014; and Cynthia Bioteau who served at Salt Lake Community College from 2006-2013.
At USU Cockett served as executive vice president and provost at USU and has held that position since 2013. Prior to that, she served USU as vice president for Extension and Agriculture from 2006 to 2013; dean of the College of Agriculture and Applied Sciences from 2002 to 2013; and director of the Utah Agriculture Experiment Station from 2009 to 2013.
Cockett received master's and doctorate degrees in animal genetics from Oregon State University.
"I am deeply humbled and greatly honored to be named as the 16th president of Utah State University by the Utah Board of Regents," said Cockett. "Today, I pledge to all in the USU community that as president I will tirelessly devote my skills, experience and energy to keeping this institution true to its land grant mission, to doing everything possible to increase its success and impact and ensure that it flourishes and continues its tradition of excellence in the years to come."
Cockett replaces Stan L. Albrecht, who served as Utah State's 15th president and announced his retirement earlier this year. He will continue to serve until Cockett is in place.
"Dr. Cockett is well-respected and brings extensive institutional knowledge, experience and proven professionalism that will be an expanded asset to Utah State University in the coming years," said Dan Campbell, chair of the Board of Regents.
Cockett, USU's first female president, has extensive research experience that includes five years as a research geneticist at the United States Department of Agriculture. She has built a career in genetic research, specializing in molecular genetics and identifying genetic markers. Cockett is known for being a part of the team that successfully sequenced the sheep genome.
"I am confident in President Cockett's ability to effectively lead Utah State University and that she is the right president to build on the extraordinary accomplishments of President Albrecht over the past decade," said Utah Commissioner of Higher Education Dave Buhler.
Albrecht's tenure was highlighted by many successes, including increased access for students across the state though growth in the regional campus system and a highly successful, first-ever comprehensive fundraising campaign that yielded more than a half billion dollars.
Cockett will provide leadership for Utah State University, which has an enrollment of approximately 29,000 students, a workforce of more than 3,000 faculty and staff, and institutional funding of $554 million.
In addition to its main campus in Logan, Cockett will be responsible for Utah State's three regional campuses, a comprehensive regional college, Extension offices in 28 of the 29 counties in Utah and at the USU Ogden Botanical Center, Thanksgiving Point, the USU Botanical Center in Farmington, Utah, and the USU Swaner Preserve and EcoCenter in Park City, Utah.