Eagles upset by CSN in region tournament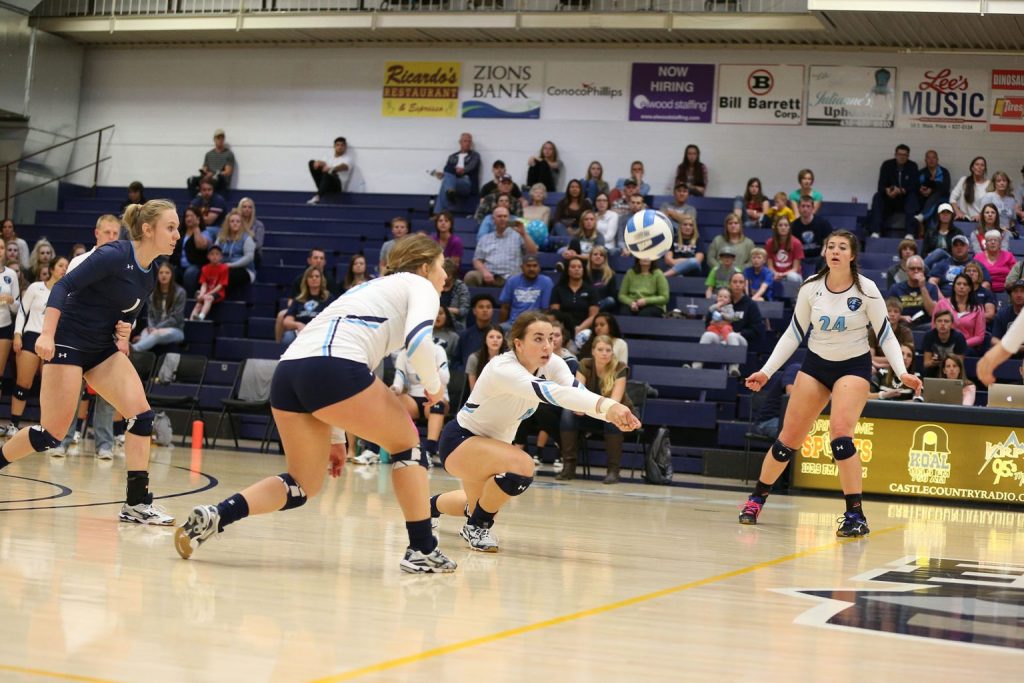 This archived article was written by: Kayla Newman
After three months and 27 games, Utah State University Eastern put on their game faces and headed to the conference tournament.
On the weekend of Nov. 4, all of the women's volleyball teams in the Scenic West Athletic Conference gathered together in Twin Falls, Idaho to compete in the Region XVIII tournament.
The Eagles came into the tournament placed fourth out of six teams. The College of Southern Idaho was ranked first; Salt Lake Community College, second; Snow College, third; College of Southern Nevada, fifth; and Colorado Northwestern Community College in sixth place.
USUE was scheduled to compete against the fifth-ranked College of Southern Nevada, a team they had previously beaten once in preseason and twice in the regular season.
The Eagles dominated the first set against the Coyotes, winning 25-18. They struggled in the second set, letting CSN go on a 12-0 run at the start of the game. The Eagles could not recover and they ended up losing the second set 13-25.
Head Coach Danielle Jensen tried to rally her team in the locker room during intermission, reminding her team that they had already beat this team three times this season. The team came out strong and won the third set 25-23.
However, the Eagles didn't have enough to take down the Coyotes, losing the fourth set 12-25 and then the fifth set 10-15, concluding their 2016 season. CSN went on to lose to the first-ranked team, College of Southern Idaho 0-3, allowing them to move onto the championship game.
Sidney Springer lead the game with 17 kills and 18 digs. Emily Bender had 11 kills, Sara Morley, eight. Agatha Roese lead with 20 assists and Mateah Tuckett, 14. Lindy Blumel and Pilimi Feletoa each had 11 digs.
Seven out of the 15 players on the Eagles are freshman this year and will return next season. Starting freshmen: Springer, Bender, Jaelyn Olsen and Roese will be back next season to redeem themselves at the region tournament.
Injured outside hitter, Kayla Newman, was recognized at the tournament and was awarded Second Team All Conference for her performance during the season before her shoulder injury.
Snow defeated Colorado Northwestern 3-0 in the first round and ended up losing to SLCC 1-3, allowing the Bruins to compete in the championship game to earn a spot to move onto nationals.
The championship game pitted CSI against SLCC. The Eagles form CSI came out strong on their home court, defeating Salt Lake 25-23 in the first set, but ended up losing the next three sets to Salt Lake, making the Bruins the champions of the Scenic West Athletic Conference and allowing them to move onto nationals in Casper, Wyo., starting Nov. 19.