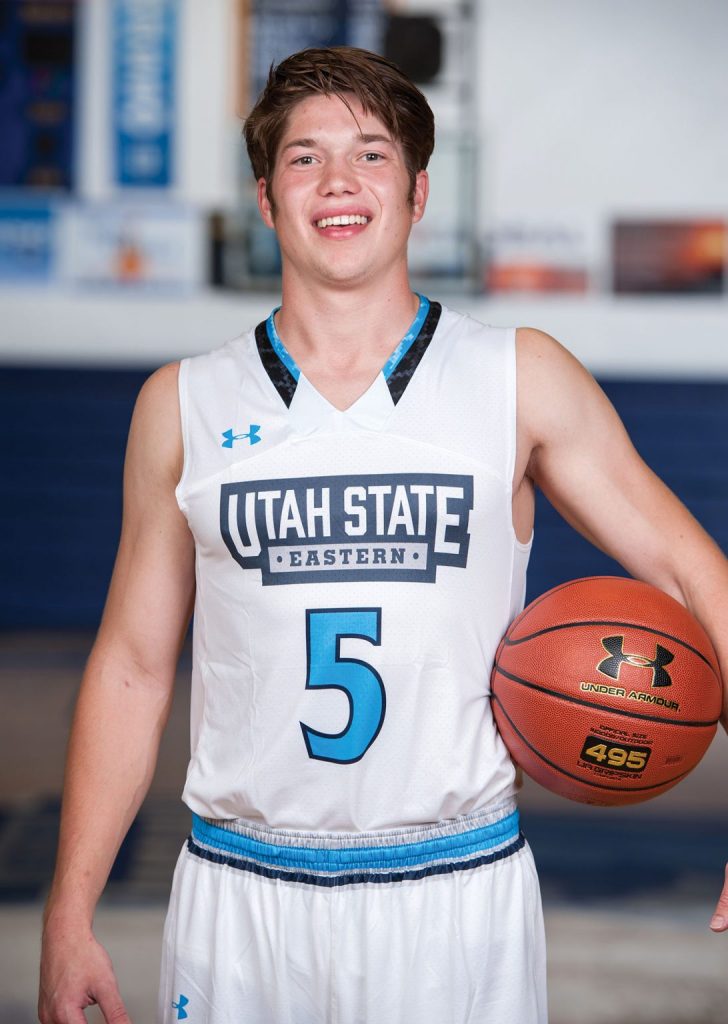 This archived article was written by: Alex Morell
Hyrum Daniel Weiler is from Atlanta, Ga., and is a guard for this year's Utah State University Eastern men's basketball team. Weiler's journey is an incredible one and one worth reading. After being away from the game for nearly three years, he found himself at USU Eastern to show that he belongs.
Weiler prepped at Sportswood High School in Virginia where he was successful on and off the court. His senior year he averaged 19 points, 10 rebounds, while dishing out three assists, per game. He was also named his league's MVP.
After high school, he received a little bit of interest from surrounding junior colleges in Virginia, but decided to get a job to save money before electing to serve a mission for the Church of Jesus Christ of Latter-day Saints. As a devout member of his faith, he always knew he wanted to serve a mission and felt that it was best to do following graduation from high school.
Weiler was called to serve in the California-Irvine mission and left in December 2013 to serve two years.
In the LDS church, young men and women ranging in ages from 18-25 typically set all personal affairs aside to serve their church and help teach others about their beliefs and how to build a personal relationship with God. They are also there to help make the community a better place and do service projects weekly.
After returning home from his mission in December 2015, he didn't have a clear picture of what he would do next in his life. He had always had a dream of playing college ball but wasn't sure of how he would be able to do it.
At one point he had made up his mind that he was going to attend Utah Valley University and try to walk on the basketball team.
This all changed when Weiler attended a wedding for his brother Seth who was marrying a girl from Utah that happened to be Richard Worsham's sister. This is the same Worsham who plays on the USU Eastern basketball team this season.
Before the wedding, the two decided to have a friendly game of ball to get to know each other and have fun playing the game they loved. This was a natural for Weiler because he grew up loving basketball and been playing with his brothers since a kid. He had developed his highly competitive spirit at an early age.
At this pickup game, Worsham and Weiler met for the first time and hit it off instantly. As they talked, Weiler asked Worsham about the possibilities of being able to play at Eastern. Worsham learned of the great high school career in which he had in Virginia.
After their meeting, Worsham let Weiler know that he would send his info to Coach Vando Belcheli to see if the coach would be interested in recruiting him.
Instantly Coach Vando knew that Weiler could play and invited him to come and play with the team in spring 2016.
Weiler flew back to Utah and played with the team. Vando liked what he saw and knew Weiler could play at this level and be a major contributor for the team.
After watching Weiler for a couple hours that day, Vando offered him a spot on the team in which he gladly accepted.
Weiler is excited to be at Eastern and wants to help the team compete and win a conference championship qualify to play at nationals.