Pilimi's last season at USUE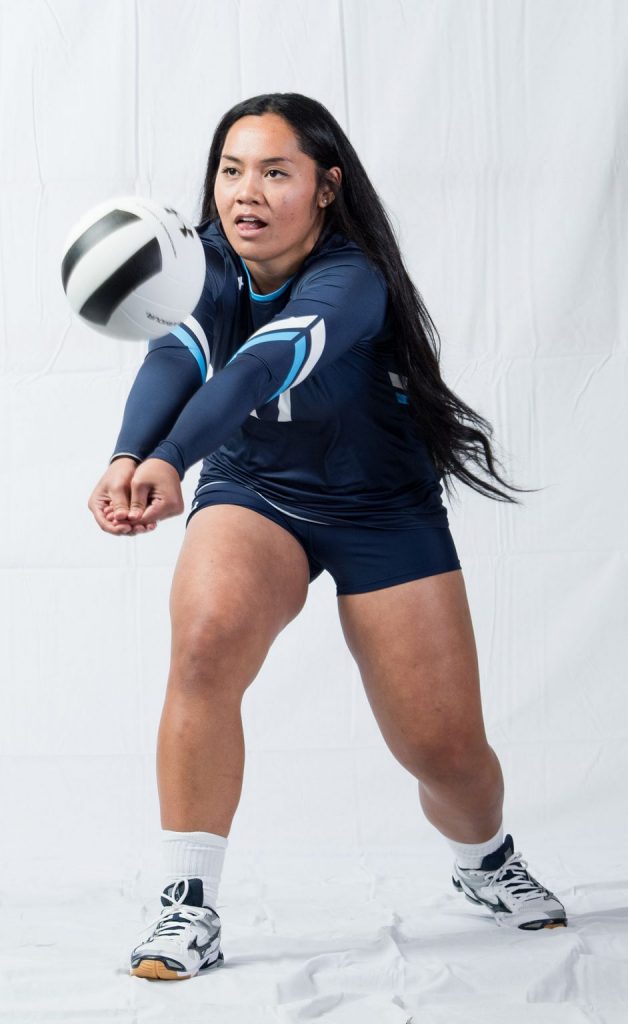 This archived article was written by: Kayla Newman
Pilimi Felatoa, or Prim, is originally from Houston, Texas, before traveling to Price to play on the USUE women's volleyball team. She is the oldest of six children in her family and is fortunate to have her little sister, Lea, on the team as well. With volleyball season over, sophomore DS/ setter, Prim, reflects on her time playing volleyball and describes her experience at USUE.
Prim always knew she wanted to play college volleyball; it was her dream to play at the collegiate level. "It wasn't until my senior year that I was scared that I wasn't going to live out my dream. The chances of me playing after high school were slim and there wasn't a lot of schools showing interest in me.
"I got an offer to play at Southern Virginia University and right before graduation, my coach moved to a little school in Price, Utah, that I'd never heard about and she wanted me to play here instead of SVU. I decided to play for that little school in Price and I'm so glad I did. I've gotten to live out my dream of playing college volleyball."
Playing with family can be hard, but the Prim didn't have any negative comments to say about playing with her little sister. She genuinely enjoyed her sister being on the team.
"I love playing with her because she motivates me to do more. She offers me her opinion and can be honest with me about what I need to here. It's nice having my sister here because I'm so close with my family and its hard living so far away from them. Having my sister here makes me feel more at home," she said
Being a sophomore, Prim has seen substantial changes from last year. USUE as done a lot of re-branding the school logo and getting the sports team sponsored by Under Armor.
The volleyball team has gone through a lot of changes as well. "The coaching staff changed completely from last year, which was a great change. The skill has gone up significantly. Our drive was better because we had a coach that we wanted to work hard for. We got burned out easily last year and I feel like this year we had more drive to finish out the season strong." The team had a better regular season record than last year and went into the region tournament placed fourth as opposed to fifth place last season.
For every sophomore, the question they have to ask themselves is what they want to do after USUE. Prim is planning to serve a mission for the Church of Jesus Christ of Latter-day Saints. After her mission, she will be attending Southern Utah University and majoring in accounting.
Many lessons can be learned on and off the court when one participates on a team. "I have learned that it doesn't matter if you don't get along with people, you have to learn to work with them. I've learned how to be tolerant and patient. I have also made friends that will last me a lifetime and am forever grateful that volleyball brought us together."
Prim is thankful for her experience playing volleyball for USUE and enjoyed her time living in Price. Volleyball is what has kept college fun and interesting, and her teammates are what she's most thankful for from this experience.
"I feel like the team is my family. We all have a sibling relationship, even when we get frustrated at each other, we know we still love each other," she said.