Students harassed/discriminated against after election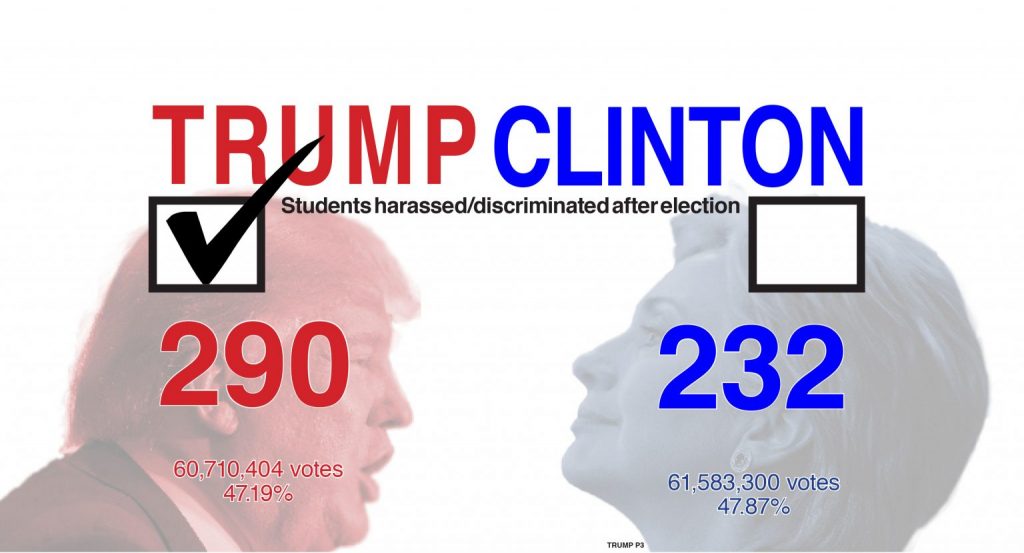 This archived article was written by: Rachel Prows
Many students gathered at the student lounge area in the JLSC while others sat at home and yelled at the TV on election night. Some jumped in joy telling Hillary Clinton supporters to "suck it" while others had tears streaming down their face as they made a list of people that voted for Donald Trump that they were no longer going to be friends with. Ending the election with Trump at 290 and Clinton at 232 electoral votes. Trump gave his acceptance speech that night with Clinton giving her concession speech the next day.
This was Jared Lee's second time voting in a presidential election. Lee made the decision to vote for Donald Trump and went to bed the night of the election to wake up the next morning to find out who the next president of the United States was going to be.
"Since I voted for Trump, I felt good about him winning. I would have been sad if Clinton won because I didn't vote for her, but other than that, I hope and trust that whoever is given the position of president that they will be able to do the best they can with the position," said Lee.
The day after the election was chaos. Social media outlets were flooded with Clinton supporters calling Trump supporters "sexist, racist, homophobic and ignorant." Friends started hating each other and made vows to not speak to anybody that voted for Trump. Lee is a victim of some of this verbal abuse because of who he voted for.
"Some of my friends don't agree and because of who i voted for. It has affected our friendships and it is saddening. I don't feel differently about anybody that voted for Clinton. I can't just hate the voter because of who they voted for," Lee said.
An email from the USU Office of the President Friday Nov. 11, 2016 read:
"Please join me in reaffirming our commitment to civility in our conversations, our actions and on our social media channels. We are a diverse, inclusive and supportive community that encourages freedom of expression. Even when we disagree, as an educational community, we learn best through open and respectful discourse.
We've heard that some in our campus community feel uneasy in the wake of national rhetoric following the elections. We are committed to providing students, staff and faculty a learning environment and workplace free of harassment and discrimination."
Utah State is offering various resources for students who are harassed or discriminated for their choice of candidate.
"I think it is sad that it has got to the point that so many people are asking for help because of things that have happened/been said to them because of the election. A presidential election shouldn't have had such a crazy effect," said Lee.
With all of these contentions because of the election, divisions in groups and friendships around campus are happening.
"I hope [the contentions] have not affected me or anyone else in our workplace. I do the best i can with my duties and hopefully everyone here will still be willing to help me out in what I need to accomplish," Lee said.
It is to the point that some people don't feel safe expressing their opinion or beliefs in fear of being abused by their peers, employers, or church members. Others don't feel safe because of the new president elect. Women are afraid of losing Planned Parenthood and being considered equals in society. Minorities are afraid. LGBT people are afraid that they will lose the right to be who they are meant to be. People are afraid for climate change being ignored. Immigrants are afraid of being forced to leave. All of these fears are valid.
"Donald Trump is not my President," a phrase that is being said by many people that don't agree with the election. Think of it this way, America is like an airplane. We are all on this airplane. If the plane crashes, we all go down. Wishing for the captain to fail or saying he "is not your captain" does not change that fact that you are on the plane, and if it goes down, so do you. If you don't want Trump to be your captain, get off the plane. Leave the country. Give your job to somebody that wants to be in America.
Canada's immigration website went down for hours after the election due to the spike in searches by Americans reacting to the election. Search traffic for "Canada immigration" "Canada" and "move to Canada" has increased in the United States relative to the past seven days, according to Google Trends.
Don't let this election end relationships or divide your groups teams and families. All individiduals have the choice to let something offend them and get upset about it. You chose to hate somebody. Trump isn't forcing you to feel these emotions of hate. Clinton doesn't need to be president for love to trump hate.