Students tour Capitol Reef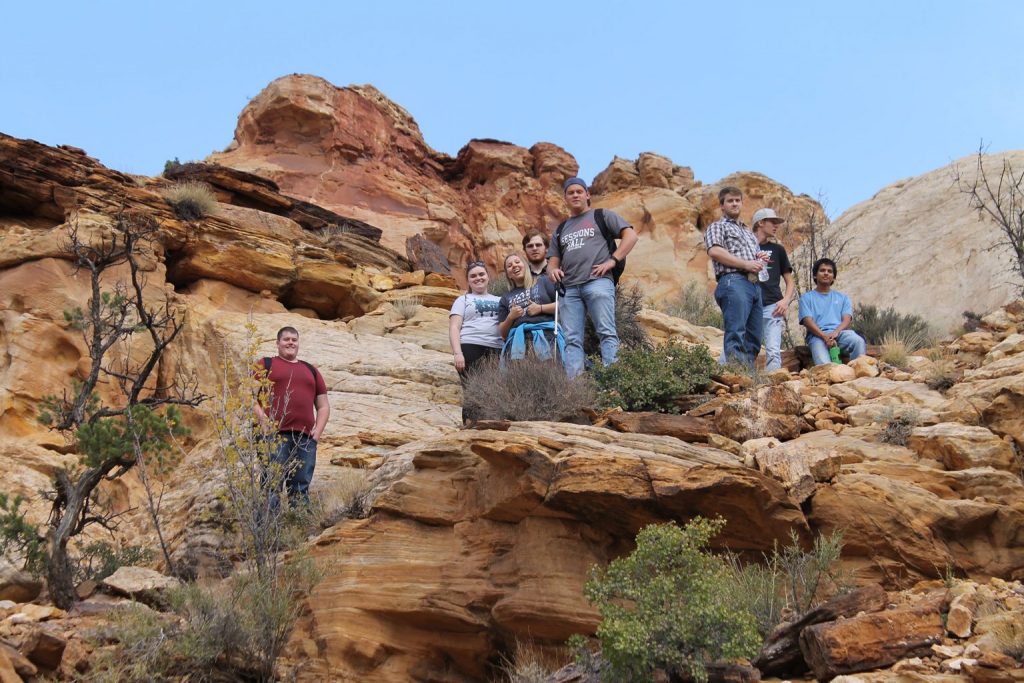 During the course of an academic year, USU Eastern students who complete GEO 1110 Physical Geology and GEO 3200 The Earth Through Time, will have the opportunity to participate in at least six-field trips. 
According to associate professor Michelle Fleck, "the students typically visit Arches National Park, Capitol Reef National Park, Dead Horse Point State Park, Antelope Island State Park, Little & Big Cottonwood Canyons in the Wasatch Mountains, the Cleveland-Lloyd Dinosaur Quarry, the San Rafael Swell, and we also make some short trips within 10 miles of campus. 
"Price is located in an ideal setting for students to learn the basics of geology.  Within a couple of hours' drive, our students can see dozens of types of igneous, sedimentary and metamorphic rocks. 
"These rocks were formed in volcanoes, ancient & oceans, and vast deserts, and ranging in age from billions of years to only a few hundred years. This type of experiential learning is more powerful (and fun!) that just looking at photos in a textbook.  Our students in Price are extremely fortunate to be in the center of a natural 'museum' of geology.'"
The geology students most recent trip was to Capitol Reef National Park last week. Visiting the park is a surreal adventure among massive sandstone formations, towering arches, ancient writings and a valley of red rocks. The majority of the 100-mile long up-thrust formation called the Waterpocket Fold, a rocky spine extending from Thousand Lake Mountain to Lake Powell, is preserved in the park.
Waterpocket Fold is a warp in the Earth's crust over 65 million years old. It is the largest exposed monocline in North America.
"We drove over 300 miles, making a loop from Price through Emery and Loa, then back to Price through Hanksville and Green River.   The group hiked about two miles to The Tanks in Capitol Wash and saw wonderful examples of geologic folds and ancient sand dunes.  
"On the way home, we stopped for dinner at Ray's Tavern in Green River," she said. GEO 1110 is taught fall semester while GEO 3200 is taught spring semester.