The Game's Afoot opens Dec. 1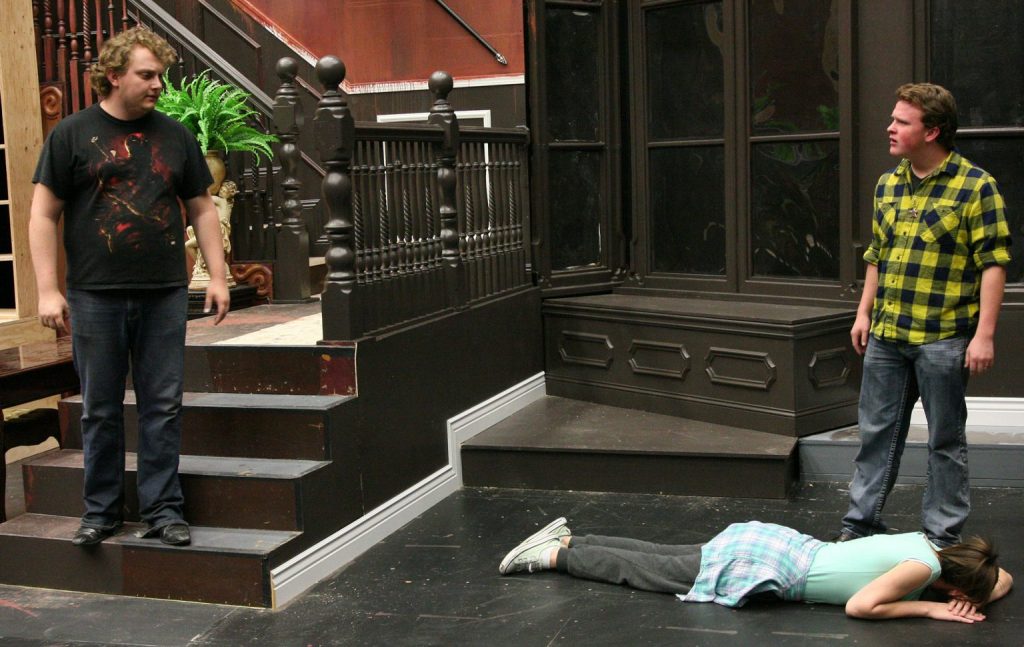 The Game's Afoot, or Holmes for the Holidays, a murder-mystery farce by Ken Ludwig, is USU Eastern's second theatre production of the year running the weekends of Dec. 1-3 and 8-10 in the Peterson Black Box Theatre at 7:30 p.m.
The Games Afoot received the Mystery Writers of America Edgar Award for best play in 2012. Ludwig is an American playwright and theatre director whose work was performed in more than 30 countries in over 20 languages. His first Broadway play, Lend Me a Tenor (1989) won three Tony Awards and nominated for nine. Frank Rich of the Times called it "one of the two great farces by a living writer."
Ludwig's second Broadway and London's West End production, Crazy for You ran five years and won the Tony Award, Drama Desk, Outer Critics Circle, LA Drama Critics Circle, Helen Hayes Award and Laurence Olivier Awards as Best Musical.
In 2014, Ludwig won a Falstaff Award for his book "How to Teach Your Children Shakespeare" in the category of "Best Book, Publication, or Recording". In 2013 he was awarded a Distinguished Career Award by the Southeastern Theatre Conference, the largest gathering of theatre professionals, faculty, and students in America.
Dr. Corey Ewan chose to direct this production because, "I directed several of Ludwig's plays including Moon Over Buffalo, Postmortem and Leading Ladies and they were audience favorites as well as my own. I think Ludwig is one of the great farce writers of our time. I enjoy reading and directing them.
"Postmortem is a prequel of sorts to The Game's Afoot. Postmortem takes place in 1922 and revolves around the attempted murder of Wiliam Gilette and a long unresolved murder. The play features many of the same plot points as The Game's Afoot. After reading Games, there was no choice, I had to direct this one: I laughed, I cried, it was better than Cats."
The Game's Afoot, tells the story of Gillette, an actor best known for his portrayal of Sherlock Holmes. It is December 1936 and an attempt on Gillette's life was made during a performance.
While recovering, he invites the cast to a Christmas Eve celebration at his medieval castle on a bluff overlooking the Connecticut River. In the vein of "whodunit" murder mysteries, the plot takes many twists and turns.
When one of his guests is stabbed at the mansion, Gillette puts his Sherlock Holmes' skills to the test to solve the crime before the next victim appears.
The victims are played by Josh De Mie (Carbon High School graduate) who plays early 20th century actor and playwright William Gillette who developed a love for Sherlock Holmes. This led to his great friendship of Holmes creator and writer, Sir Arthur Conan Doyle.
Emma Benedict (Hurricane High School) plays Gillette's long-suffering mother Martha while Braydon Summers (Stansbury High School) plays Felix Geisel, Gillette's best friend.
Taking the role of Felix's wife Madge is Jordan Goyeau (Las Vegas, Nev.) Portraying young matinee idol, Simon Bright is Zachary Ballard (Cottonwood High School). Making her debut performance as Aggie Wheeler is Bethany Peyton (Wayne County High School).
Inspector Harriett Goring of the East Haddam, Connecticut Police is played by Mackenzie (Mack) Smith (Northridge High School). Rounding out the cast is Veronica Tita (Maple Mountain High School) taking on the role of glamorous gossip reporter Daria Chase.
The costume design is by Macy Lynn of Dallas, Texas, while associate professor Brent Innes designed the set.
"The set is unusal in the fact that we purchased pieces of the set from the Old Lyric Reperatory Co., in Logan. Like a puzzle, Brent pieced together two existing sets into one in one of the largest sets ever built in the Black Box Theatre.
"There's stain-glass windows, an elegant staircase and embellished architectural details throughout," Ewan said.