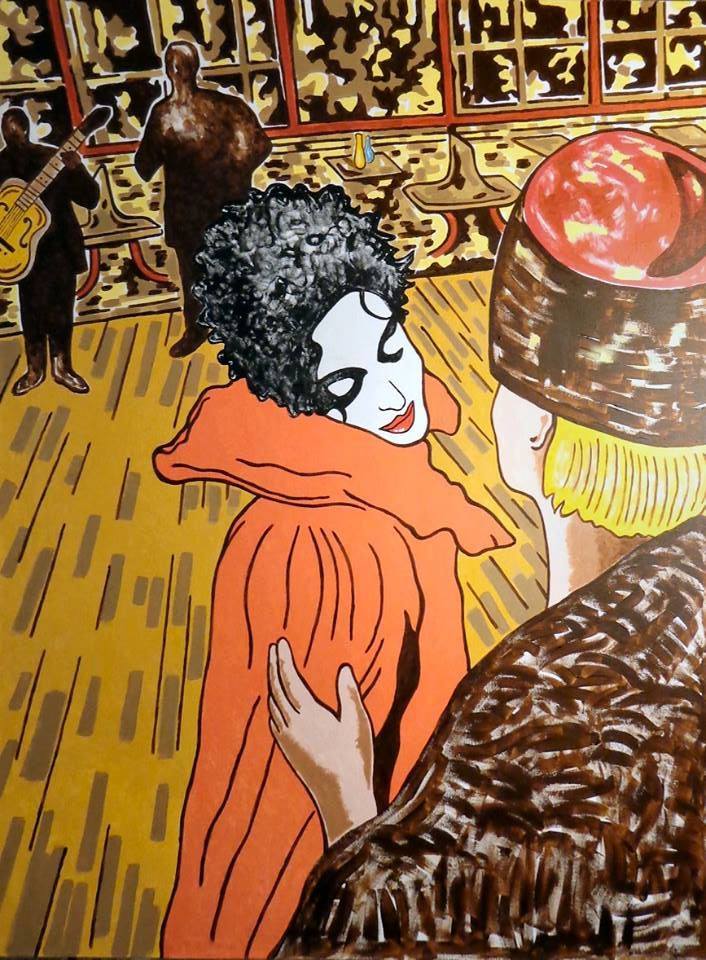 In the first exhibit of the Spring 2017 season, Ogden painter and art educator Steve D. Stones displays his amusing, odd, and sometimes freekish pop art paintings at Gallery East. The exhibit, titled Carnival Pleasures, runs through Feb. 10.
Stones' exhibit features a selection of 28-acrylic paintings and collages that draw upon the fantastic, bizarre world of carnival sideshows. "In the fall of 2011, I was approached by a business owner in my community to create large scale paintings of carnival and freak-show banners for his haunted house," Stones explains. "Many of the works in this exhibit were created for the haunted house, or inspired by the work I did for the haunted house."
As is common with pop artists, Stones finds his inspiration in images, logos and designs created for the consumer or a mass audience. Stones borrows this imagery for his own purposes: "My interests in painting lie in de-constructing, appropriating and dismantling pop-culture and mass media images and symbols. My attempt is to present these images in a new context in order to change how the viewer normally views these symbols."
American pop art originated in the late 1950s with artists as Robert Rauschenberg, Jasper Johns and Roy Lichtenstein using the imagery of packaging design, comic books and advertising ephemera.
Pop art was made famous by Andy Warhol and Mel Ramos in the 1960s, but continued by contemporary artists such as Keith Haring, Burton Morris, Boudro and the Hagan Brothers. "My sources include food packaging, advertising, comic book imagery, carnival banners, animated characters and famous paintings," Stones said. "I appropriate these images to communicate parody and humor in my work. My process involves acrylic paint, collage, airbrush and mixed media techniques."
Stones is a native of Ogden, Utah, where he earned a Bachelor of Fine Arts degree in illustration from Weber State University in 1996 and a Master of Fine Arts degree in painting at Utah State University in 2000. He has taught at WSU's Department of Visual Art & Design as an adjunct instructor of art 17 years.
Stones will be at Gallery East, located in the Central Instructional Building, for a closing reception and gallery talk on Friday, Feb. 10 from 6 -8 p.m. Students, faculty, staff and the public are invited. It is free and open to the public during the academic year, from 9 a.m. to 5 p.m.
Contact Noel Carmack at 435-613-5241 for gallery questions.