Two Code Blues on campus today, Monday, Jan. 23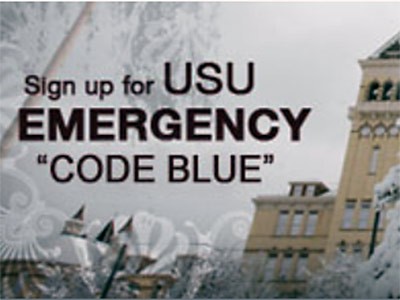 Code Blue, Utah State University's emergency notification system issued two Code Blue alerts today, Jan. 23. The first was a text and phone message at approximately 9 a.m. announcing all classes on the Logan campus would close for the rest of the day including night classes. At 10 a.m., Code Blue issued another alert announcing the Eastern campus is closing for the day.
Copious amounts of snow fall have fallen on the Logan and Price campuses to necessitate the closure of the two campuses. Snow started to fall early Sunday morning and is projected to continue through Tuesday. This marks the third week of unprecedented snowfall in Cache and Carbon counties.
Greg Dart, vice chancellor of student affairs and enrollment management, sent out an email stating the dining hall would be open for lunch and dinner.