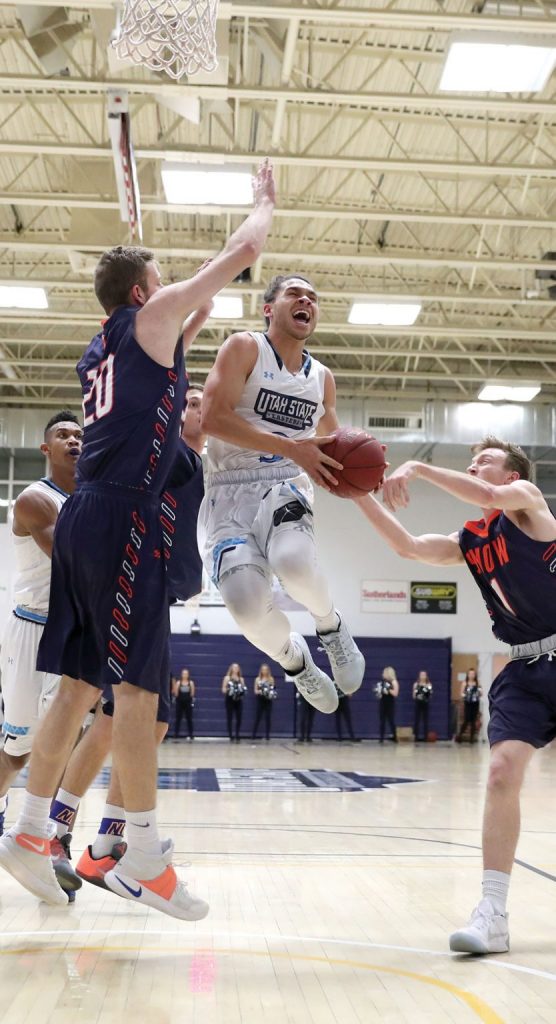 This archived article was written by: DJ Hill
Scoring their first conference victory on the road, the Eagles struggled the next two home games.
On Jan. 19, the Utah State Eastern men's basketball team traveled to Rangely, Colo., to take on the Colorado Northwestern Community College Spartans. They got their first conference win in a two-point contest, 62-60.
Sophomore forward Cam Bailey would lead the team with a double double: 20 points and 10 rebounds.
At half, the team led 37-29. By the second half, Eastern was outscored 25-32 in the second half, but the first half lead would hold up for the team.
Next the Eagles faced off against the Snow College Badgers on Jan. 26 in the Bunnel-Dmitrich Athletic Center. The team never led in the game as the Badgers started the game off on a 10-0 run and eventually the score would be 26-6 early in the first quarter.
At half the lopsided 47-18 score was in favor of the Badgers. Although the team would outscore the Badgers 41-33 in the second half, they couldn't dig themselves out of the first half hole they put themselves into.
The team was led by freshmen guard Quinn Peters with 19 points, four rebounds and three assists. Bailey would also have a good game with 10 rebounds and nine points .
Following the loss, two days later the team played the College Of Southern Idaho on Jan. 28, in Price, Utah. The Eagles would play well in the first half with a 47-42 score in favor of CSI.
They ran out of steam the second half as they dropped the game by 19 points: 93-74. Although the score would not come out in the Eagles favor, there were flashes of what this team could actually become as they know what they need to fix for the final stretch of conference play.
The team was lead by Peters with 17 points, Roman Mcknight with 15 points and Koel Cutler would would play extended minutes due to the injury to starting guard Milan Surlic..
The team's next games are on the road against Salt Lake Community College on Feb. 2, and CNCC on Feb. 4.
The team's Fan Appreciation Game is Feb. 7, against Snow College who sits on top of the conference with a 20-3 record.