Eagles' name Chelsey Warburton as new director of athletics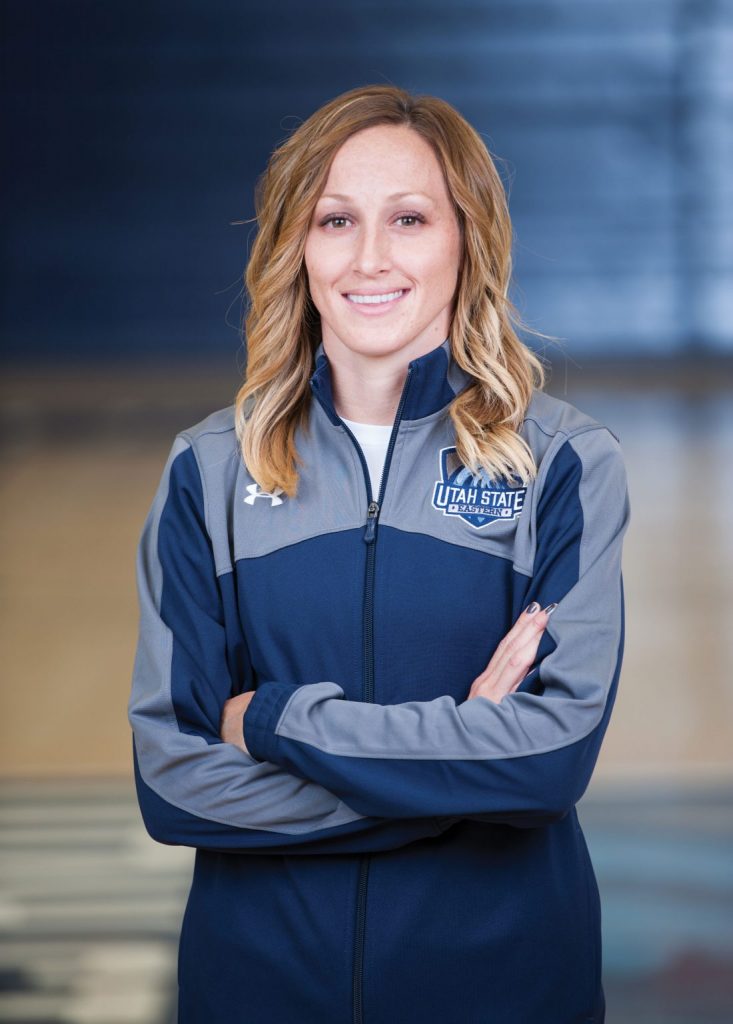 This archived article was written by: Alex Morrell
Chelsey Warburton will add another title to her name June 1, as she was named athletic director, replacing Dave Paur who served over two decades as AD for the Price two-year college.
I had a chance to catch up with Vice Chancellor, Greg Dart this week and get some answers about the hire that all of us need to know.
Q: Is this a permanent hire or a temporary hire until budgets are figured out further for a full-time position? Or is Chelsey a full-time athletic director and part-time head coach?
A: The history of a coach/athletic director at USU Eastern and in the conference is well established. It would be impossible to say that one role was a part-time role and the other role is full time. This is a responsibility that adds to the workload Chelsey has already. She has a very capable assistant that can help her out as well, and it is my intention to stay involved in athletics from the vice- chancellor level. One of the hallmarks of this institution has been to collaborate for success. The athletic department can continue to grow and be successful only through the hard work of many people.
Q: What went into the hiring? Was there a hiring board?
A:Because of the financial constraints that USU Eastern was under to hire an athletic director, an informal national search was suspended and it was determined that a current employee in the athletic department would be our best bet to replace Paur as athletic director. Athletic personnel had an opportunity to express their interest in the position, and three employees were interviewed. Following the interview process, it was determined that Chelsey was the best fit for the current state of the department. During the interview process, it was made clear that it is the hope of the administration that the position will be evaluated each budget year with the hope of a full-time position in the future. It was communicated that at that time an open search would commence.
Q: With a 23-36 record at the realm of woman's basketball, she seems like an unlikely candidate to build the successful program you talked about. What intrigued you about Chelsey for this position?
A: Chelsey has been a winner her whole life. She has brought success with as her as a player, and in only her second year as a head basketball coach, she improved to a .500 record from a .310 record. Having said all of that, the role of an athletic director is significantly different than the goal of a coach. Just like every successful player does not turn out to be a successful coach, the same could be said about coaches that make the transition to athletic director. Chelsey brings with her an understanding of what it takes to move on as a student athlete, the challenges and difficulties that student athletes face, the role of athletics in the student-athlete experience, the importance of developing the whole student, the understanding of multiple sports, as she has served as head coach and the understanding of the community and the institution.
Just like anyone who stepped into this role, there will be a learning curve. But it is clear that Chelsey has been a part of building a winning culture at Utah State University Eastern.
Q: With Chelsey's D1 playing experience and minimal one year of professional experience. how do you feel that will help her in her administration?
A: Chelsey has been a consummate professional during her time at USU Eastern as a coach. An athletic director is responsible for everything from eligibility, student athlete well being, fundraising, scheduling and planning, supervision and a myriad of other things. During her time at the institution, she has shown herself to be a confident, organized, detail oriented, driven professional with great leadership traits. She also understands the importance of representing athletics to the great campus community. Chelsey will be an ambassador for the department to groups on and off campus.
Q: How do you feel a BS in criminal justice qualifies her as an administrator of sthletics for a growing athletic program in USU Eastern?
A: Chelsey brings in a wealth of experiences that have prepared her for this role. As an additional responsibility on top of all she already does, her undergraduate major was not the deciding factor in the hiring decision.
Q: Anything else you want to cover that wasn't asked?
A: I am confident that Chelsey will help take USUE. Athletics to the next level. We have a department that is made up of amazing coaches, amazing support staff and the best student athletes you can find anywhere. It is my belief that when you are looking at the progress that has been made in the athletic department over the past two years, it will pale in comparison to the progress that is on the horizon for Eagle Athletics.
Chelsey is set to take on this position on June 1 and will be in this position indefinitely. In anUSU Eastern Press Release she said, "I am excited to help move forward the vision of excellence," Warburton Said. "We have all the pieces to take the department to the next level, for great coaches, great support staff and amazing student athletes."
It will be interesting to see what direction the program takes with Warburton at the realm. Follow USU Eastern Athletics on Twitter or Facebook for updates on the athletic department and program.