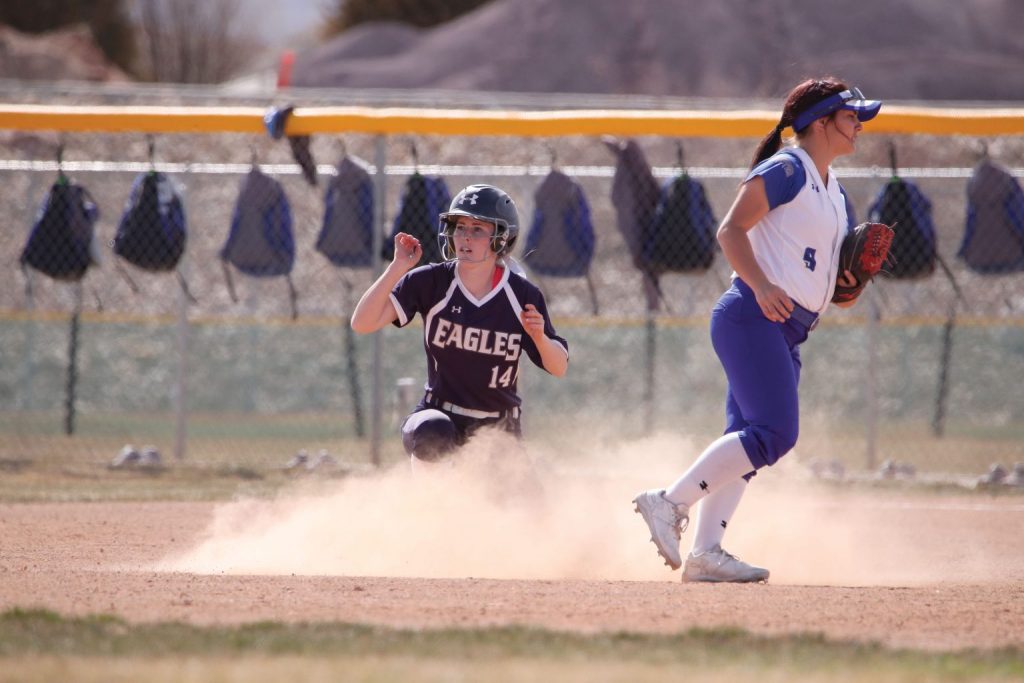 This archived article was written by: Angelique Lokeni
Off to a rocky start, the Eagles inaugural season sees the team with a win and 11 losses after three weeks as they improve with each game.
Earlier this month, the USUE Eagles played their first series of conference games against Colorado Northwestern Community in Rangely,Colo. The four-game series scores were 0-10, 12-3, 0-11 and 5-13 with the Eagles winning their second game and led by sophomore McKell Marble as the winning pitcher. Sophomore Manni Johnson and freshman Angelique Lokeni both had good days at the plate with two RBI's and a home run for Johnson while Lokeni had two hits, two RBI's and a walk.
Sophomore Taylor Casaquito played a large role in the Eagles' win with two hits, two walks, one RBI and scoring twice. Casaquito also had help on offense from Lokeni and freshman Madi Blauer who both hit doubles in addition to Casaquito's double.
The following weekend, the Eagles traveled to Salt Lake City to face Salt Lake Community College in another four-game series with much better offense showed by Eastern.
The Eagles' kept the game close for the first half of game one with a three-run homer from freshman, Cass Howe. However, the game took a turn when the Bruins hit a home run and then proceeded to score another seven runs, taking the game from 7-6, to 14-6. The Eagles finished 0-4 that weekend: 6-14, 1-15, 2-12 and 0-9.
They returned to Price for their home opener this past weekend at the Carbon County Fields against College of Southern Nevada.
Still looking for consistency, they ended with the Eagles going 0-4: 3-13, 1-13, 0-8 and 7-8. However the team feels that the scoreboards do not always give the best reflection of what the game actually looks like.
The final game of the series was the Eagles closest game this weekend with the Eagles maintaining a 7-1 lead until the last inning when the CSN Coyotes pushed runs across giving the Coyotes an 8-7 win. Regardless of the score, the Eagles' bats were exceptional in game four with Parker Fronk (freshman) and Howe each having two RBI's, Siearrah Anderson (freshman) had a solo homerun, McKayla King (freshman) and Blauer each had two hits, and Alexis Mendenhall (freshman) drew three walks in the last game.
Although the team's record so far may not be quite what they desire, they are still optimistic about the outcome of the rest of the season. Second baseman, Hailey Kemp said in regard to their season so far, "I think we still have a lot to learn and a lot to improve on but we're definitely coming together as a team and starting to put together what we are learning."
Her expectations for the team this season are, Kemp stated, "I expect us to compete and be competitive the rest of the season. There's a lot of pressure because we are a first year team and we're in such a good conference but I think we can definitely compete."
The Eagles next series will be played at home this coming weekend against the College of Southern Idaho at the Carbon County Fields at 1 and 3 pm on Friday, March 24 and at noon and 2 pm on Saturday, March 25.