Kings inducted into USU Hall of Honor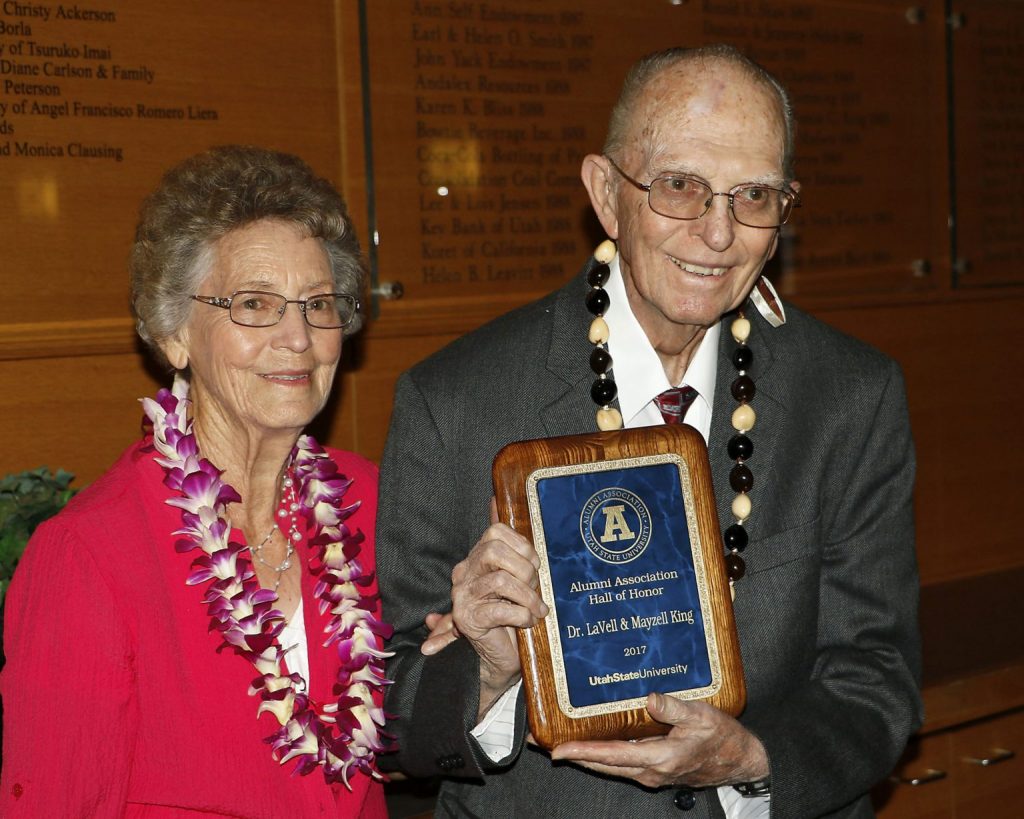 One cannot talk about higher education in Price, Utah, without mentioning LaVell and Mayzell King. The renowned educators were honored by Utah State University Alumni Association as two of six alumni inducted into the 2017 Hall of Honor on April 8 in Logan.
The Kings helped shape the landscape of higher education in Eastern Utah as they continue to help students achieve educational dreams at USU Eastern.
LaVell began his quest for higher education in 1951, attending Carbon College and playing basketball and baseball for the Golden Eagles. After graduation, he transferred to Brigham Young University where earned a bachelor's degree in biology.
After completing his master's degree in entomology at BYU, he was hired to teach biological sciences at Carbon College. After a few years of teaching, he was granted a sabbatical leave to work on his doctorate degree in genetics and graduated from the University of Utah with a Ph.D.
He returned to Price to teach at Carbon College which had morphed into College of Eastern Utah, a name change that reflected the college serving the students of Southeastern Utah. He continued teaching 34 years, including serving in the administration as well as an emeritus professor for several years.
Mayzell supported LaVell during his education and career while she focused on their four young children. When her eldest son enrolled at the CEU, so did Mayzell. She earned her associate degree in 1972 and began taking elementary education classes through USU Extension. She earned her bachelor's degree in 1974, enabling her to begin her journey of teaching in the Carbon School District 20 years.
Together, the Kings continued to support their alma mater. They served on the CEU Alumni Board and were instrumental in the successful transition from CEU to became USU Eastern.
The LaVell and Mayzell King Family Endowment honors their legacy and work in the education field. With higher education in their blood, the children of LaVell and Mayzell continued the expectation of higher education, each graduating from CEU.
Michael, earned a doctorate degree and is a wildlife biologist at USU Eastern. He also served in administration at CEU/Eastern and was interim president before and during the merger with USU.
Brad, earned a master's degree and worked at CEU/Eastern 33 years, the last as vice chancellor of administration and advancement.
Barid recently retired following a career with the federal government and speaks six languages.
Lorilyn earned a master's degree in audiology and speech pathology. Additionally, 12 grandchildren graduated from CEU/Eastern.
USU Eastern Chancellor Joe Peterson met the Kings when he was growing up in Price. "LaVell and Mayzell King's service to the college's spans many decades. It started when LaVell was 19, studying and playing on the college's baseball and basketball teams.
"Later, LaVell joined the science faculty at the college. And even later, Mayzell herself got her degree at the college and became a teacher. Their four children all studied at the college, and two of them, Mike and Brad, eventually became important leaders at the college.
"Over the course of many years, they have pooled their finances to create a wonderful scholarship endowment at the college. Indeed, their service to the college has been long, illustrious, and important," Peterson said.
The others inducted into the 2017 USU Hall of Honor with the Kings included Betsy and Marty Judd, Logan; Dr. Jay Monson, Logan; and Nikkel Skinner Nielsen, Gilbert, Ari.