Meet drumline coach, Ben Jones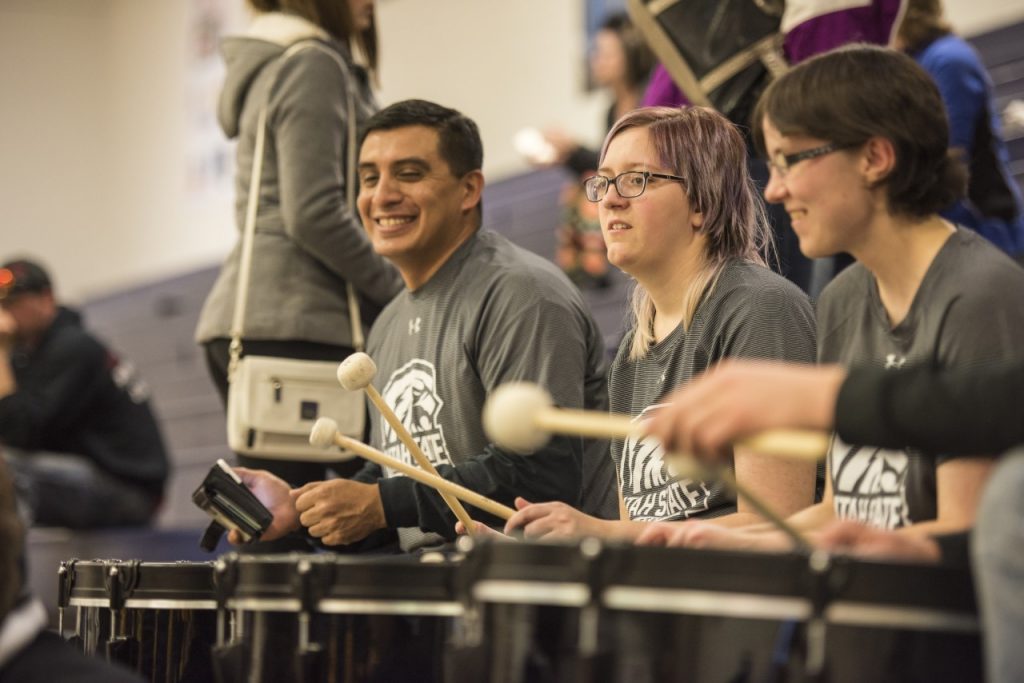 This archived article was written by: Hannah Coleman
Ben Jones is the drumline coach at Utah State University Eastern. This is his first year in the position, but he's been at Eastern since 1990. Jones began working with music in sixth grade, and hoped to become a concertmaster. Instead, he coaches the drumline, which performs at sporting games for basketball and soccer.
Jones says the best part of drumline is that it's all for fun. It's not as stressful as music programs. There aren't strict requirements and a high intensity atmosphere. It's very friendly and all about having a good time.
The biggest challenge has been recruiting members. Drumline performers get a $500 scholarship. Coaches from other schools have remarked that the drumline has shifted the atmosphere of games to a better vibe, and Jones is looking for members next year.
Eventually, Jones hopes to see more complex music and some choreography. He wants to see the team give back to the community and add spirit to student activities. Jones prefers to play at basketball games, since playing at soccer games borders on distracting. He admires the section leader, Paige Martinez. "If it wasn't for Paige, we wouldn't have succeeded in anything this year. She's been wonderful."
Jones is a fan of both Star Wars and Star Trek, specifically Next Generation. If he could have any celebrity over for dinner, Jones would eat with Phil Collins. His biggest fear is dying before making an impact on the world.
Jones' favorite bridge is the one next to the Hoover Dam. "Just like in the first Transformers movie." Aside from having a wonderful wife and family, Jones considers his greatest accomplishment to be playing Jean Valjean in USUE's production of Les Miserables. He will be performing in USUE's "A Funny Thing Happened on the Way to the Forum" from April 20-22 and 24-29.