The Eagle wins 10 awards at 2017 Utah Press Association's Better Newspaper Contest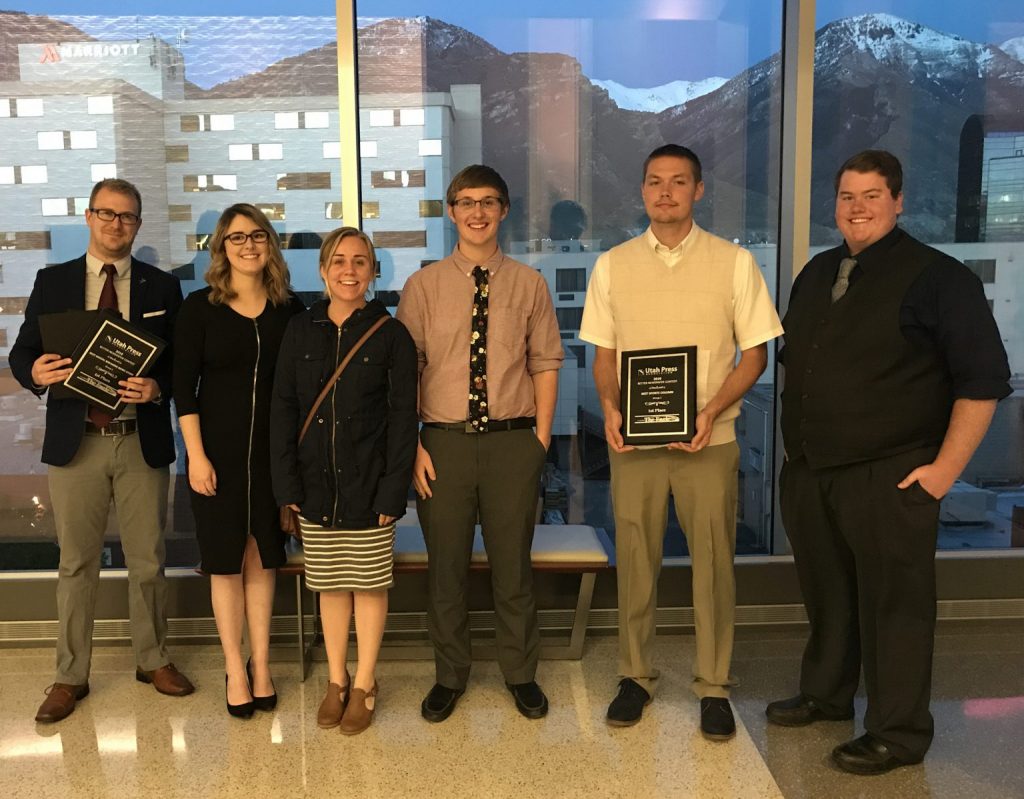 USU Eastern's student newspaper, The Eagle, scored 10 awards at the Utah Press Association's Better Newspaper Contest on April 29 in Provo. The Eagle was judged against professional and college newspapers throughout Utah.
Managing editor, Nathaniel Woodward, Price, won first place for his story on former Eastern basketball coach Chris Craig's life continuing to unravel.
Sophomore sports writer, Tai Justice, Huntington, won first place for his sports columns. Justice eats, drinks and lives to watch sports which he thinks is totally natural.
The staff won three-second-place awards including Woodward's best news coverage about the end of an era with the old Student Activity Center being demolished; Austin Fietkau's, Pleasant Grove, best sports story about soccer's "The Pros, the Cons and the Plans" and Tyson Chappell's, Price, best sports photo for his butting-head's soccer shot.
Alex Holt, Tooele, and Rodrigo Lyon, West Jordon, won third place for the best news series about the changing climate of sexual assaults on campuses. Holt also won third place for the best editorial series on political hot topics.
In the best feature series category, Woodward won third place for his series "Setting the Record Straight" where he writes about the truth and fiction in the science world.
Editor in chief, Rachel Bjarnson, Taylorsville, won third for her front-page designs of The Eagle while a staff-produced ad to "Read The Eagle Online" won third for best circulation promotion.
Woodward said, "My time spent at the Eagle has been both a challenge and a pleasure. Seeing The Eagle grow over my two years as editor is something I'll look back on with pride, knowing all the hours spent writing and editing made me a better person. With over 120 article written and countless more hours put into production, nothing else could have better prepared me for law school. I'm happy to see all our hard work recognized by the UPA."
"We have always won a lot of layout and design awards, but this year was our best year ever for writing awards," adviser Susan Polster, Ph.D., said.
The Eagle was judged in group one of five newspaper categories that includes all weeklies under 2,500 in circulation. As a member of UPA, it has the smallest circulation in the state with 1,000 copies printed every other week. A lot of its readership comes from its website at usueagle.com.
"Utah has great newspapers representing every area of the state and the Eastern student's work is judged against other universities plus professionals. Winning in any category is a real honor," Polster said.  
Other college newspapers with membership in UPA include Utah Valley University, Brigham Young University, University of Utah, Weber State University and Utah State University. Weber State's "Signpost" won the general excellence award.
The Utah Press Association was created in 1893 to represent Utah's publishers. The organization is Utah's oldest trade association. It's website reads, "as an organization, we represent Utah's finest, most respected journalism. Utah Press Association annually recognizes excellence in our state's newspapers and presents awards to industry leaders."