Utah State Eastern student athletes, teams honored for success in the classroom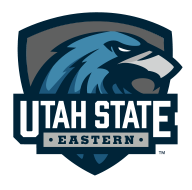 The Utah State University Eastern womens basketball and volleyball teams Were Each named NJCAA Academic Team of the Year this week.
Both teams earned honorable mention honors for having a team GPA above a 3.0 for the entire school year.
"We could not be more proud of our volleyball and womens basketball team for this achievement. Their commitment in the classroom speaks volumes about these amazing student athletes," said Utah State Eastern Vice Chancellor Greg Dart.
Those weren't the only honors the school took home from the NJCAA, 34 USU Eastern student-athletes received academic All-American honors for their work in the classroom last year.
Headlining the list of academic All-Americans were Lauren Naisbitt and Melanie Graves of the womens soccer team. Both students received first-team academic All-American honors from the NJCAA for having a 4.0 GPA throughout the entire school year.
The USU Eastern volleyball team and womens soccer team had the most academic All-Americans with 10.
The volleyball team had the highest GPA in the athletic department with a 3.64 team GPA, placing them in the top 10 nationwide.
One of the biggest factors behind the athletes' success in the classroom this past season was the hiring of Jaycie Miller as the academic advisor specifically for athletics.
Miller meets with each student-athlete regularly to help them develop academic plans and stay the course throughout the semester.
"Each student has different goals or a different idea of what success looks like. It's my job to help them figure that out and help make a plan for them," Miller said.
According to the NJCAA, 10.1 percent of the of 59,000 student-athletes participating in NJCAA athletics in 2016-2017 earned a spot on one of the three academic All-American teams.
Eastern student athletes who were named NJCAA Academic All-Americans from the NJCAA for 2016-2017 include mens basketball players: Alex Morrell, second team; Andy Isokpehi, Nicolas Schapochnik and Kristupas Totoris, third team; womens baskeball: Autumn Kay and Harlee Willoughby, second team; Kaitlin Toluono, Lauren O'Connell and Madison Loftus, third team.
Two sport athletes named included Sara Morley, womens basketball and volleyball; plus Mateah Tuckett, womens basketball, volleyball and softball who both earned third-team honors.
Volleyball players included Jaelyn Olsen, Lindy Bluemel and Mekenzie Miller, second team; Agatha Roese, Emily Bender, Kayla Newman, McKenzie Mott, and Sidney Springer, third team.
Womens soccer players included Melanie Graves and Lauren Naisbitt, first team; Adri Sorensen, Gabriella Sorensen and Jennifer Reynolds, second team; Megan Call, Alexis Hill, Rachel Neff, Taryn Pritchett and Tarynn Kerr, third team.
Softball's McKell Marble was named to the second team.
Mens soccer athletes included Renato Magalhaes, second team; Austin Fietkau, Kaina Elias and Kiernan Blouin, third team