High school athletes join USUE Cheer Squad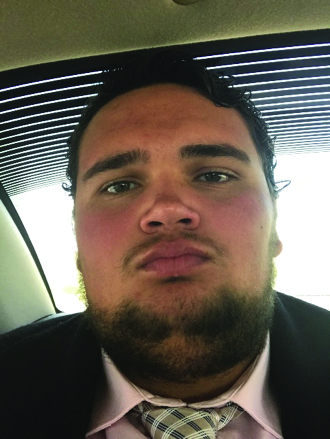 This archived article was written by: Zach Kynaston
Former high school athletes are the newest cheer squad members: Zach Morrell and Christan Heugly on this year's 2017-18 cheer team.
Morrell is from Clearfield, Utah, where he competed track, was the caption of the team plus played defensive end and tackle for the football team at Clearfield High School.
He is looking to major in physical therapy or criminal justice.
He came to USUE because he said he must start somewhere with his college career an choose Utah State University Eastern because it was cheap and wasn't to far from home.
A little more about Morrell is that he is outgoing and likes to have fun. He has two older siblings brothers and loves his nephew.
The reason he wanted to try out for cheer is because he thought it would be fun and he didn't just sit around all day and this gives him something to do instead of just staying in the dorm. Plus he can get a athletic scholarship which means paying less tuition and fees for him.
Heugly, he is from Herriman, Utah, but used to live in Price. He still has family here so that's why he chose to come to USUE for his college. He is also one of the many RAs at USUE.
In high school, Heugly was the student body president at Providence Hall High School. He played basketball as the point guard and men's volleyball, and golf.
He has always loved playing sports and his family includes three younger siblings: two brothers and one sister.
While at USUE, he wants to complete his generals and then take classes towards being an eye surgeon.
The reason he wanted to do cheer was because he also thought it would be fun and he gets a scholarship too so he doesn't have to pay as much money to attend college. He thinks cheer will be good because now he can get back into shape.
Morrell and Heugly and the rest of the cheer squad will be cheering and performing at most of the Eagle sporting events including soccer, volleyball and basketball.