Students seeking info on families in Puerto Rico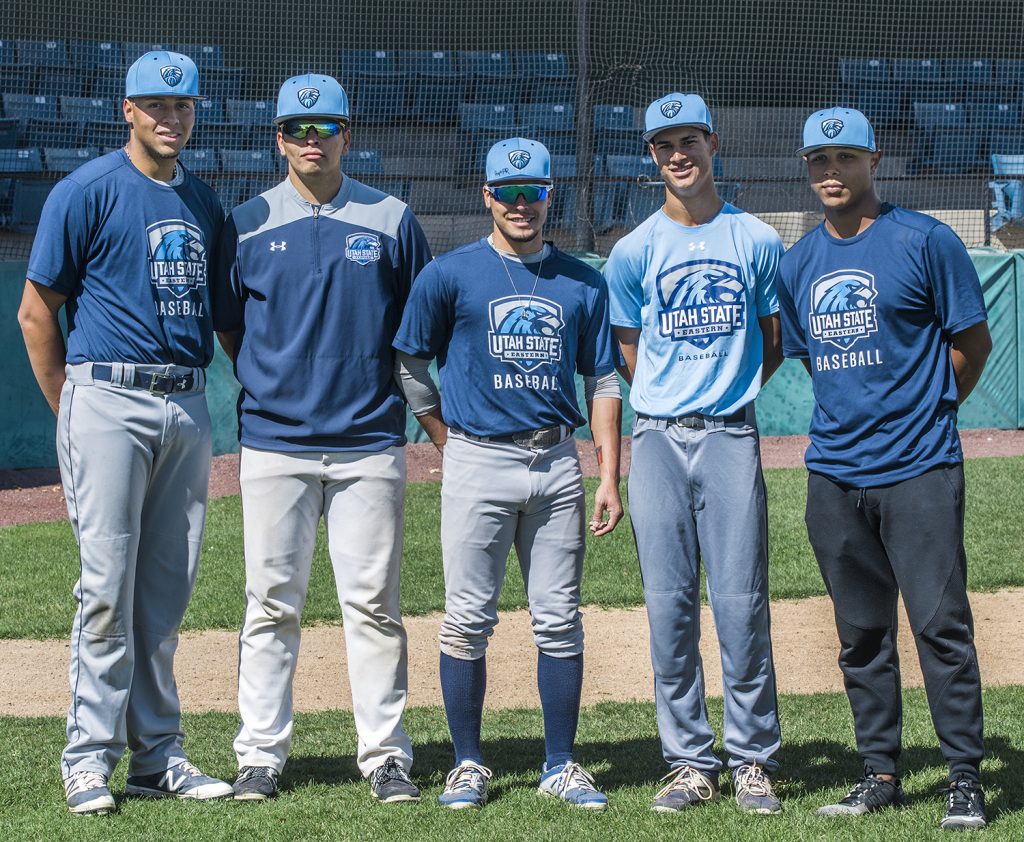 Communication with family in Puerto Rico remained mostly silent last week for five Utah State University Eastern student athletes who anxiously watched the news daily for updates on their families and homeland after Hurricane Maria left much of the country's four million Americans without power, fresh water, food, fuel or phone service.
"We've been hit by hurricanes and tropical storms before, but never one of this magnitude," said sophomore Lionel Colon Adams. The hurricane that hit Puerto Rico last week was a category-four storm and dropped a foot of rain on the island and damaged 80 percent of the structures.
Kenneth Maisonet, Steven Ortiz Torres, Josean Rivera, Rafael A. Nunez and Adams are all from Puerto Rico and recruited by Eastern's head baseball coach Scott Madsen to play for the Eagles. Four of the players graduated from Pro Baseball Academy, an all-male high school on the island.
The students were born in Puerto Rico and have large-extended families living throughout the island. Because Hurricane Maria was one of the biggest catastrophes in modern history for Puerto Rico, the five-baseball players spent days waiting for someone from their families to contact them. By Sept. 25, they were all contacted that their families are safe.
Officials said 1,360 of the islands cell towers collapsed and 85 percent of above-ground and underground phone and internet cables were knocked out. Roads are blocked, phones dead and hospitals at capacity, making the situation even more dire. Over 155-mile-an-hour winds pounded the island four hours.
Adams explained when a hurricane or tropical storm is forecast, most people buy gas and canned food. They cover their home's windows with plywood or metal. Signs are placed throughout the island "Prepare Yourself. We get up to a week warning to prepare for these events. We've gone through many strong storms every year . . . but not one this bad."
Families are celebrated in Puerto Rico and the family with the largest house is where most family members congregate during storms. Everyone brings food and wine as we stay inside and catch up with family and friends while riding out the storm. Our culture makes this experience positive for each family member, Adams said.
Those who live in homes made totally of cement should be okay, except for the flooding and mud slides. When the flood waters in the homes recede, people throw away the furniture and anything that gets wet. Most of the floors are tile and will eventually dry. Adams estimates 80 percent of the homes in Puerto Rico have cement walls, floors and roofs.
The homes made from wood are not usually salvageable. Between the water and wind, there is usually nothing to save after a hurricane, Adams said. Because the north and south areas of Puerto Rico are mountainous (4,390 feet above sea level), people living along the mountain ranges usually do not get as much flooding as those in the coastal areas.
Adams and Torres arrived on Eastern's campus in fall 2016. During the first month of college they found themselves, along with their baseball teammates, shoveling sand in bags for area residents after torrential rain flooded many areas of Carbon County for a week. They had helped clean up flood waters in Puerto Rico many times, and last year, the two freshman helped fill sand bags to prevent flooding in homes throughout Southeastern Utah.
Torres' father works for one of the power plants in Puerto Rico and has access to a satellite phone. "He called me to let me know my family is okay, but lots of trees and poles are down."
On the day of the interview, Coach Madsen received a phone call from Adam's uncle in New York. The uncle told Madsen that he had been in contact with Adam's mom in Puerto Rico and they were safe.
Each of the students talked about trying to focus on their academics and play baseball while thinking about their families and wondering if they were safe, had food and a place to stay.
They look for messages on social media everyday in hopes someone from their families post information about their status.
Nunez saw a message on Facebook Friday morning that his hometown was destroyed, no trees, no construction. The waterfront hotels were all gone. The cement houses were all that were standing.
All five students agree attending college on America's mainland is better for them. "The U.S. offers the best education and a better life for us," Nunez said. "We feel safe at USU Eastern, but do not like the political climate in America. We are afraid that America is going into a war."
Taking their education serious, two of the students plan to major in electrical engineering, one in biology, one in business and one has not decided his major.
Three of the students speak fluent English and two are enrolled in English as a Second Language class. Most Puerto Ricans speak Spanish and take conversational English classes in elementary school.
The language barrier is not a problem in sports. According to these student athletes, it's the same baseball rules in Puerto Rico, only everyone who plays there tries to make it look easy. Hopefully, as in playing the game of baseball, life will become easier for these five athletes knowing their families survived last week's "apolcalyptic" catastrophe.