Jake Satterwaite is a multi-sport athlete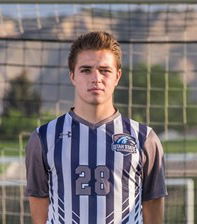 This archived article was written by: Fisher Hermansen
Jake Satterthwaite, a freshman
center-back for the soccer team
at Utah State University Eastern,
comes from Fremont High School
in Plain City, Utah.
He is excited to be a part of
Eastern's soccer program since he
has been playing soccer since he
could walk.
A life time goal of his was after
high school to make it to the next
level and play soccer in college.
His favorite thing about soccer is
playing with the team and building
an unspoken bond with his fellow
teammates.
His teams and personal goals
include trying to become better
everyday. He pushes himself and
teammates on and off the field.
This year's team, he says, is
solid all around, has lots of talent
and he has high hopes for them.
If the team can become unified,
they will play well enough to win
the conference and the conference
tournament this year.
This is a goal that they, as a
team, strive for everyday. Satterthwaite
keeps busy with the student
athlete life between the schooling,
practice, games, workouts, travel
time, etc.
He says that it is a lot more
work than high school, but enjoys
the busy life style. Life at USUE,
he said, is good and he likes the
school a lot.
Price is a little boring, but likes
all the activities that go on campus.
His favorite sport to watch is soccer
and his favorite team is Barcelona.
He looks up to his father, because
he is his role model and hopes to
be just like him.
What motivates him, he said
that success does. He says once
you tasted success you can't get
enough of it. The thought of it
drives him day to day to become
better and to achieve the goals he's
set for himself.