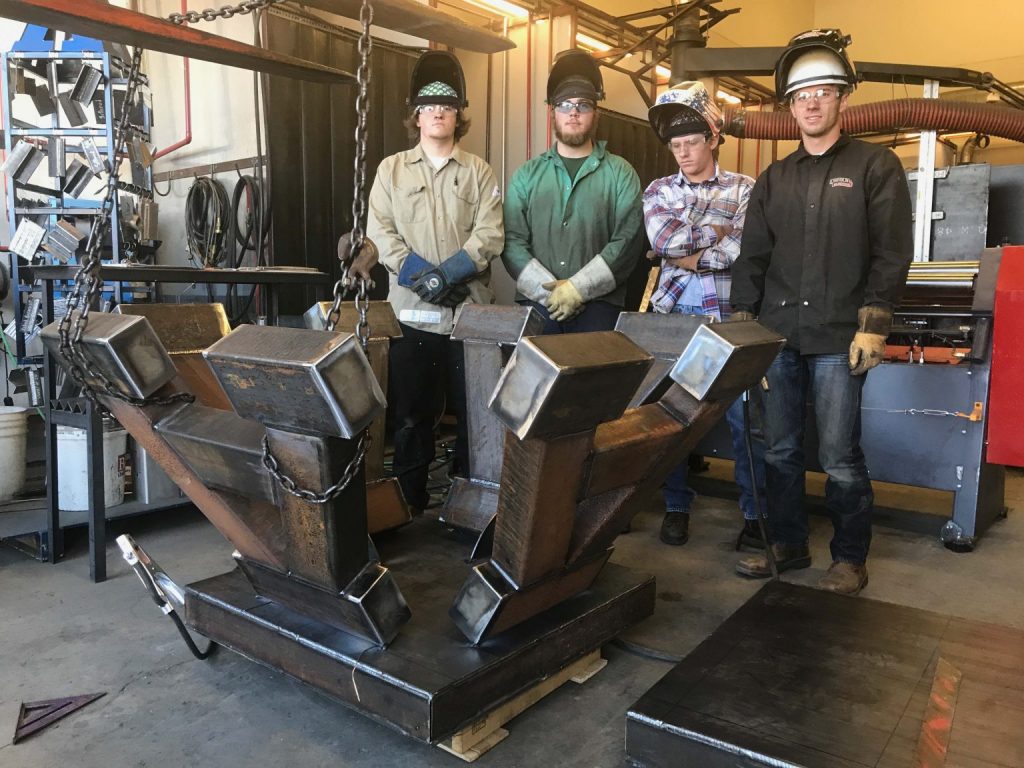 One more step in the transition of becoming Aggies is almost complete as USU Eastern welders create a duplicate of Logan campus' "A" to be permanently mounted in front of the BDAC during Homecoming Week which runs from Oct. 7-14.
Eastern's "A" statue is the exact size of the original one, made of quarter-inch steel tubing and plate. It weighs 700 pounds and is described as indestructible. A second statue is being made for the Blanding campus.
According to Vice Chancellor and Provost Gary Straquadine, the statue will be powder coated by a local automotive paint shop and set in place during Homecoming Week.
The week's activities begin Saturday, Oct. 7 with a street cleanup of 400 East starting at 11 a.m. The chalk art competition begins at noon on Monday, Oct. 9, a hypnotist at 8 p.m. on Tuesday, Oct. 10, the faculty/staff versus students' basketball game at 7 p.m. on Wednesday, Oct. 11, the Monster House outdoor movie at 7 p.m. on Thursday, Oct. 12, and Lite Brite at 9 p.m. on Friday, Oct. 13.
The unveiling of the "A" statue will be at a tailgate party in the BDAC parking lot at 12:30 p.m. Free hotdogs and hamburgers will be provided. The USU Aggies vs. Wyoming Cowboys football game will be streamed in the BDAC for students, faculty, staff and alumni to watch on a large screen.