Bookstore closing in May 2018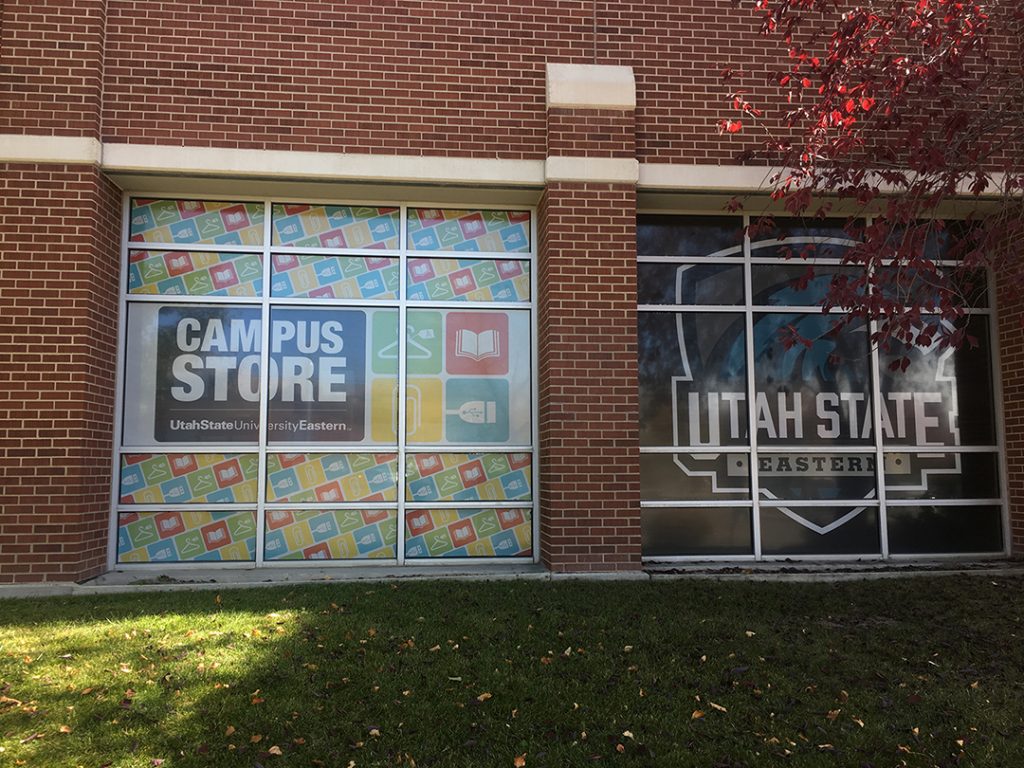 This archived article was written by: Alexander Holt
Utah State University Eastern's bookstore is slated to close May 2018. Vice Chancellor of Enrollment Management Greg Dart announced the decision Oct. 16, with a mass email to all students, faculty, and staff
"I wanted to take a second and tell you about something that has been discussed for a bit of time, but became official last week," he wrote.
 "The decision comes after much discussion and several potential options, but the forces that have led to the closure have been in the works for years. Years of declining revenue brought about by the implementation of purchasing cards on campus, students sourcing books and supplies through other means and rising costs of goods have led to the decision. Those forces are not unique to the Price store, as Tooele and Uintah Basin campuses have closed their stores as well. Nor are the challenges unique to campus stores, as increased online competition has had its impact on retail businesses of all kinds," Dart wrote.
For years, student's campus business officers noted a rapid decline in textbook revenue and related commissions, as students pursued lower-cost alternatives to purchasing books from the store, wrote Nancy Jackson in UB University Business in 2015.
As a result, stores open online-only bookstore for textbooks and course materials. As for brick- and-mortar outlets, they are opening retail locations that sells all the typical items – except books and other coursework necessities.
National Association of College Stores' Laurie Massie wrote, "Rentals, digital and custom course packs are growing in popularity. These formats provide price-point options for students that can allow them to stretch their dollars a little further."
Some institutions have found ways to overcome these losses. For instance, The College of Idaho moved textbooks sales online in 2013, but MBS Direct, its vendor, offers a mobile app that can be used inside the remaining store (or anywhere else).
Although the campus store no longer stocks course materials, selling spiritwear and other items off-site—such as at athletic events—has boosted the bottom line. Sales of these other items are expected to double for the year, reported Jackson.
At the University of Pittsburgh, Starbucks coffee, rows of glasswork by local artisans and clustered coffee tables and chairs are in its bookstore.
Most of the Seton Hall University store is devoted to apparel, school supplies and gifts. A few shelves are stocked with personal care items, while a multi-tiered Boots cosmetics display and collection of Crabtree and Evelyn lotions are near checkout counter.
Students want stuff and Fyock's store has a new "tech row" which includes Dell and Apple computer kiosks.
At Brigham Young University, books are gone from the shelves after the term begins, making room for a clothing boutique.
In Florida, bookstores have food sections with Pop Tarts to canned soup with a freezer crammed with Healthy Choice and Lean Cuisine entrees. The gathering area has green armchairs, red swivel stools, and tables set between a 42-inch TV. It offers cards and gifts, alumni paraphernalia, and a nook equipped with four computers and a printer available for free student use.
Students are employed and make buying decisions on the clothing front, reports Ron Schachter in UB University Business. "We've created hipper boutique sections where students can take a quick look at a shirt and say, 'that design mimics the big retailers at the mall.'"
Keeping in mind the values of a younger generation also has begun to pay off for the store, Wooster Middleton writes. "A few years ago, we brought in chocolates and snacks made by a company that contributes a portion of sales to rainforest preservation, and we were very successful with those products. Sometimes an item as small as that can bring a student into the stores. You can do small things to increase sales and get back some of the foot traffic you've lost."
USU Eastern Campus Store
Many faculty were surprised the store was closing.
Associate Professor of Art Noel Carmack emailed Dart and said, "…it raises so many questions for our students who are taking art classes. With the exception of perhaps the engineering students who purchase drafting supplies, I think the closure impacts the art students more than others.
"The campus bookstore is really the only local vendor that sells art supplies. Walmart's art supplies are sorely inadequate. The kids in my classes always purchased sketchbooks, paints, pencils and erasers, charcoal, etc. from the campus bookstore. Now, they will undoubtedly have to purchase from Walmart, Hobby Lobby, or Michaels (both in Orem). I can't imagine my students choosing the option of buying from the USU online store and having to spend $100 or more for free shipping."
Since USU Eastern became part of USU in Logan, the college logos, colors and image changed, forcing bookstore manager Susan Leonard to liquidate the store more than three times . . . losing hundreds of thousands of dollars on each change Eastern adopted the past seven years. All liquidations were mandated by USU. Her most recent liquidation was in fall 2017 when she had to get rid of any attire with the "Eagle" words printed on it.
Dart wrote, "Every effort will be made to ensure that students receive the same level of service they have become accustomed to, albeit in a different way. Over the coming weeks and months, students can expect to get messages about new processes and how to best prepare for the change."
 Regarding liquidating inventory in the store again, Dart wrote, "Much of the inventory can be returned to vendors, other pieces will likely be sold between now and the store closing in May, while other items in inventory may still have a place in other areas. It is expected that a store closing sale will take place at some point between now and May."
Dart said that all employees had been informed of the decision. Of the three employees, one has already left the bookstore, another is staying until the end of the semester and the last one will stay up until the store is closed in May.
The USU Eastern Blanding Campus Store will remains open.