Eagles defeat Colorado Northwestern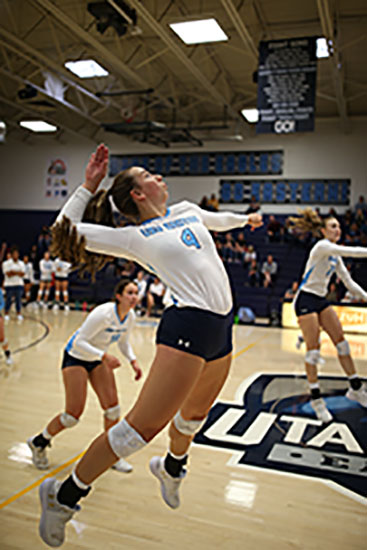 This archived article was written by: Brooke Anderson
No. 18 Utah State Eastern volleyball picked up an important win against Colorado Northwestern. With the 3-1 win, the Eagles snapped a three-game-losing streak. The Eagles battled the no. 11-ranked Bruins and the no. 4-ranked Golden Eagles Oct. 6-7.
The Eagles played the SLCC Bruins on their home court on Friday, Oct 6. The Eagles came out weak in the first set with a 25-12 loss. The team fought back in the second set, but still came up short with a 25-19 loss.
After halftime, and a quick pep talk from head coach Danielle Jensen, the Eagles defeated the Bruins in the third set 27-25. Then, they fell to the Bruins in the fourth with a 25-20 upset.
Determined to come back stronger, the Eagles played against another top 20 team the next day. College of Southern Idaho remains in the top five of the NJCAA rankings, and has done so since the season began.
The USU Eastern Eagles lost against the CSI Golden Eagles in three sets. Each with a score of 25-23, 25-18 and 25-23.
Sophomore team captain Sidney Springer says the team found themselves, "playing catch-up and making errors in critical moments."
The team was determined to learn from these mistakes and put work in for it's conference game the next week on Oct. 14 against the Colorado Northwestern Spartans. Springer said that the team, "worked on defense all week and broke everything down."
According to Springer, all the hard work was evident in their match against CNCC. The Eagles beat the Spartans 3-1. "We had a lot of great defensive plays that lead to moments on our offense," Springer said. She led the team in kills with a team-high of 18 kills as well as 11 digs.
The Eagles dropped the first set 25-22 to the Spartans. Freshman outside hitter Mackenzie Carter believed this was because the team was, "making errors that [they] shouldn't have been making."
After the first set, the Eagles lowered their errors and beat the Spartans 27-25. They continued to be successful in the third with a 25-16 win. Carter said the team, "started to gain energy and started to have fun on the court." They, "gained momentum and turned it into a smoother game," he said.
The Eagles closed out the match with an impressive 25-13 win. According to Carter, the team was "playing together, focusing of each point, and not making the errors they made in the first set." All of which led to their success.
The Eagles play two home games this week. They play the No. 7 Snow College Badgers Oct. 20 at 7 p.m. in the BDAC. The next day they play the College of Southern Nevada Coyotes Oct. 21 at 3p.m. also in the BDAC.
Follow the team on Facebook and at Utah State Eastern Athletics online.