Eagles split last four games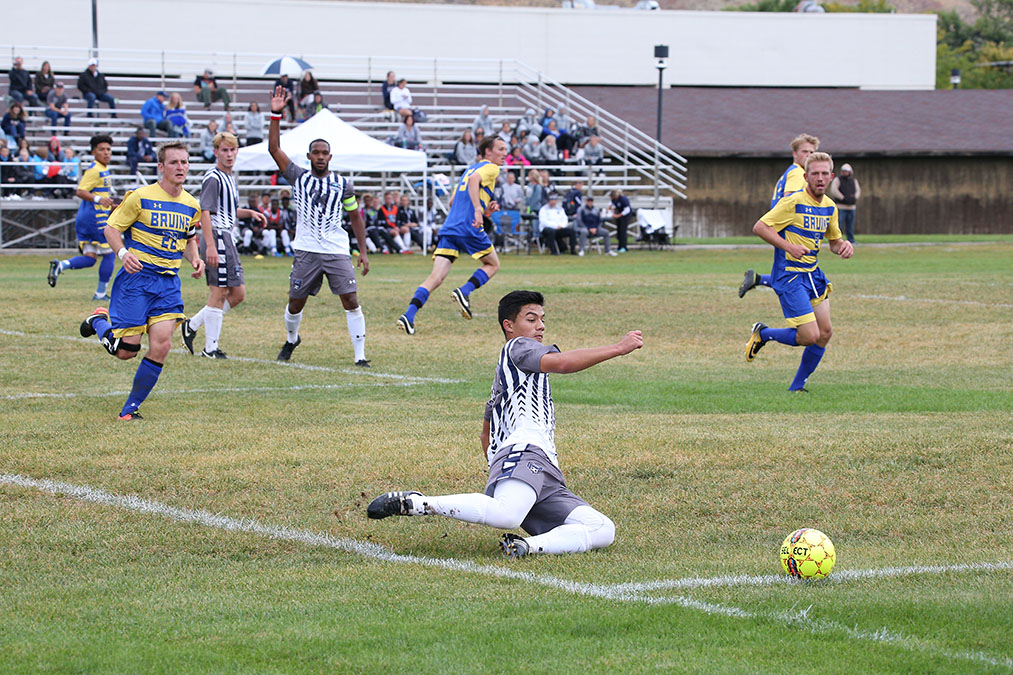 This archived article was written by: Nico Schapochnik
Utah State Eastern men's soccer finished a four-game stint with two wins and two losses, ending the chance of holding the region tournament at home.
The Eagles traveled to Rangely, Colorado to play two conference games against Colorado Northwestern Community College. The first game was Oct. 6, and Eastern proved they were the favorites with an impressive 7-1 win.
Five players left their mark on the scoreboard, but the most impressive one was the sophomore striker Jaysten Flowers, who scored twice and gave an assist coming off the bench.
The next day, the story of the game was not different. The Eagles dominated the pace and left with a solid 5-0 win. Again, five players scored: Tristan Booth, Frank Derby, Omar Suarez, Luke Madsen and Jaysten Flowers.
Sophomore Xavier Smith said, "We knew we had to win both of these games. We won by a large margin and this was a good weekend to prepare for the upcoming conference games."
After these two wins, The Eagles needed to beat College of Southern Nevada the next week in a home game to guarantee the first spot on the conference standings, which would lead to the advantage of holding the tournament in Price.
On Oct. 11, in Price, Eagles started the game losing with an early goal by the Coyotes, at the eight-minute mark. At the 72-minute mark, the equalizer came with a header from sophomore Jae Patridge. The game went to overtime after the high-quality match that both teams played.
Unfortunately, CSN scored right in the beginning of the extra time, finishing with a 2-1 win.
The men's soccer team had to shake off the tough loss Wednesday and played Salt Lake City Community College Friday, Oct. 13.
The Bruins opened the match earlier with a goal in the middle of the first half. A couple of minutes later SLCC scored again, making it harder for the Eagles to come back. Right before halftime, freshman Frank Derby cut the lead for the Eastern with a goal.
The Eagles tried to score in the Second half, but it wasn't enough. The game finished 2-1 with the win for the Bruins.
Freshman Frank Debry, top scorer of the team this season, said,
"I felt like we didn't play to our full abilities in the first half, but the second half we played better. It was a hard loss, but we can only learn from this and grow."
The Eagles hold a 7-7-2 record. This week, Eastern hosts Snow College Oct. 19, and CNCC Oct. 21, to finish their conference schedule. Follow the Eagles on USUE's athletic webpage.