Womens Soccer upsets SLCC in overtime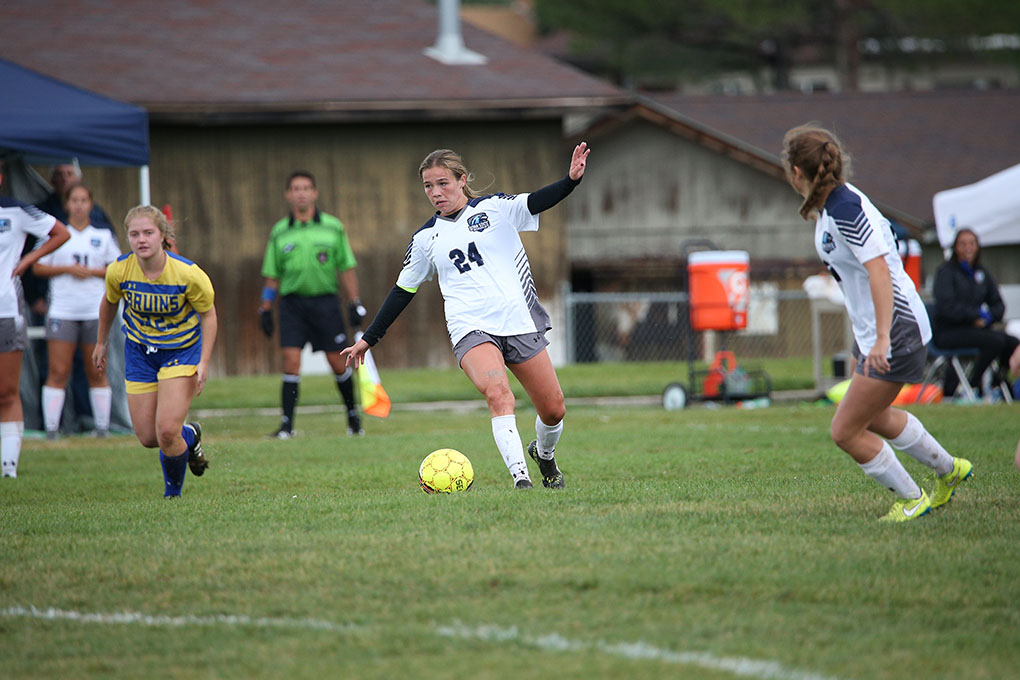 This archived article was written by: Kalli Prendergast
With a win on their minds, The Eagles got it done against Salt Lake City Community College, the largest college in the conference. The Eagles wrapped up their series against SLCC Friday, Oct. 13. The Bruins went in with a conference record of 7-2-1, only to have USUE add loss-number three to SLCC's record.
"We weren't expecting anything different," Kallie Magby said. "They wanted to take us down in the first half, but we fought back to make them very frustrated." The Bruins had six corner kicks in the first half, compared to the Eagles' zero. The Bruins also outshot the Eagles 5-1.
The Eagles added one shot in the first half, meaning this game was much more a defensive battle. "Getting to goal was a struggle for us because we were locking down on defense to secure them no goals," said Rachel Neff. Their only shots were just "unlucky."
Shyann Jones was in the goal position for The Eagles the entire match. "Once you see how hard your team is working for you, you want to return the favor by making some saves," Keeper Shyann Jones said. She added, "I had confidence in my team, so I wanted them to have confidence in me." She made crucial saves in the last few minutes, sending the team into overtime.
It was a golden goal for the Eagles that won then the game when Rachel Neff received a pass from Taryn Pritchett. This led to a pass to Morgan Hall, sending the ball to the back of the net for the game winner. "It was such a relieving goal. We all just worked really hard to come out with a win against SLCC and we had just done it," Hall said.
The Eagles now have a 4-5 record in conference play and are preparing to play their final two-home games of the regular season this weekend. They host Snow College Thursday, Oct. 19, and Colorado Northwestern Saturday, Oct. 21. Previously they lost to Snow 2-0 and beat Colorado 12-1.