Dying in Vein: The Opiate Generation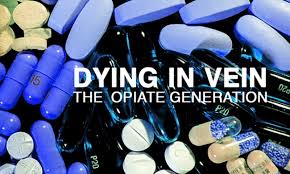 This archived article was written by: Emma Campbell
The death of a young man is what it takes to bring attention to such a big problem… Opiate addiction is everywhere and the statistics are getting worse.
A panel of five people including a doctor, a social worker, a young addict, the sheriff and a representative from Four Corners Behavioral Health were at USU Eastern on Oct. 4 to lead a community discussion on the dire seriousness of opiate addiction in Carbon county.
An award winning documentary filmmaker Jenny Mackenzie,Ph.D., described a call from her distraught daughter in college. The daughter's friend, Chase, from school had just died from an overdose.
After consoling her daughter, Mackenzie decided to email the parents of the deceased friend. [Let me know if you want to share your story] she wrote in the email. That was the start, the start to an amazing, much needed for awareness, documentary on opiate addiction in Utah.
Mackenzie is no stranger to the despair addiction can bring. Her brother will be clean and sober for 10 years in January. Her stepmother is 40 years sober from alcohol. Her middle child misused opioids while they were prescribed to her for sports injuries. Her family was lucky enough to help her before it went downhill.
Chase's voice is heard throughout the film by entries in his journal read aloud. It tells of the shame he felt, the pain. His family talks about what they have gone through and their pain.
Victims of drugs can be the users, family and friends. Which brings us to Matt. He was best friends with Chase. Matt suffered from heroin addiction just like Chase, but made the choice to become clean. He changed his life completely for the better. Matt now works at Turning Point Rehab in Sandy, Utah. He explained how hard it is to become clean, but that it is possible. He stopped himself from being the victim of an early death.
Page and Maddy were a couple,in a toxic relationship. Their relationship made becoming clean and rehab difficult. At one point Page says, "I just want to be happy." Maddy is able to get therapy and go to detox because her family pays for it but, Page does not have that kind of support.
Maddy's Psychiatrist works with Page for free and so does the detox center. Eventually for their own good, they are separated. Maddy goes to Oregon and Page stays in Salt Lake City. They both got a lot better in detox by themselves. To help her stay clean Page got a dog. Maddy uses note cards, with who she hurt written on them, to remind her to stay clean.
Pediatric Doctor Jennifer Plumb's brother died 20 years ago due to a heroin overdose. Plumb wants to get the point across that life is not painless. She started "Utah Naxolone" as she hopes to bring more awareness to this life saving drug.
In the Utah Public Radio, original series, "A State of Addiction: Utah's Opioid Epidemic", features Mackenzie's powerful documentary as well as a discussion with panelists. These panelists have visited addiction-affected cities in Utah, such as Price, Utah, to make an impact.
Powerful words were said at these community discussions in hope of making a change. "Let's use the word free instead of clean. I was never dirty," says Maddy from the documentary.
"Celebrate your small victories because they are victories no matter how small," says Carbon County Sheriff Jeff Wood.
Community members spoke out and said this problem needs treatment not punishment. One of the panelists said, We want those jail beds to become hospital beds.