Men's basketball wins first-two-home games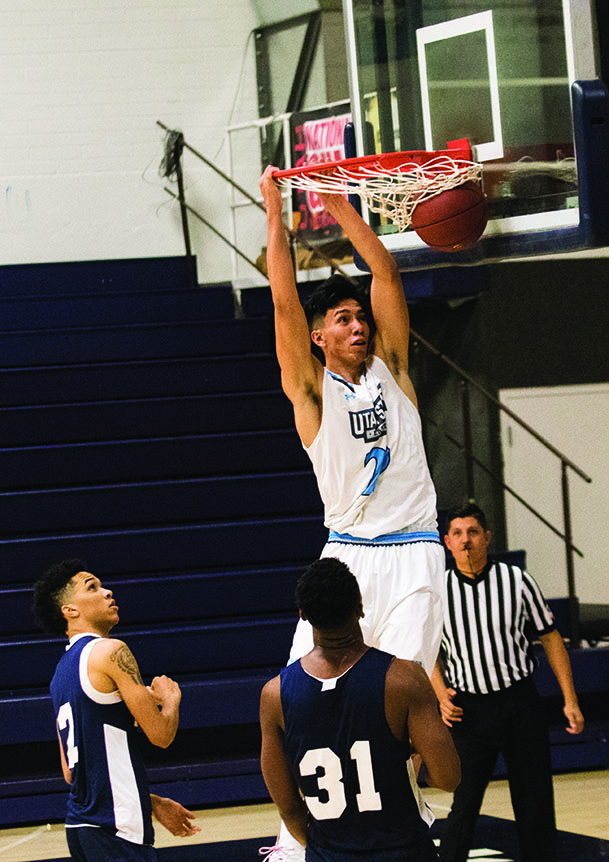 This archived article was written by: Brooke Anderson
Utah State University Eastern's men's Basketball team began their season at the GW Mechanical Tipoff Classic in Casper, Wyoming, on Nov. 3-4.
In its first game of the season Eastern faced Central Wyoming College on Friday where they struggled to make their shots and lost 90-65. Trying to find their momentum, the Eagles' defense going into the second half improved, stopping Central from scoring as much.
Sophomore guard Rafael Monteiro led the team against Central with 14 points and eight rebounds. Milan Surlic' and Nico Rojas followed with 11 and 12 points respectively.
After the tough loss, the team came back the next day ready to battle. They played tournament host Casper College. Despite strong defensive efforts, the Eagles fell by nine points, 68-57.
Rojas and Surlic' led the team offensively, both with 11 points, and Neema Namdar led with two steals. Karbala Gueye led the team defensively with seven rebounds and one block, followed by Rojas with five rebounds and one block.
The Eagles struggled to make their shots with a percentage of 36.8 made and 31.8% of three-pointers made.
The Eagles returned home with a 0-2 record, but hope to learn from these losses.
They played Impact Academy Nov. 10-11 on their home court. Showing impressive stats in all categories, Friday, the team beat Impact 137-58.
At halftime the score was 59-36 Eagles, but after a 15-minute break, the Eagles came back and ran the score up. The team scored 16 points from fast breaks in the second half as compared to the two points from fast breaks they scored in the first.
"I think that we played very good as a team. We had five or more players who scored in double figures for us and all this because we played good defense," says head coach Adjalma Becheli.
Led by Rafael Monteiro with 20 points, five assists, 11 rebounds and three steals, he was followed by Kristupas Totoris with 17 points and 2 assists. Samuel Velez led defensively with 12 rebound and one block.
The Eagles faced Impact again on Saturday on their home court. They won again by another impressive margin of 120-85.
At halftime the score was a little close for comfort at 49-38. Sophomore Landon Swartz says the team "gave up too many points." The Eagles came back and impressed the crowd with a few dunks and three-pointers at the right time.
Swartz and Monteiro led the team each with 15 points. However, there were seven players scoring in the double figures including Rojas, Kristupas Totoris , Carson Bischoff, Ognjen Pantovic and Surlic' who also had three steals and seven assists in addition to his 10 points. Gueye led the team defensively with 11 rebounds and two blocks.
"I'd rather have five, six players who can score in double figures than one or two who can score big time," Becheli said.
The team faced Impact twice in the same weekend. "The difference between the two games was that we got too relaxed defensively in the second game," Swartz says.
"We still need to work on our ball turnovers… and make sure the players are taking care of the ball." Becheli said.
The Eagles continue their preseason at the Wright Physical Therapy Shootout in Twin Falls, Idaho, Nov. 17-18.