Six-student athletes involved in single-car rollover on US 6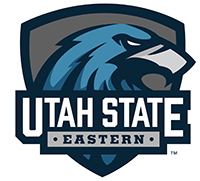 This archived article was written by: Alexander Holt
Luck. This four-letter word will stick in the minds of six Utah State University Eastern student athletes when their car flipped and was stuck by a semi-truck on U.S. Highway 6 while traveling to Salt Lake City Nov. 4.
The six students – Lionel Colon, Kenneth Maisonet, Steven Ortiz, Josean Rivera, Shelbey Gnagy and Alicia Cruz all squeezed into Cruz's car hoping to get out of Price and go shopping on a rainy day. However, just past Soldier Summit before Tie Fork, Cruz attempted to "gun past" a semi-truck and beat it to the merger, but her speed combined with the slippery road caused the back-end of the car to "fish tail" making the car swerve.
According to Gnagy, the car went straight up the hill, flipped, landed on the driver's side rear tire, planted itself back down and rolled down the mountain before getting hit by the semi-truck and spinning into the guard rail on the other side of the highway.
"The first thing we did was we ripped off our seatbelts and made sure everyone was okay." Gnagy said. No one was seriously injured. Colon received a few scraps and Gnagy had bruised her rip cage and had possible whiplash. Everyone else in the car had no reported injuries.
The semi-truck stopped just ahead of them and one of several passersby then called paramedics, who rushed to the scene along with the Life Flight. Paramedics usually send Life Flight to accidents on US-6 due to how dangerous accidents on the road can be.
The paramedics checked each student's blood pressure and vitals before releasing the students. The students then contacted the baseball coach Scott Madsen who arrived and had four of the students pile into his car.
Shortly afterwards Professor Susan Polster and two "Eagle" staff members drove past the scene, stopped and offered to take a few students back in her vehicle so all of them did not have be stuffed in the coach's compact car.
"I have never been so scared in my entire life." Gnagy said. "I know I have a guardian angel looking over me."
Cruz left some advice for students traveling on US-6, "Beware the elements, you never know what you'll run into out there."
Everyone returned to Price safely later that day.