Clothesline Project gives a voice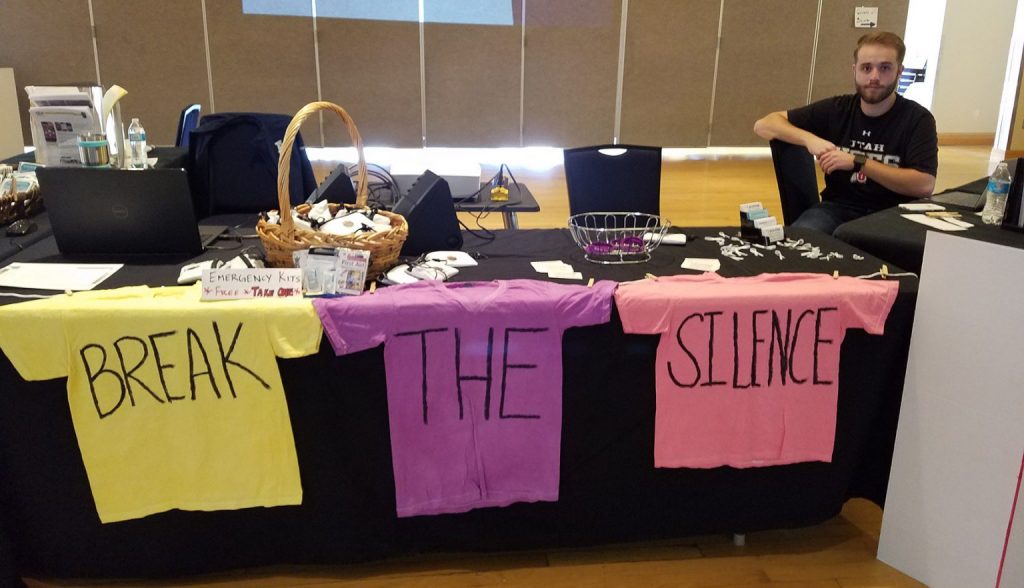 This archived article was written by: Alexander Holt
Voices of those raped. Voices of those sexually assaulted were heard through the Clothesline Project, hosted by Utah State University Eastern gave a voice back to survivors of rape, sexual assault and violence last week in the Jennifer Leavitt Student Center.
Students throughout the years provided T-shirts with words describing their experiences with sexual assault as well as encouraging words of support. At least eight to 10 students provided T-shirts this year, according to Ashley Yaugher, Ph.D. and USUE director of counseling who set up the project.
Words of encouragement were written on the shirts such as "You are not your past, you are strong + beautiful" or "healing is possible."
Included on some of the shirts were stories like, "I was raped at a party by two guys that were my older brother's good friends. I never told anyone. I was afraid nobody would believe me. I was even more afraid that my brother would take their side. I hate them! I had to see those them every day at school and pretend nothing was wrong, but it eats me alive every day. It happened three years ago."
"Dear Grandpa, you molested me when I was 4 years old. I've battled guilt ever since… I forgive you. All I want to do now is help other victims so they might have [a chance to live] a normal life."
"I am a girl of flesh and blood. Human, like you. I am not your trophy wife, arm candy or a sex slave. I am not less than you. I am of greater or equal value. You do not deserve me just because you expect to be deserved. I have feelings. I have emotions. I have desires. I have thoughts. I have dreams. I have intuitions. I have gut instincts. I have doubts. I have fears. I am a girl. I am valuable. I am beautiful. I am who I am with or without you."
"Me: I was raped at 17 by a boy who 'loved' me. I was beaten for having an opinion, voice, emotion, felling or saying no. I've been hit and bruised. I've [been] verbally attacked. I was told to kill myself. Worthless. Slut. Manipulative. I could never be someone, someone else wanted. All because I didn't say no 'loud' or 'clear' enough. No was still no."
These stories are the voices of rape and sexual assault survivors and with one in five women, and one in 71 men, being raped at some point in their lives according to the National Sexual Violence Resource Center. The likelihood that any student at Eastern experienced or knows someone who experienced sexual assault is high.
Signs placed across the campus remind us just how far reaching the problem of sexual
assault and rape is and tell us what consent is. If there is no consent, then it is rape. The signs read "Unconscious means no" and "No means no" among others.
"I hope that The Clothesline Project encouraged the prevention of violence, provided information to those in need, and created an environment that promoted healing while increasing awareness of the magnitude of violence against women and men," Yaugher said.
According to the National Coalition Against Domestic Violence 43 percent of dating college women experiencing abusive behaviors from their partners, over 13 percent of these women report they have been stalked.
One in five women are sexual assault during their college years and date rape among students accounts of 35 percent of attempted rapes, 22.9 percent of threatened rapes, and 12.8 percent of completed rapes.