Preseason winds down as women's basketball readies for SWAC games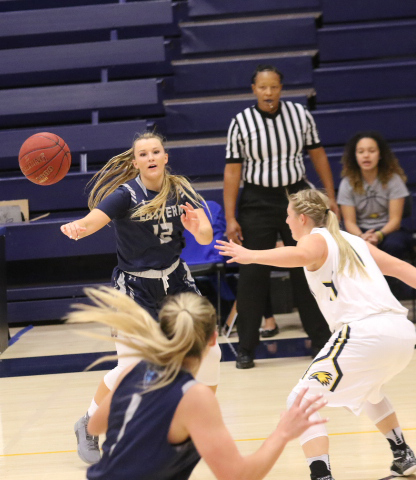 This archived article was written by: Scott Froehlich
Utah State University Eastern women's basketball plays five more preseason games before taking a break during the holidays. The Eagles are having an impressive campaign and hold a 9-3 record heading into their two final home games. With a mix of new and old faces, the team looks poised to make a splash in the Scenic West Athletic Conference when conference play begins in January. The team is riding a three-game-winning-streak, one in which they have beaten their opponents by an average of 15 points each game. Victories against Colorado Springs (80-61), Northwest Kansas Technical College (60-49) and Pima Community College (78-63) showcased the team's dominance they are capable of when they are firing on all cylinders.
Led by sophomore Madison Loftus, who was named all-region last season, the Eagles have a squad that has quickly asserted itself as a force to be reckoned with. Along with Loftus, newcomers Alyssa Crumley and Brooklyn Barrus round out a triple-threat that can put points up on the board and wreak havoc upon their opponents. The duo of Loftus and Barrus have been excellent behind the 3-point line, with Loftus averaging 15.2 points per game and Barrus averaging 10 in the past five outings.
USUE also boasts a strong game down low with Crumley's ability to drive the paint and sophomore Kaitlin Toluono controlling the boards on either end of the court. The rest of the roster is comprised of speedy, skilled players who helped the team in a handful of routs over opponents in games past.
Head coach Chelsey Warburton likes what she sees from her team and looks forward to the balanced offense her new players will afford the team.
"Brooklynn [Barrus] will be one that will take a lot of pressure off Maddie [Loftus] and be another shooter for us. [Also,] Rashel [Blazzard] at the point guard. She's a transfer, so she's got a lot of experience. Alyssa Crumley has done very well for us in the forward spot. We have a handful that are doing well and probably will continue to do well," Warburton said.
Before heading to Las Vegas for their final three preseason games, the Eagles will host Chemeketa Community College and the Utah All-Stars Dec. 8-9. Both games will be played at the BDAC and will also be broadcasted on the USU Eastern Athletics YouTube.