Toluono: leading through service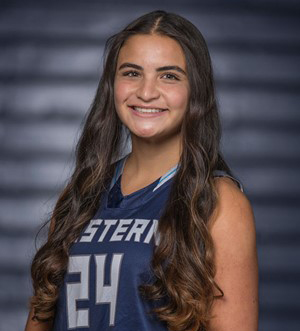 This archived article was written by: Harlee Wiloughby
"You can do more than you think." These were words Kaitlin Toluono lived by as she grew up in Taylorsville, Utah. She enjoys reading inspirational books such as "Unbroken," written by Laura Hillenbrand, that motivates and inspires her to do more than she thinks possible. She constantly is trying to better herself and the people around her.
With four dogs of her own, Toluono has a huge soft spot for animals. On a road trip to Arizona, there were a few stray dogs outside of McDonald's and she bought several burgers and fries just to feed them. If money were no object, she said, she would take all animals off of the street and keep them in a sanctuary.
Although she is shy, you can always count on her friendship and loyalty.
Toluono has seven double-doubles for the season and is averaging 9.1 points and 9.8 rebounds per game. She also has been player of the week three times. A great leader, she is one of the women's basketball captains and helped lead them to a 14-5 record in the season.
Besides her incredible talent in basketball, she wishes she was more musically inclined.
If she could write a letter to her younger self, the advice she would give is "don't take anything for granted. Really work hard, challenge yourself, try new things and don't limit yourself."
Some of the ways USUE has better prepared her for the future has been being able to spread her horizons, try new things and have more variety and depth. "I've been able to serve more and see how much it can help people. Little acts can affect things as a whole," she said.
Toluono is a great asset through service and hard work. One service project that has stuck out to her the most was helping clean and update a veterans yard. "It felt good to give back to a veteran," she said. She enjoyed the company, as well as connecting with people from all different backgrounds who came to help. People look to her for her leadership and skills. Toluono also said she is excited to be in conference play.