Women taking over the stage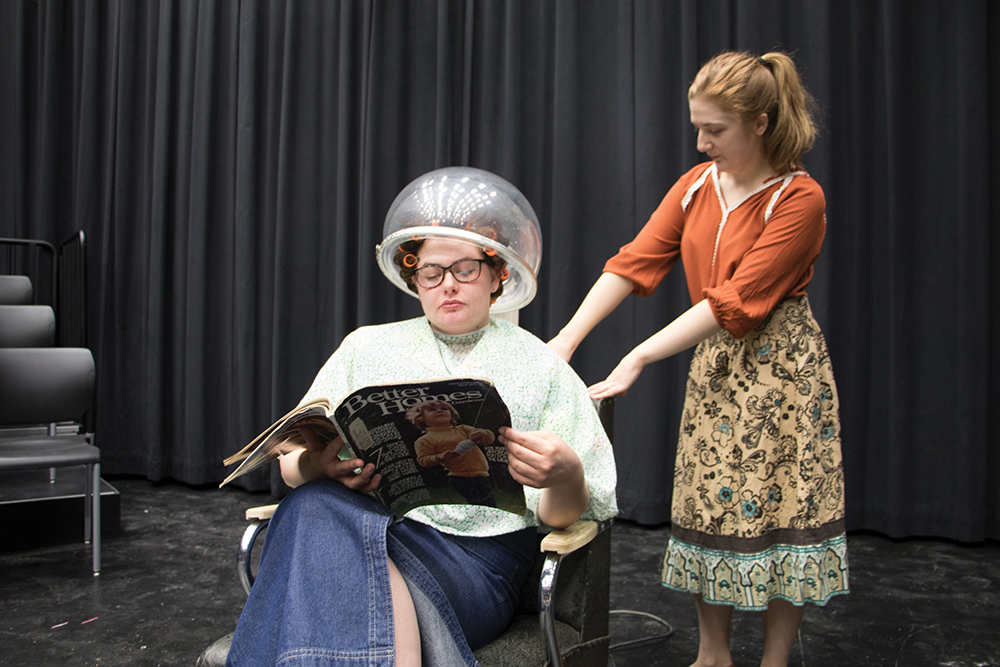 Six women will take center stage of the Peterson Black Box Theatre for the next two weekends when Utah State Eastern's Theatre Department opens with Robert Harling's "Steel Magnolias". Written in 1987, the title suggests the "female characters are as delicate as magnolias, but strong as steel." It was adapted in 1989 into the "Steel Magnolias" movie with Sally Field, Dolly Pardon, Shirley MacLaine, Daryl Hannah, Olympia Dukakis and Julie Roberts sharing the leads. The bond of the six women from a small-town Southern community shows their characters as both delicate and strong as they cope with the death of one of their own in this comedy-drama. Director Corey Ewan said he is excited for the opening night for two specific reasons. First, "We are performing this in the round. That means the audience surrounds the cast and gives them an intimate view of the feelings and emotions of each character. "Secondly, this cast is extraordinary. They created characters that are purely their own. They are nothing like the film. They have exceeded their own expectations." "Steel Magnolias" is based on the family experience of the author of the play Robert Harling following the death from diabetic complications of his sister Susan Harling-Robinson. She had just given birth to his namesake nephew and the failure of a family member to donate a kidney.idney. A writer friend of Harling advised him to write his feelings down about his sister's death to come to terms with the experience. He did, but originally as a short story to give his nephew an understanding of the child's deceased mother. It eventually evolved in 10 days to a play performed Off-Broadway before being adapted for the "Steel Manolias" movie.
Harling felt it important to include the way the characters used humor and lighthearted conversations to cope with the seriousness of the underlying situations. He wanted the audience to have a true representation of what his family endured during his sister's experience. Brent Innes designed the set for the production as well as being producer, technical and lighting director. The USU Eastern cast of women include Alenea Gray as Truvy; Chloe deMie, Annelle; Brooke Gailey, Clairee; Madison Hansen, Shelby; Bethany Peyton, M'Lynn; Mack Smith, Oiser; and Kelsey McCord, Swing. Stage Manager is Josh deMie; assistant stage manager, Zackary Ballard; lighting, Christopher Vlamakis; Drew Behunin, sound design; Roni Tita, prop master; and Isabella deMie and Cheyenne Davies, hair and makeup design. "Steel Magnolias" runs the weekends of Feb. 22-24 and March 1-3 in the Central Instructional Building's Peterson Black Box Theatre. The box office opens at 6:30 p.m. each night with tickets $10 adults, $7 seniors, USU Eastern faculty/staff $5, USU Eastern students $3 and non-USU Eastern students $5.