Men's b-ball ends SWAC play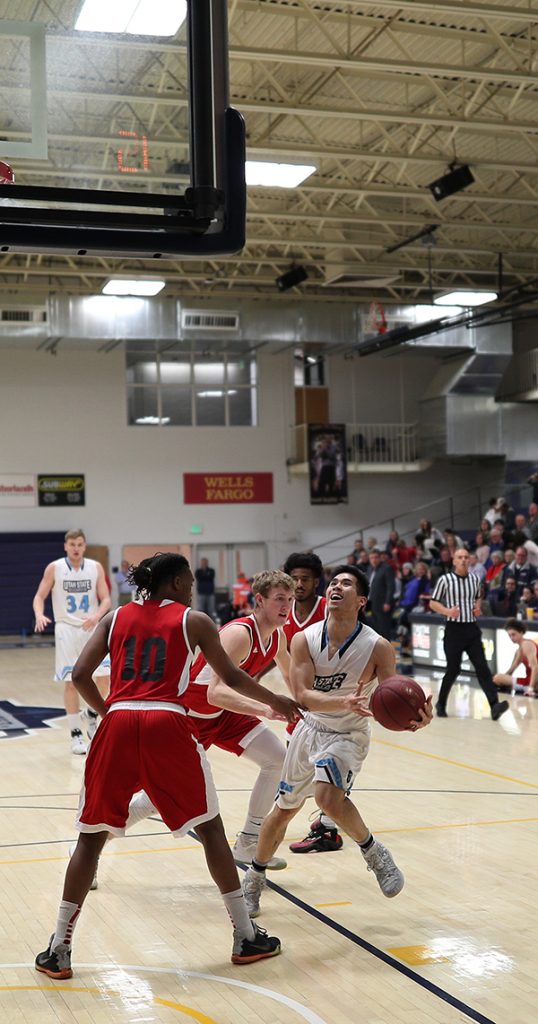 This archived article was written by: Brooke Anderson
The Eagles knocked down two wins and one loss for their last three games of regular season.
On Feb. 17 the team traveled to Salt Lake City, Utah to play against the Salt Lake Community College Bruins. The Eagles fell 83-69.
The team started out slow in the first half with a 43-24 deficit. They out scored the Bruins in the second by five, improving their three-point shooting percentage from zero to 36.84 percent.
Five players scored in the double digits including Samuel Velez with 13, Rafael Monteiro with 13, Neema Namdar with 12, Milan Surlic' with 11 and Landon Swartz with 10 points.
Monteiro led defensively with seven rebounds, trailed by Velez with six and Surlic' with five.
The next week on Feb. 22 the Eagles took on the Spartans on their home court for sophomore night. They defeated the Spartans 97-54 leading early on 55-20 at the half.
Both sophomores, Surlic' and Yan scored 12 points each. Yan also contributed three assists, three steals and 80% from the free throw line.
Ognjen Pantovic led defensively with eight rebounds and one block, followed by Nico Rojas with six rebounds and one block.
Carson Bischoff led in assists with four.
The Eagles shot an impressive 45% on three-point-shots.
Closing the regular season, the Eagles headed to Ephraim, Utah. They faced the Snow College Badgers on Feb. 24 for the third time and picked up their second win against them.
Leading at half, 34-28, the Eagles closed the game with a 80-74 win. The team out shot snow 50.9% to their 40.3% overall.
Monteiro led offensively with a season and team-high of 31 points, as well as six rebounds and 90% from behind the free-throw-line.
Kristupas Totoris followed with 19 points and three assists.
Yan led in assists with four and Swartz led in rebounds with seven.
Ending their season with an overall record of 16-12 and a conference record of 5-6, The Eagles will begin their end-of-season tournament on March 1 in Ephraim, Utah against College of Southern Idaho.