USU Eastern's Sigma Tau Delta chapter travels to Cincinnati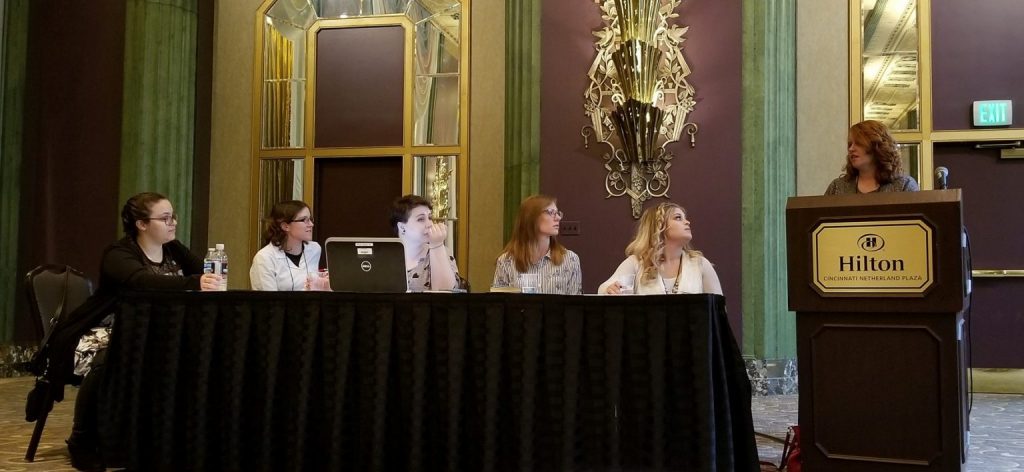 Five USU English majors from the Price campus traveled to Cincinnati, Ohio, from March 21-25, to present their original scholarship in literature and creative writing at the International Sigma Tau Delta Conference. Sigma Tau Delta is an honor society for English majors that supports undergraduate research.
Over 1,000 students from 275 schools attended the convention. Of this experience, junior Stacy Graven says, "[Attending the conference] gave me a distinct kind of freedom: one where I could connect to people like me, unlike me, one where I could laugh more, one where I could hear the words of English that I otherwise wouldn't have understood, one where I became a part of the human race."
Graven, Megan Smith, Sky Jensen, Chloe Clark and Alexis Gonzales presented a roundtable discussion titled, "Who Killed Arturo? Prejudice and Perspective in The Book of Unknown Americans." Written by Cristina Henriquez, The Book of Unknown Americans explores the experiences of Latinx immigrants to America and ends with a murder.
Each student presented a paper about who they thought was responsible for the death. Graven also presented her original short fiction, "Gate 14" in a panel titled, "Coming of Age in Original Prose." Dr. Michaelann Nelson moderated both sessions.
Students had the opportunity to listen to Cristina Henriquez speak and meet her, as well as New Yorker "comma queen", copy editor Mary Norris. In addition to attending paper sessions, students attended career workshops and learned about teaching English in other countries, as well as other career opportunities.
Clark says, "this conference has been such a great experience with not only meeting new people, and seeing a new place, but I have learned so many new things that I will put into my future teaching career."
Students also learned more about the pivotal role Cincinnati played in the Underground Railroad and inspiring Harriet Beecher Stowe to write Uncle Tom's Cabin, which led to the abolition of slavery. Students also learned about the rich art history in Ohio at the Cincinnati Art Museum.
If you are an English Major and are interested in joining Sigma Tau Delta to have the opportunity to attend next year's conference in St. Louis, Missouri, as well as participate in club activities throughout the year, contact Nelson. The Bachelor's Degree in English can be completely earned on the Price campus.