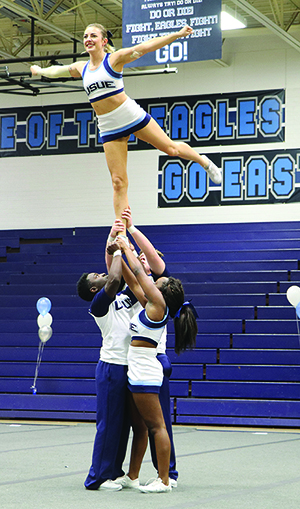 This archived article was written by: Emma Campbell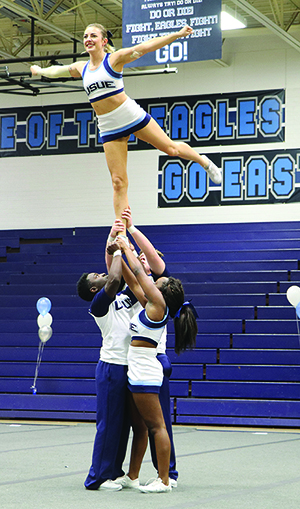 The BDAC was full of school spirit on March 24th, during USU Eastern's Cheer Showcase. Drumline advisor Ben Jones emceed the showcase and Cheer Coach Kelley Bradley introduced the 15 members of Eastern's cheer team.
Eastern had a few local cheer and dance teams perform at the event. Helper Flare performed twice during the showcase. Flare's first performance was a choreographed dance with family members; dads, brothers and sisters all got involved. Stars Elite dance company performed four solo and two group dances. Carbon High's Cheer and Drill team performed throughout the event, each team performing twice.
Eastern's cheer team did two free-stunt performances and the classic "Let's Go Blue." They also performed "Swedish Falls," "Hit the Quan" and "Fountain of Troy." Their final cheer was their competition routine from the United Spirit Association's Collegiate Championship in Anaheim, California.
USU Eastern's Cheer Team tryout dates are April 6 at 5pm and April 7 at 9am.The tryouts will take place in the BDAC gymnasium. For more information go to usueasternathletics.com or email [email protected].