USUE Athletic Dept. adds Johnson as athletic trainer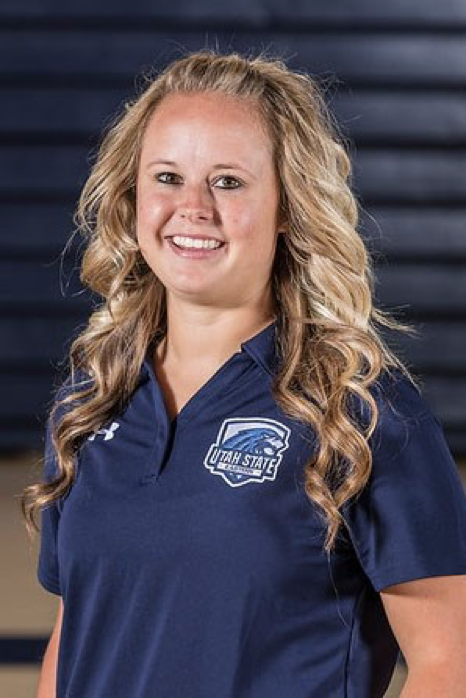 This archived article was written by: Harley Willowby
In August 2017, Utah State University Eastern added another member to the athletic training team: Raberta Johnson, who started working part-time as assistant athletic trainer and is working part time. She was a perfect addition and works well with Jess Brinkerhoff, head athletic trainer.
Johnson grew up in Fairview, Utah. She is the sixth of seven children and is close with her family. Family is a big part of her life and she doesn't know what she would do without them. She was raised on a farm and learned the value of a hard work ethic. She thinks her close relationship with her family comes from the daily time spent working on the farm and playing tennis with her siblings. Her whole family played tennis in high school and she especially loves the times she got to play against them.
Johnson started her college career at Snow College and took part in the student-athletic-training program. She knew Gary McKenzie, director of athletics, and her older sisters had gone through the program and thought it would be fun to do while she was there. "I fell in love with athletic training over there and it is what led me to do it."
Once she graduated from Snow College, Johnson took a year off to work as a dental assistant, and continued her education at Southern Utah University. She explains how she wasn't even thinking about athletic training at that point, but heard about the programs application deadline coming up and decided to go for it. She finished the program and earned her bachelor's degree in athletic training while at SUU and met Brinkerhoff while he was in grad school.
While attending SUU, Johnson was fortunate to find the love of her life, Shaun Johnson. Her brother in law had told her about him and vice versa, but they officially met each other at intramurals. After the first official date, they were always together and the rest is history.
After graduating, the Johnsons decided to move to Price. Her husband received an accountant offer and they both agreed it was the perfect opportunity for him to get experience.
At the same time they were deciding, Brinkerhoff accepted his job offer at Eastern. She asked him if there were any openings and that's when everything started falling into place. "Everything felt right and fell into place. We didn't want to live in the city either so this was perfect."
Since being at USUE, Johnson and Brinkerhoff have had huge impacts on everyone they meet. They both have gone far and beyond what their job 'enlists' and truly cares about people.
Some of duties and responsibilities this job comes with are paperwork, which is a big part of athletic training, recording all of the athletes treatment and injuries. The treatment aspect which includes stem, ice, heat, rolling out, etc. One thing the athletic trainers have added this year is injury prevention. This helps athletes avoid injuries in the first place by working on balance, strengthening muscles and becoming more athletic. If an athlete becomes injured, they help rehab them back to health.
One piece of advice she gives to athletes the most who are injured or trying to prevent injury is to remember to stretch before and after a workout. It seems simple, but she knows first hand how many people forget to do it.
"The most rewarding part of my job is the friendships I make with the athletes. I also get free front-row seats to every sporting event which is a bonus." Johnson says there is not one thing she can think of that she does not like about this job. "It doesn't feel like a job, there is nothing bad about it. I am always happy to come to work."
If someone was thinking about this career, Johnson says to go for it because of how fun the job really is. "It's a great environment and you never feel like you have to go to work."
Being versatile, Johnson loves from being outdoors, walking her dog, playing tennis and golf or any sports, to spending time with family, sewing, baking and cooking. If money and time were no object, though, she would love to get into quilting.
Johnson claims she is an open book, but what many might not know is that she used to hate dogs. This hatred goes back to her childhood years when her neighbor's dog used to chase her and her sisters. Once she got a dog of her own, she has loved them ever since.
One quality that stands out to Johnson is when she sees someone put others first and who are always willing to help no matter what they have going on in their life.
Portraying this quality as well, Johnson's mom is her biggest role model. "She is always giving and is there for all of us. She was at all of our games and always worked super hard to provide us. Even the grandkids, she would do anything for them and she is just so amazing."
Some activities Johnson is involved in when she is not working are house work, homework and playing with her dog. She is also furthering her education and working on a nursing degree.
Something the Johnsons are looking forward to this summer is a new addition to the family. They are expecting a baby boy on June 29 and can hardly wait.
"I'm excited to have a little buddy. Excited for him to be here and grow up around sports and the college and just for everything about him!"
Johnson believes she is ready to become a mother and has every reason too. She has been babysitting since she was 8 and loves kids. She treats her nieces and nephews like her own and feels like she has had lots of experience. Excited seems to be an understatement when talking about her baby.
One of her favorite foods are breakfast burritos, but she quickly decided all breakfast foods are good. She is one of those people who could eat breakfast at any time of the day.
Her family's future plans are to stay in Price. Her husband has potential to move up in his career, she loves her job and they love the small town. "Everything worked out for us and we have enjoyed it so far."
Her daily motto is, "Always try to be happy and look for the good in every way." Johnson has got this down as she is always caught smiling and lights up a room wherever she goes.
If she could write a letter to her younger self, she would say, "Don't ever give up and keep working hard."
Johnson has made a big impact not only to the athletes and students, but also to the community. She has been admired by everyone around her and has been a perfect addition to USUE. Always smiling, kind, funny and an amazing friend, Johnson is someone you need to make sure you meet.