First activities of the semester
The first week of school for students can often be overwhelming. Between figuring out classes,…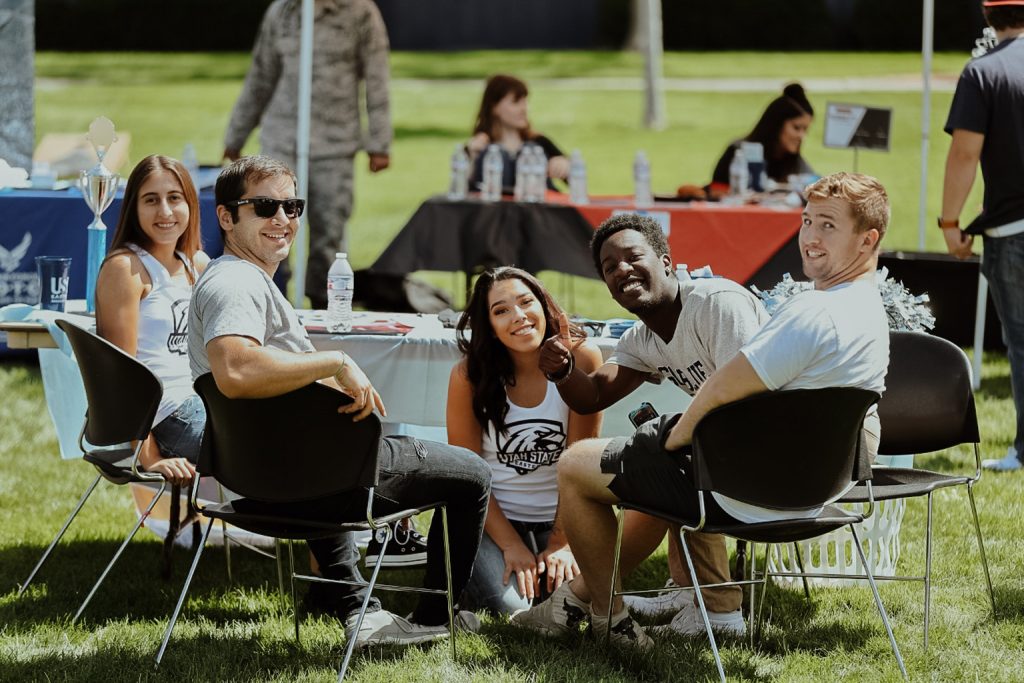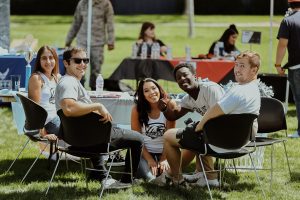 The first week of school for students can often be overwhelming. Between figuring out classes, making new friends, and trying to get adjusted to the campus, there is plenty to worry about. Every year, the Eastern Utah Student Association (EUSA) puts on a week of activities to help students get adjusted to the campus and build connections.
Welcome Week kicked off this year with a brand-new event, the Block Party. The Block Party welcomed various on-campus departments and organizations from all over Price. The goal was to showcase to students what Utah State University Eastern has to offer. Between community and campus organizations present, there was over 50 booths. From free food, a wide range of giveaways, and games to play, there was plenty for students to see and do.
Monday morning featured the Breakfast Kickoff. Students had a chance to win giveaways and enjoy breakfast burritos between classes. At the event, which took place on the patio of the Library Learnings Commons (LLC), students could learn about the events for the rest of the week, what prizes they could win and the resources available at the LLC.
Immediately following the Breakfast Kickoff, the Serving Utah Network (SUN) Center gave students the opportunity to start off the year with helping others. At the event, Humanity for the Homeless, the students turned old plastic bags into plastic yarn. This will in turn be used to create beds for the homeless.
Rounding off the first day of festivities was the Meet the Teams event. Students had the opportunity to mingle, eat and play games with student athletes. Arianne Wood, a returning member of the Eagle Line, commented, "I feel as if it was a great chance to get everyone at an event to have fun with each other, especially those who do not have the opportunity to do so on a regular basis. I enjoyed myself thoroughly at it. Pizza was great, I had a blast with drumline. I liked it."
Tuesday night was the Luau. There was free Polynesian inspired food and music at the Desert Wave Pool for students to enjoy. On top of swimming, students could play volleyball or participate in a watermelon eating contest. The winners won kitchen appliances such as a coffee machine, a blender, or a crockpot. Afterwards, students were treated to hula fire dancers who showcased dances from different islands and cultures. With costume changes, student interaction, and fire, the dancers put on a great show.
The Leadership Open house took place Wednesday night. Various student leaders served ice cream to the students in the main hallway of the Jennifer Levitt Student Center (JLSC).
Students could participate in a scavenger hunt around the student center. They were led to the items based on clues. Each clue told them a little about the leaderships and what they do. Students were encouraged to play games and talk to the student leaders in their offices when they weren't busy running around to win the scavenger hunt. Meanwhile, there was bingo going on in the main hallway for prizes.
On Thursday night, students were invited to "Fortnite, Wing Nite". RA's set up games of Fortnite, a battle royale multiplayer game, that students could compete in to win a Fortnite-themed prize pack. Students enjoyed wings and free shirts. Those who were not interested in playing Fortnite could also play other games on the Wii U's. The popular rhythm-based game Just Dance was a favorite among students. When asked how the event went. Kevin Vanderspek, the head RA, said, "I think it went very well. High number people having a good time with Fortnite, wings, and Wii U games."
To end the week of activities, the traditional "Hello, My Name Is" dance took place Friday night. Students were given free shirts to write on. Students were encouraged to mingle and get to know each other as they signed each other's shirts. When asked about his feeling on the shirts, long-time Eagle Tucker Anderson said, "When I look back at my old shirts, it brings back some memories of that year. Friends and stuff. People I forgot I even went to school with."
This year, students competed to see who could get the most signatures on their shirts. The winner ended the night with 147 signatures. A live musician, Will Champlin, performed a set of covers and original songs. The night ended with a raffle for prizes such as a room decorating kit and a college survival kit. The last prize was a TV given from a raffle of tickets based on how many Welcome Week activities a student went to all week long.
This year's Welcome Week took on a few new challenges. It was longer and had more events than previous welcome weeks. With the addition of the ambitious Block Party, this week set the stage for more engagement with the students.