King Arthur musically brought to life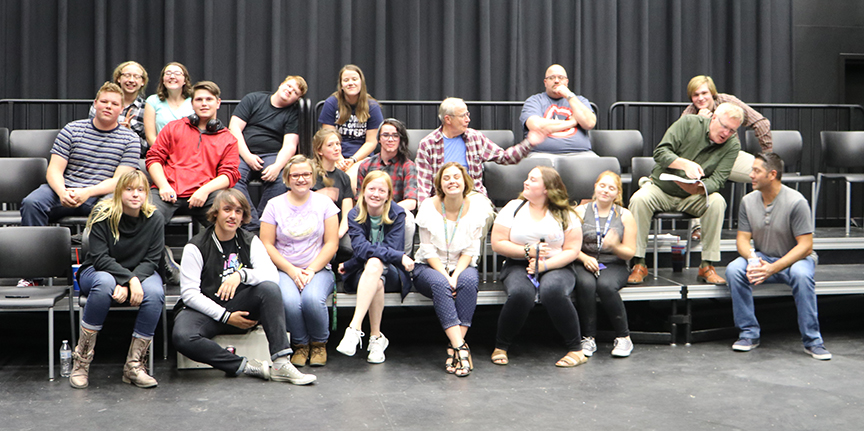 USU Eastern's 2018-19 theatre season begins with "Spamalot," the 2005 Tony Award winner for Best Musical, "lovingly ripped off" from the 1975 "Monty Python and the Holy Grail" film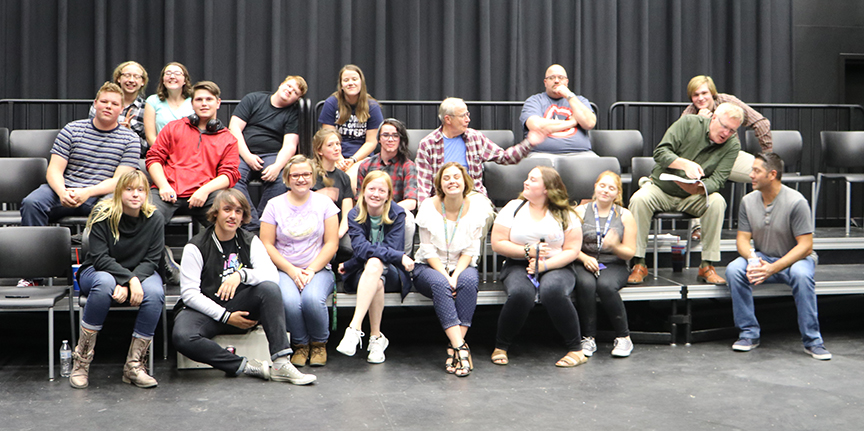 With book and lyrics written by Monty Python alum Eric Idle, and music composer and Lyricist John DuPrez, they musically bring to life King Arthur and his outrageous search for the Holy Grail as they come across a bevy of beautiful showgirls, not to mention cows, killer rabbits, Knights who say "NI" and French people. Did we mention the bevy of beautiful showgirls?
Spamalot opened on Broadway March 17, 2006, and ran to Jan. 11, 2009.
Eastern's production features a new talented director to put his stamp on the Geary stage, Brent Innes, who is known for his incredible set designs and builds. Stepping outside his box, Innes said he is thrilled, excited and terrified to take on this task.
Theatre department colleague, Corey Ewan Ph.D., knows that Innes "is easily up to the task, as demonstrated by his help with past productions. There is a lot of Brent on our stages."
Auditions were held last week and rehearsals are well under way with the production set for the Geary Events Center on the first two weekends in October: 4-6, 8, 10-12, 2018.
The cast included John Behn as the historian; Hayden Buss, King Arthur; Chris Vlamakis, Pasty; Ali Hugguard, Lady; Dave Hocanson, SirRobin; Mick Skelly, Sir Lancelot; Rick Tobin, Sir Galahad; Vincent Nelson, Sir Bedevere; Jovin Morrison, Sir Bors; Mac Cottom, Not Dead Fred/Herbert; Corey Ewan, father; Ted Cartwright, Tim the Enchanter; Liz Neilson, Mother of Dennis; and Charles Turner, Concord.
Shalyley Cartwright, Kelsey McCord, Kaitlyn Cave, Alicia Austin and Keyara Price, play the Laker Girls; while Morgan Innes, Stephan Ewan, Nate Smith, Aubree Guyman, Karly Bowles, Rosie Wichmann, Bethany Prettyman and Ellie deMie, are in the Ensemble.
Following close on Spamalot's heels fall semester is It's a Wonderful Life: a Live Radio Drama, adapted by Joe Landry, opening the holiday season on campus.
This beloved American holiday classic comes to captivating life as a live 1940s radio broadcast. With the help of an ensemble that brings a few dozen characters to the stage, the story of idealistic George Bailey unfolds as he considers ending his life one fateful Christmas Eve.
This production takes place in a radio station studio during Christmas 1946. The audience will be able to see and experience live sound effects and the cast of characters from Bedford Falls enacted by radio personalities.
"I came across a poster advertising this production at Whittier College in California and I had to find the script and bring it here," said Ewan, I love the film and think this could be a great Christmas card for the university and the community.
It's a Wonderful Life: A Live Radio Play premiered in 1996 at Stamford Center for the Arts in Stamford, Connecticut, and has since been produced throughout the country to critical acclaim.
Clarence the angel; George and Mary Bailey; Zuzu; her petals, Violet, Martini and Mr. Gower; will appear the weekends of Nov. 29 and 30, December 1 and 6-8, 2018, at 7:30 p.m., in the Black Box Theater in the CIB.
Rounding out Eastern's theatre season is Dale Wasserman, Mitch Leigh and Joe Darion's Man of La Mancha, one of the most honored and produced musicals of the American Theater, inspired by Miguel de Cervantes' 17th Century masterpiece Don Quixote.
It received five Tony Awards, including one for best musical play, as well as the Drama Critics Circle Award for best musical.
This production is directed by Ewan who said the production is powerful, brutal, funny and heartbreaking. "Man of La Mancha" celebrates the perseverance of one man who refuses to relinquish his ideals, and who is determined to see life "not as it is, but as it ought to be." It ran from 1965 to 1971 for a total of 2,328 performances and made into a film in 1972.
The story of Man of La Mancha introduces the Spanish poet and playwright Cervantes, while awaiting a hearing with the Inquisition, Cervantes, an aging and utter failure as playwright, poet and tax collector presents a play as his defense in a mock trial made up by the prisoners.
In the play enacted by his fellow inmates, he plays Alhonso Quiana, a man who has set his own reality aside to become Don Quixote De La Mancha a "knight errant."
Assisted by his "squire" Sancho Panza, Quixote attempts to avoid his mortal enemy, the Enchanter, and woo the serving wench and prostitute, Aldonza, who he takes to be the lady Dulcinea and whom he will serve forever.
USU Eastern opens "Man of La Mancha" April 11-13, 15, 17-20, 2018, in the Geary Events Center.
We are excited to bring these shows to light. We want you be able to laugh, to reminisce and to enjoy the beauty of these artist's creations. This will be a great year of the arts in theatre arts, Ewan said.