Question and answer with USUE Assistant Basketball Coach Ray Jones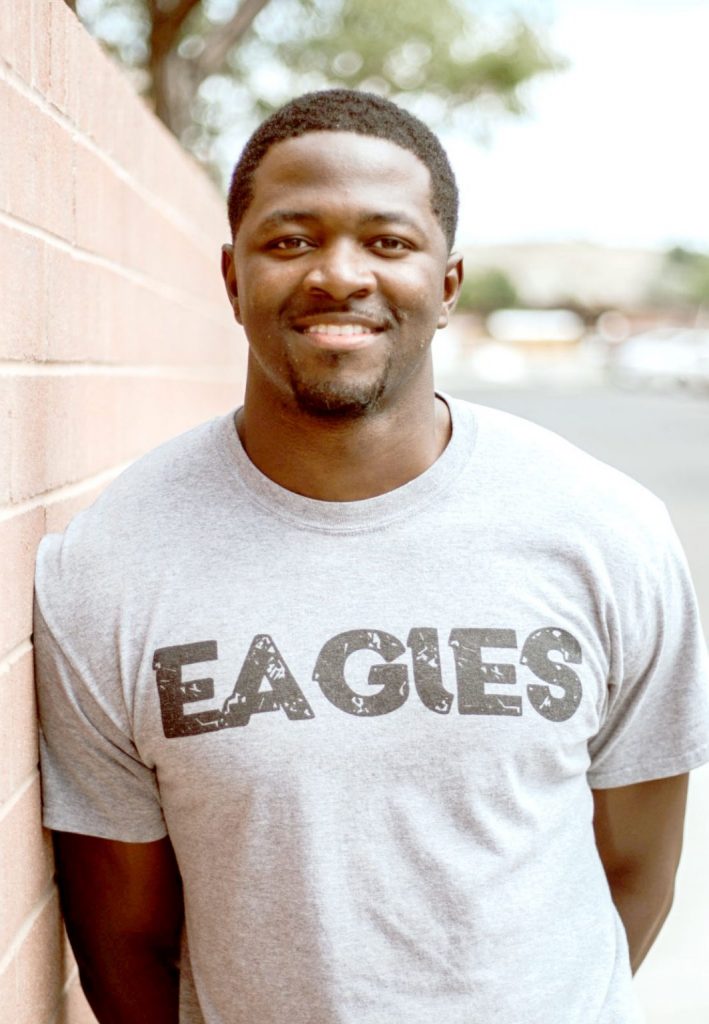 The basketball team at USU Eastern last season had 10 European players. I was curious as to what their recruiting "pitch" or "sale" was to convince these players to come all the way across the world to play basketball. I wanted to do a sit down interview and talk to either Ray Jones, assistant coach at USU Eastern or head coach Adjalma Becheli. I was lucky enough to have Jones sit down with me and let me ask him a few questions. Jones is entering his 2nd season as assistant coach at USU Eastern. Before joining the USU Eastern staff in 2017, Coach Jones worked for his alma mater Southern Utah University helping with the Thunderbird basketball team. Jones also played professionally overseas for four years. 
Q: Ray, when you look at last years team and you had 10 European players. When you guys are recruiting a kid from overseas, what is your pitch? What are you guys trying to sell them on to get them to come here? Because for someone that's from this area and lived here my whole live that's amazing to see that type of diversity.
A: I think recruiting from Europe is a lot like anywhere else in America or anywhere else around the world. Every school is different, every culture is different. Here, me and Vando (Eagles head basketball coach) we really believe in selling a product we believe in, to the point where you're no longer really selling it as much as you are just stating what you represent. We're very genuine with the things that we do and it's not so much a pitch. We introduce them to the fact that we're not a huge school, we're not flashy, we're not a Vegas school, we're not a school with endless funds, we're not in a big city [like] Salt Lake. But what we do have is a family spirit. Vando is a big family guy and I'm a big family guy and there's a certain love that comes with that that you try and give to whomever you're recruiting. You build that relationship, recruiting and relationship have to go hand and hand. That's something that we believe in, so with the love that we give we like to let the recruits know that that comes with accountability. Pushing you to be a better person, not just a basketball player. It comes with things outside of basketball that we believe will help you become a better person and player.
Q: When the players get here, what is the adjustment period like? It's a whole different world over here than it is over there. I know when I travel I'm in awe about how different everything is. How do you guys work with people when they first get here?
A: I think [with] Vando being from Brazil and me having played in Europe for four years our comfortability with everything is something that we do have an edge on. There's an adjustment period for sure. There was an adjustment period for every season I played over in Europe. Then, with Vando coming to America he obviously had to adjust as well. It's a lot about patience. It's that relationship that we talked about, there's going to be times when they struggle with things. Whether it's on the court with the style, the culture may be a little different. But when you have more than one foreigner that's something that they have in common, so that common ground becomes a normal thing now.
Q: How do you guys find these players, do you guys make trips oversea a lot? Do the players comes to camps in the states? How does all that work?
A: WhatsApp helps a lot. WhatsApp is the app that we use to talk and text to Europeans or other countries. I have it, Vando has it. If we were a bigger school, Division I, they make trips across the country. Vando and I will go to Brazil and do a little bit of that, but we don't have the funds to go and visit every player. A lot of it is reputation and relationship-based. This thing has to be bigger than basketball. When people see that you're genuine people, they tend to tell other people about genuine people. People want good things for good people. We had a player named Milan (Milan Surlic) last year who was good for us. He's from Serbia. With that we have Matija (Matjia Novikovic) and Ognjen (Ognjen Pantovic) from Sebria as well and this year we have a kid named Phillip coming from Serbia and so you see the connection there. It just keeps on going and going. I think we'll have a Serbian pipeline for a while now and that comes from the relationship we try and establish.
Q: How many European kids to you have coming for this next season?
A: I believe we will have eight. Two Brazilians, two returning Serbians, two new Serbians, one from the Czech Republic and an Australian. It'll cool. It's a cool culture, a whole lot of different environments bringing brought into one thing.
It'll be fun, I learn some new languages all the time, I learn some cool words. It's always a good time. I would advise anyone, when they have some free time to come check out one of our practices. You'll hear so many different languages and see so many different characters. It's an entertaining thing for sure.