Softball coach brings wealth of experience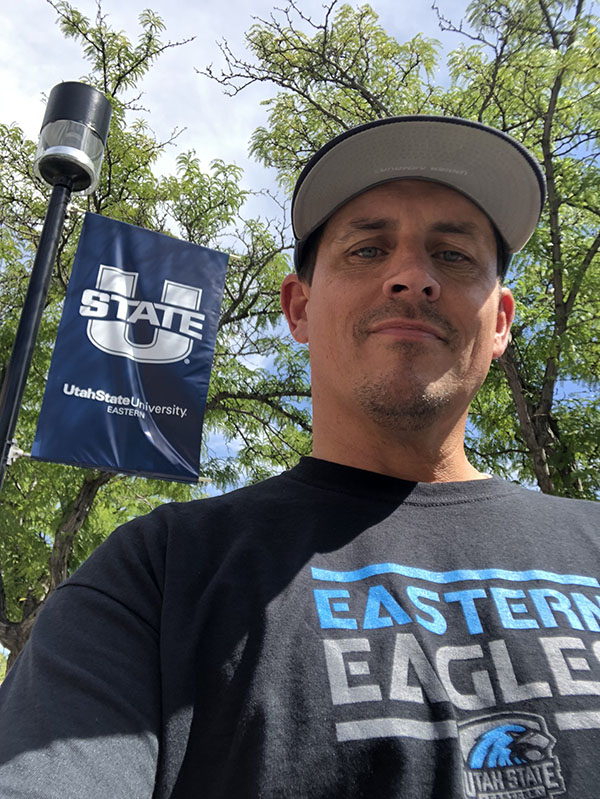 Besides winning the conference, the newest Utah State University Eastern coach believes he also needs to make his athletes better, college students.
Ryan Smith, was named head softball coach by Athletic Director Chelsey Warburton in August. He is most recently from Hurricane, Utah. Smith coached the last five years at Hurricane High School, including two as head coach.
He was born in Montpelier, Idaho. Smith started college at BYU- Idaho (formally known as Ricks College) and finished at California State University, Northridge. He endured his master's degree in social work and bachelor's degree in psychology.
Smith and his wife Melanie have five children and he had the opportunity to deliver three of the five. His favorite book is "The Bonds that Make Us Free" written by C. Terry Warner. His favorite movies are "Sandlot" and "Princess Bride." His favorite pastime is playing sports, outdoor activities and spending time with his family.
His spirit animal is a English bulldog because they show everyone unconditional love. His dream job is being at USU Eastern coaching the softball team.
His uncle, who wore the number nine jersey for the USU Aggies football team, is someone he really looks up to.
His greatest strength is being able to laugh when things are hard. A perfect day for Smith is "time well spent" whether it be with his family, a good practice or working.
Smith mentioned "You have to throw in the errors in to have a perfect day so you can learn and progress for the next day too."
The best advice he could give the athletes at Eastern is, "Every day and every way we can get better and better."
Smith's goal this year is to win region. He said "I'm not just coaching these girls in softball, I'm coaching them to go be better college students, better mothers, wives and employees. What we learn on the field will carry them throughout their lives." Smith wants all the softball athletes to know that he'll fight for them, make sure they are disciplined and love them because he cares.
If you see Smith on campus welcome him to the best college in Utah.