USUE recognizes 20 outstanding students April 26 in Jennifer Leavitt Center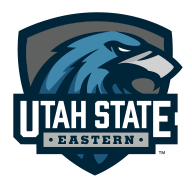 Twenty Utah State University Eastern students will be honored at the annual awards program on Friday, April 26. The ceremony will be held in the multipurpose room in the Jennifer Leavitt Student Center, commencing at 7 p.m. All honor students will be granted honor cords at the event.
Students being honored include: Mya Massey from Pleasant Grove, receiving an outstanding art and design award; Ky Burton, outstanding English; Rhiannon Bradley from Helper, outstanding music; Kalli Prendergast from Sparks, Nevada, outstanding journalism; and Scott Froehlich from Phoenix, Arizona, for outstanding communications.
Also, Calie Blanc from Price will receive the outstanding elementary education award; Morgan Broderick from Eagle Mountain, outstanding social work; Jacob Martin from Helper, wildlife ecology management; Gina Rasmussen from Helper, outstanding medical assisting; Jashea Migliori from Helper, outstanding practical nursing; Jade Kouris from Price, outstanding associate degree in nursing; and Hayden Buss from Provo will receive the outstanding theatre award.
Payton Judy from Gunnison will be awarded for outstanding chemistry; Megan Campbell from Price, outstanding cosmetology student; Stephanie Timothy from Ferron, outstanding psychology; and Kennen Cook from Ferron, for outstanding biology.
Benjamin Merrell from Midway will be awarded the engineering drafting and design technology award; Jordan Wynn from Roosevelt, outstanding welding student award; Taylor Passarella from Price, outstanding criminal justice; and Shin-Wei Chen from Tiapei, Japan, will receive the outstanding automotive student award.