Baseball wins one, drops three vs CNCC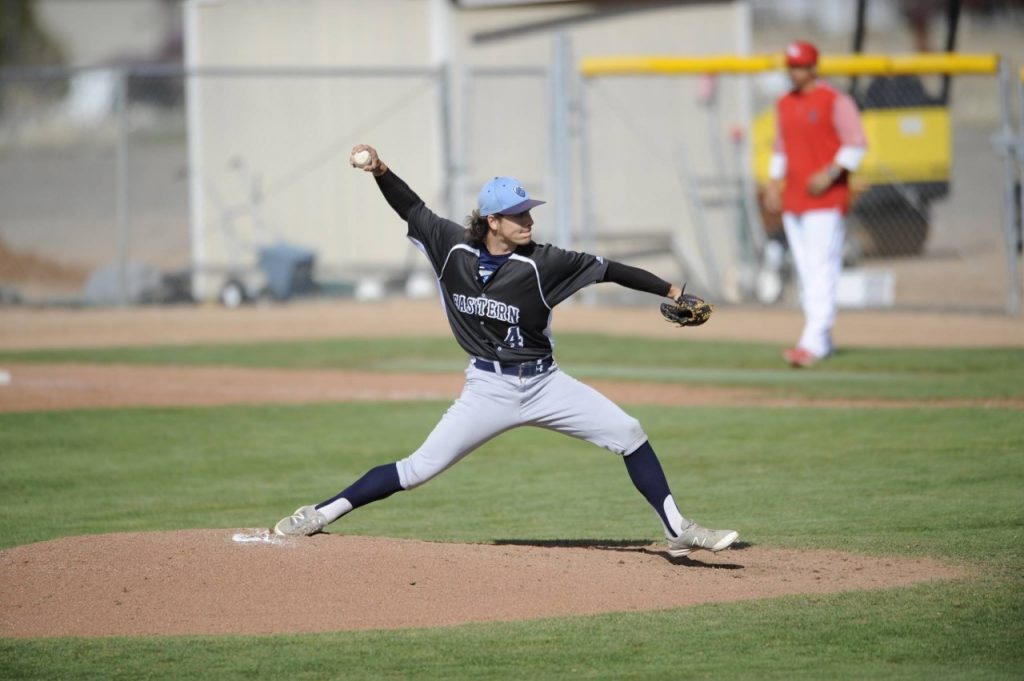 Freshman relief pitcher Cody Lowe helped close out games for the Eagles recently.





Players huddle and consult with Coach Scott Madsen.




Hunter Porritt loses his bat during his swing.
Utah State University Eastern baseball had another disappointing weekend as they dropped a second consecutive series three games to one to Colorado Northwestern Community College. This wasn't what the Eagles wanted, but their outlook going forward remains positive.
"Simply put, we need to execute better. Execution starts with the preparation to execute. We will put a large emphasis on the way we prepare to play, starting with practice…" said assistant coach Corey McKendrick.
He continued, "The way a team finishes the season is always more important than how they start it. We are looking forward to continuing to build upon successes and to playing our best baseball come the conference tournament."
Despite the weekend ending on a sour note, it started off on the right foot. The Eagles won game one by eight runs, winning twelve to four.
Karter Pope started the first game and continued his success by throwing his third straight game in which he went at least six innings giving up two or fewer runs. The Eagle's offense also pounded out fourteen hits en route to a twelve run offensive outburst.
The Eagles were paced offensively by a trio of left handed batters; TJ Bender, Ryan Curtis and Wyatt Barrus. Between them, they tallied eleven hits and seven runs batted in.
All three batters stayed hot throughout the weekend as Curtis had eight hits and Barrus and Bender each had six. Bender also tallied his first career home run, sending a shot over the right field wall in game four of the series.
The hot offense and great pitching led to an easy game one victory, a victory that perhaps led the Eagles to overlook a much improved CNCC club. Game two was an indicator of this.
CNCC sent their ace Logan Hooley, an all-conference pitcher from last season on the hill and he was able to dance out of danger time after time, holding the Eagles to just three runs over eight innings of work, despite allowing his fair share of hits. Eastern's starter, Hunter Porritt, wasn't as sharp.
Despite battling and throwing some tough pitches, CNCC snuck some bloop hits in on their way to scoring six runs off Porritt. This proved to be too much, as the Spartans took down the Eagles 7-4.
Game three was a heartbreaking loss as the Eagles brought the tying run to the plate in the last inning, but were unable to cash in as they dropped the game four to three. Jake Smith was saddled with a loss on the mound for the Eagles, despite pitching great in a complete game effort.
In game four, the Eagles held a seven to six lead going into the bottom of the ninth inning. After allowing an infield single, a defensive miscue on a sacrifice bunt attempt allowed CNCC to tie the game and have the winning run in scoring position with nobody out.
After retiring a man, the Eagles elected to intentionally walk the next batter, putting the force play in effect, in hopes of a potential double play. However, they had no such luck, as the Spartans third string catcher sent a line drive over the right field wall, ending the series and the game in heartbreaking fashion for USUE.
Tough breaks aside, the Eagles will have to girdle their loins as they face two top ten nationally ranked teams in Salt Lake Community College and the College of Southern Nevada in the next two weeks. They will need to pull off some wins in these series' if they want better seeding in the conference tournament.