Mudslides isolate USUE
Mudslide caused by flash flooding in Spanish Fork Canyon pushed debris towards US-6 Highway, causing a two-day canyon closure.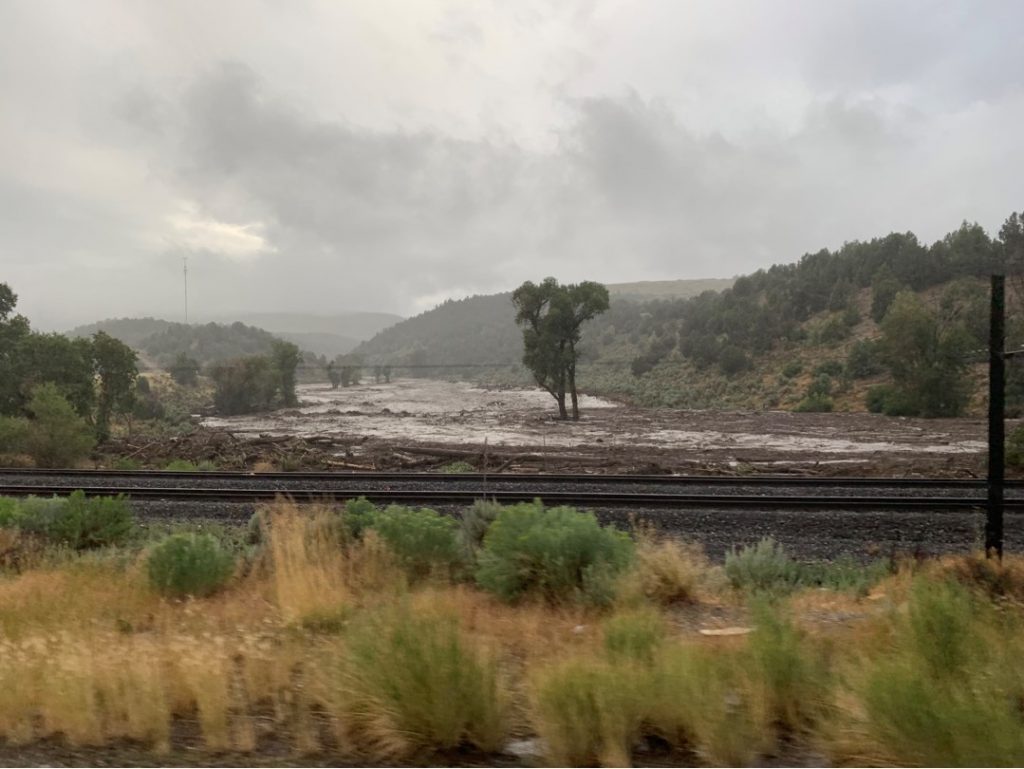 Utah State University Eastern is tucked away into the rural community of Price in eastern Utah. A town that's pretty far from any major city. The placement of the school makes for a nice college environment but it requires a substantial amount of travel.
Most students make their way to Price through the north, taking the US-6 highway through Spanish Fork and Price canyon. The drive is nice and scenic, which is why it's so shocking when that canyon becomes a trap for traveling students.
Three weeks ago, Price canyon was closed after a flash flood turned into a mudslide in the middle of the canyon. The Utah Department of Transportation issued a closure for a majority of US-6 within the canyon after a reported three-to-five feet of mud covered the road.
USU Eastern student Sara Morley was stuck in the canyon during the closure and evacuation procedures. "Being in the canyon as the floods were happening was almost an out of body experience." Morley stated, "I think the scariest part was seeing the rushing water on the side of the road, tearing down road signs and carrying tree trunks just 20 feet away from our car." Thankfully, Morley was able to evacuate the canyon and make it to her fall classes.
While a mudslide may be rare, canyon closures are a frequent occurrence for a multitude of reasons mostly related to the nature of the canyon.
There aren't a large number of alternate routes into Price and the ones that do exist will add a substantial amount of time to the commute, but if you're stuck in a bind, it's good to know your options.
The fastest and easiest route from the Salt Lake valley to Price is from US-191 towards Green River. The route starts on I-80 east. Once you're on I-80, take exit 146 towards US-40. Follow signs for US-191. The road will take you around a majority of the canyon. It will bring you just outside of Price and onto US-6. Depending on where you're traveling from in Salt Lake, the amount of extra time will vary, but expect at least an hour and a half delay.
Another alternate route is to take I-15 South to Scipio, then Scipio to Price. This is a longer route but it does follow the major interstate for a majority of the drive. If you want to take this route. Stay on I-15 South until exit 188 for Scipio. Once you take that exit, follow the road signs into Scipio and find US-50 East also known as State Street. Once on that road, follow for 27 miles and make a left onto 170 E. Stay on that road until exit 91 and you'll drop right into Price. That route is significantly longer, taking almost four hours to complete.
These alternate routes are good to know, but hopefully you won't need to take them. Nothing beats the view of those canyon walls on a nice fall day. US-6 is the quickest and most convenient option but use caution, drive safe and do your best to follow the rules and regulations of the road to ensure your safety and the safety of all the USU Eastern Eagles.