USU Eastern's Aviation Program takes off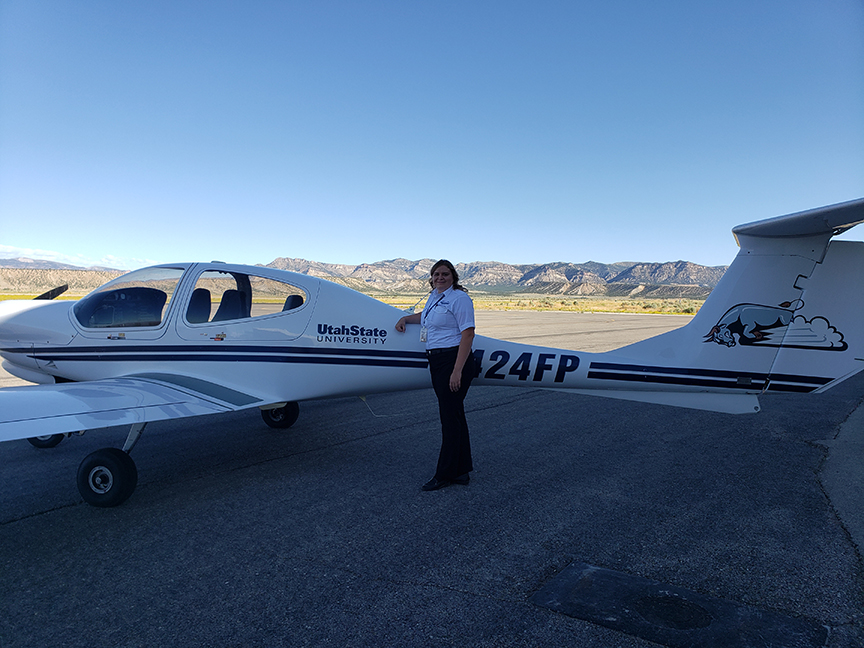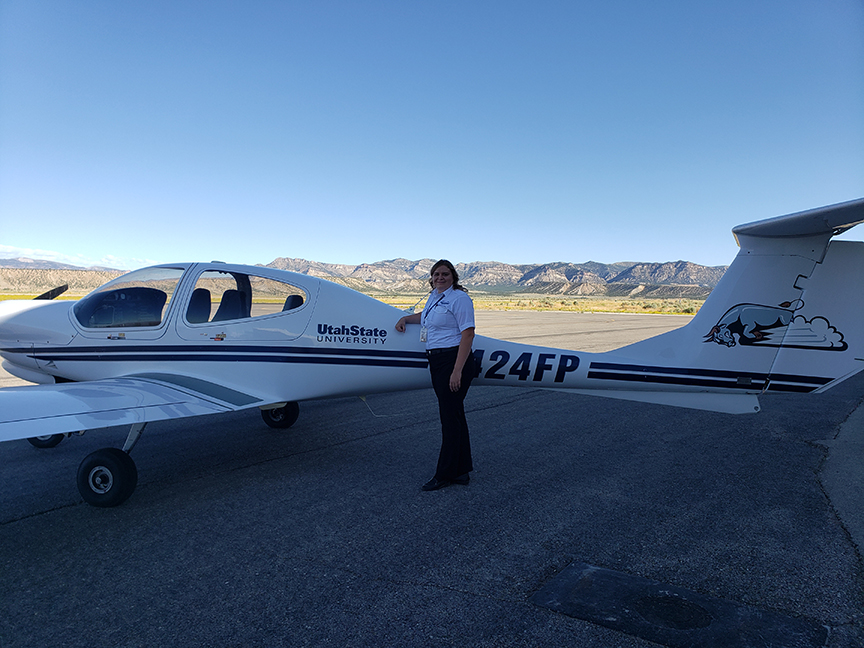 Upstairs in a building near the end of Airport Road sits Ashley Martinez, assistant chief flight instructor for the long-awaited Price branch of USU's Aviation Program.
This semester is the first an aviation program is offered to the students of USU Eastern. The program is led by Martinez, as she oversees classes, flight students and the organization of their facilities.
Martinez was born in Price, Utah. From a young age, her primary interest has been airplanes. While in elementary school, she learned about the science behind flying and something sparked.
"I loved the idea of exploring the world and getting to see something not many people can," recalls Martinez.
After graduating from Carbon High School, Martinez attended USU in Logan as a member of the aviation program. Once she completed her bachelor's, she began teaching there as a flight instructor in both USU and Arizona. Many new pilots look to instructing as a way to "build hours" before entering into the airlines.
And entering into the airlines was her original goal. However, as Martinez was approaching her required flying hours, her previous boss at USU reached out to her and offered her a position as assistant chief flight instructor on the Logan campus. They were looking for someone to direct the Price branch of the program. "I was hired with the intention of expanding the program into Price. Since I'm a Price native, it worked out perfect."
The aviation program in Logan is at capacity and cannot accept more students without more planes. However, they are running out of "air space." This led to the program finding a new area to expand to. After reviewing many of the satellite campuses, Price was chosen due to its facilities at the Carbon County Airport.
Last year, Martinez spent a year in Logan training. Most of her summer was focused on setting up the facilities in Price. In order for students to complete specific certifications, the facility had to reach the standards of the Federal Aviation Administration.
Eastern will be offering the same two-year curriculum as Logan. This includes class time and flight time. The only difference, other than the location, is tuition. Being a part of the aviation program in Price allows students the lower Eastern tuition, as opposed to Logan's slightly more expensive one. However, the flight fees are the same across the board. "Flight fees are flight fees," Martinez said. "We still have to pay for the plane and gas."
Students who are looking at getting their four-year bachelor's degree will have to transfer to Logan for the last two years. This is due to having smaller facilities and smaller planes at the Price airport. Most of the last two-year include certifications for larger and more complex planes.
That bachelor's degree can help a lot when seeking a career in aviation. In general, getting a pilot's license from wan accredited university, such as USU, has many benefits. Not only does it allow for the diverse education that comes from an associate and bachelor's in any profession, but it's often a more intense and well rounded education. Airlines also require 500-fewer hours from pilots who learned at an accredited university.
The students at Eastern are at the beginning of this journey. Currently, 12 students are enrolled in the program. Martinez says that they seem excited. "One student is really on the ball. They were already able to fly this week!"
With two instructors, and two planes, the Price program can handle the load well. Because Carbon County isn't in a valley like Logan, there is air space to expand into. The largest limiting factors is the number of planes and instructors. Martinez hopes that the program will expand, hopefully adding the four-year degree, a maintenance program, and a drone program, similar to what they have in Logan.
If you have any questions or are interested in the program, Martinez invites you to visit her at the airport. "We are aviation lovers and would love to spread our passion by talking to others about it. Maybe we can even try to get them on a flight!"