GENTRI: The Gentlemen's Trio Concert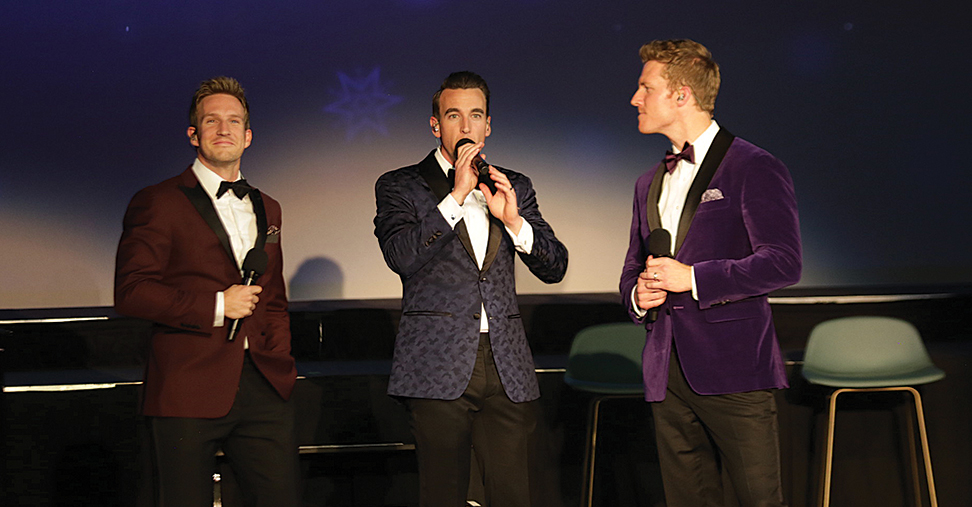 Three singers and a concert pianist awed the crowd at the Geary Event Center on Nov. 14 when the trio Gentri performed their holiday production titled "Finding Christmas."
The charismatic three tenors: Bradley Quinn, Casey Elliot and Brad Robins, pioneered a signature sound they call cinematic pop. Their music is transfused with lush, epic orchestrations and rich, dynamic three-part harmonies. All three singers have toured internationally and been the leads in most major U.S. musical Broadway productions.
Their most recent album, "Prologue," features their original cinematic pop sound. According to their website, almost all of the group's albums reached No. 1 on the Billboard charts.
The trio used rich orchestral backgrounds and strong harmonies to create songs that are inspiring and soaring, yet surprisingly contemporary. Their powerful voices are each strong, brave and inspiring.
The Gentri performance was motivational, passionate, romantic, and emotional. They can, in fact, be anything but boring.
This was not the first time Gentri has been on campus. They worked with Brent Innes, USUE theatre associate professor, on the Geary Event Center stage filming a video last year.
Special events technical coordinator, Brandon Nelson, said, "The concert was an amazing experience, and a great success. Gentri was fantastic to work with, and they loved the people here, and the Geary Event Center. It was a lot of work, but well worth the outcome. We were elated to have a group as great as Gentri here, and we look forward to seeing them in the space again."