Goals achieved for frosh soccer player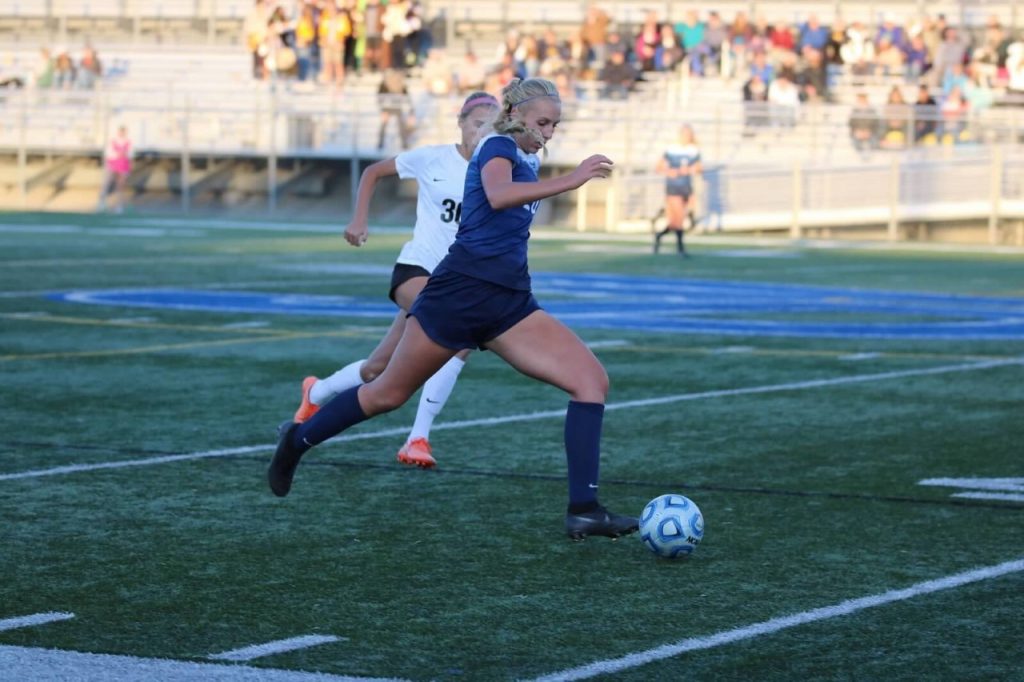 A dream becoming a reality
Kinlee McMillan is key part to the Utah State University Eastern womens soccer team. At 5-foot-10-inches, she is a freshman from Layton, Utah. Mcmillan loves to play sports and has always been active.
She started playing soccer at 3, and has loved it since. She played various positions on the field, including goalkeeper, wing, defense and midfielder. Her favorite position she plays for the Eagles is holding midfielder.
McMillan also played softball, but didn't enjoy it as much as soccer. She joined her first competition soccer team: La Roca fc. After playing for La Roca two years, McMillan decided to tryout for a different club team. She tried out for Forza fc and easily made that team.
McMillan had the opportunity to play soccer at a higher level and develop more skills while playing for La Roca, plus she traveled to many states for tournaments. She absolutely loved to travel with her team to different states, playing the game she loves.
After playing for Forza for two more years, she played for her favorite Coach, Lee Davis. Davis was her first coach that played her in the position of midfield. Mcmillan loves that position and has played it ever since.
Davis taught her an important lesson she will remember for the rest of her soccer career. He said, "It's more important to play the game, and to just get out of your own head."
The last club team McMillan played for was Wasatch fc. Wasatch is located in Kaysville, Utah, and was an easy commute from Layton. She played for Wasatch three years and finished her club soccer career on a Premier-one team with head coach Tige McDowell.
When she was a freshman, she tried for the Layton High school girls soccer team. Out of 60 girls, she made the team and played junior varsity ball.
After her sophomore year of soccer, her dad challenged her to tryout for the girls basketball team. Regardless that she has never played basketball before, with her height and athleticism McMillan made the sophomore team at Layton High School.
She was able to quickly catch on to the game of basketball and learned to love it. With her height, she was good at rebounding the ball. She enjoyed taking her vision from the soccer field and applying it to the basketball court.
During her junior year, she played varsity in both soccer and basketball. Even though both sports took up a majority of her time, she loved every minute of it and regrets nothing.
In McMillan's senior year, she started many of the games. She played a wing midfielder and scored a few goals. She always had a big foot and has scored off multiple freekicks from far outside of the goal. She helped lead her Layton soccer team to second place in state, falling to Lone Peak High School 1-0.
After soccer season ended, she quickly started basketball season. In basketball she started, but also came off the bench as a spark of energy for the team. She averaged nine rebounds a game, and also scored an average of seven points a game.
It has always been a goal of hers to play college soccer. After her senior basketball season, McMillan decided to further her soccer career and commit to play at Utah State Eastern.
She plans on playing her sophomore year at USUE and then going into the nursing program.