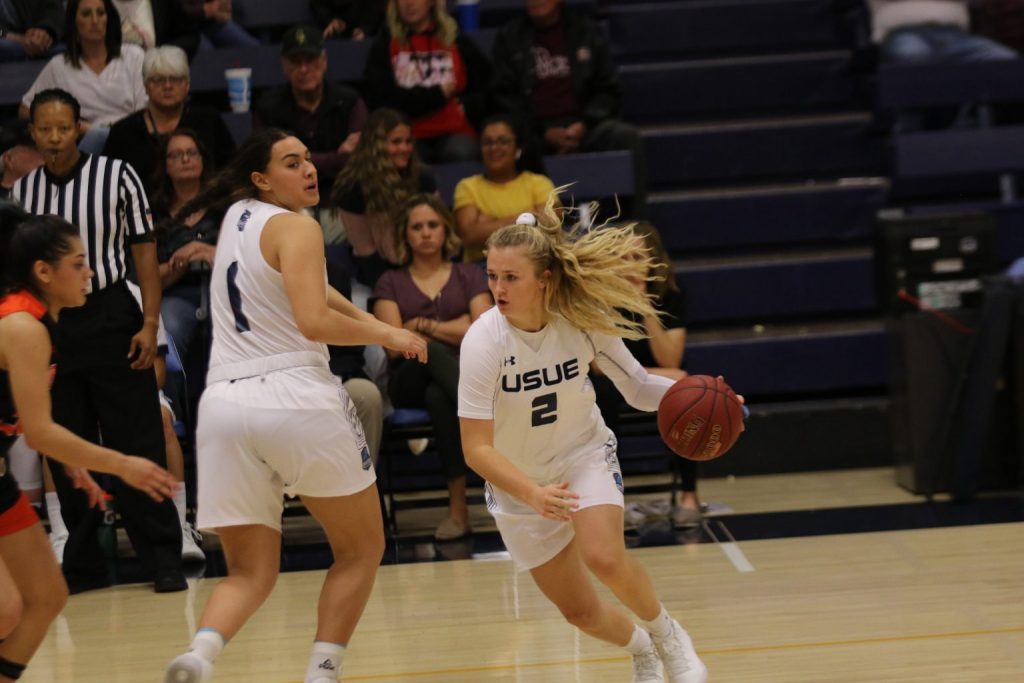 Eagles score four game win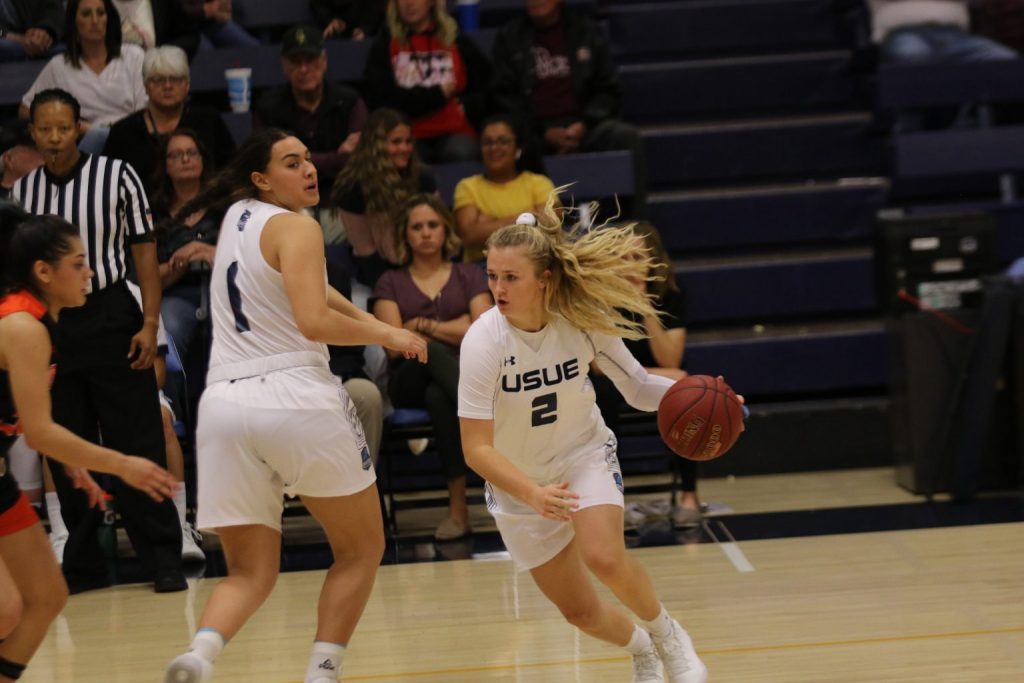 The Utah State University Eastern womens basketball team started the season on fire. The Eagles sit 10-1 with a four-game lead on everyone in the Scenic West Athletic Conference bracket.
The Eagles started with stride as they swept another non-conference tournament. They topped off with a dominating win over Southwestern Oregon Community College that extended the streak to six straight wins.
The Eagles began the first quarter on a 10-0 run and would continue to build upon that lead throughout the game; ultimately defeating the Lakers by a 26-point margin, 85-59.Standout freshman Sharne Pupuke-Robati shot 61% from the floor racking up 18 points, 9 boards and 6 assists against the Lakers.
Margarett Otuafi would go 2-3 from behind the arc and add 15 points in her 24 minutes of play. Emmery Wagstaff was close behind with 14 points on the night. Kacelyn Toomer and Harley Carlilse would both add 10 points in the contest.
After that, the Eagles went to a Thanksgiving Invitational and continued to dominant play. The Eagles swept their Thanksgiving invite and extended the winning streak to eight games.
The Eagles beat their opponents by an average of 24 points a game. A complete and dominant performance.
In their Friday matchup against Western Wyoming, the Eagles once again surged ahead in the first quarter with a 15-3 run thanks to a group effort from the Eagles' roster. Ending the quarter with 23-8 advantage.
During second quarter the Lady Eagles would hold the Mustangs to 7 points and increase their lead by 24 with a score of 39-15 going into the half. It would be the same during the second half of play for USU Eastern as they built upon their lead throughout, handing the Mustangs a third straight loss with a final score of 89-46.
Sophomore guard Morgan Toluono had her best game of the season off the bench, leading on both ends of the court scoring 14 points and grabbing 7 boards in the contest. Laniee
Jensen and Wagstaff each added 12 points against the Mustangs. In their second meeting with Eastern Wyoming this year, the Lady Eagles struggled shooting from the field, However, domination of the boards allowed more attempts for USU Eastern to score and maintain a lead throughout the game.In the 66-50 win against the Lancers.
Sharne Pupuke-Robati would earn her third double-double of the season with 11 points and 10 rebounds. Toomer also had 10 points for the Eagles.
The team will hit the road again this weekend as they travel to Riverton,Wyoming to take part in the Bailey Tire and Auto Service Classic.
On Friday, Dec. 6., they face the biggest competition so far this season as they take on the 11th-ranked Western Nebraska Cougars at 3:30 p.m.MST. The following day the Eagle's will compete against BYU Idaho's club team.