One of the youngest coaches in the nation takes the helm of USU Eastern's baseball program: 25 year old Kirk Haney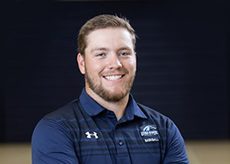 May 2012, Kirk Haney is on the mound in the 4A state baseball playoffs. Fast forward seven years later, Haney is named head baseball coach at Utah State University Eastern. Haney is following in the footsteps of his father, who has coached high school baseball in Utah for 33 years.
Haney was hired in August of 2019 to take over as the head coach at USUE after coach Scott Madsen was given the Athletic Director position. Haney inherited a program with great potential and a lot of hard-working players ready to work. At age 25, he's roughly 25 years younger than the next youngest coach in the Scenic West Athletic Conference. He is also among the youngest head coaches in the nation.
While being as young as he is, Haney is mature, hard-working and energetic, which his players feed off. He feels his energy pushes them to be better players and young men.
Haney hired a coaching staff which is also a young and energetic group, with the average age of his staff at 25 years old, also among the youngest in the nation.
Haney was born and raised in Payson, Utah, and attended Salem Hills High School. He is the third of four children. Haney was a standout athlete all his life in many sports, namely football and baseball. He was presented multiple awards for his excellence on and off the fields of play.
After high school Haney chose to serve an LDS mission in Fortworth, Texas. Upon returning from his mission, he was presented the opportunity to play college baseball at USUE
During his freshman year, Haney met his wife Jeridi Price Haney. They have been married for three years and have a one-year-old daughter named Swayd.
Haney was a pitcher at USUE and stood out on the field and in the classroom. After his playing days were over, he took over as an assistant coach, working primarily with the pitching staff. Just two years later Haney was named as the head coach of the Eagles.
I got the chance to sit down and ask coach Haney a few questions in order to get to know more about him.
Why did you choose USUE? Haney: "I chose USUE for a couple of reasons. I was given a chance to play college baseball with five of my teammates from high school including my brother, Luke."
What are your academic goals? Haney: "I have always wanted to do something in the health field. Right now, I am pursuing a degree in public health and promotions. When finished, I look forward to working toward a master's degree."
What are your coaching goals? Haney: "As a coach, I want to build a program that is known for good: good people, good players and good students. I not only want to help players refine their baseball abilities, but help these players become well rounded individuals throughout their whole lives."
What kept you in Price? Haney: "The academics kept me here at school. I loved my time as a player and after my sophomore year, my wife Jeridi and I decided this would be a great place to continue to live. I was excited when we decided to stay and could remain connected to baseball as an assistant coach."
What is your favorite baseball memory? Haney: "I don't think I could just choose just one. My whole life has been connected with baseball. I was raised in a baseball family which got me to where I am now. Getting the chance to be coached by my dad and play with my brother would be right at the top, though."
Who do you look up to and why? Haney: "My dad is who I look up to. He has coached baseball for 33 years in Utah. He taught me at a young age that life is bigger than baseball or any other sport. I love going places and running into his old players, they always share stories of their time together. I hope to be able to create those types of relationships with my players as well."
What advice would you give to your players? Haney: "Enjoy the little moments and give baseball everything you have because eventually your playing days will come to an end and you are left with the memories and relationships you have with your teammates."
Do you have any advice for the new softball coach Shelby Shurtliff? Haney: "Never be comfortable with where you are at. In both of our sports you can never stop learning.
Haney and his team take the field for the first time together officially on Jan. 30 vs. Arizona Western Community College in Henderson, Nev. Haney and the team look to make a statement early that they are poised to compete and win a lot of games this season.
You can find the Utah State University Eastern Baseball schedule and roster on the USU Eastern athletics page and follow the team on multiple platforms online.